Interview with Gérard Chambre
by Linda Compagnoni Walther



April 12 2009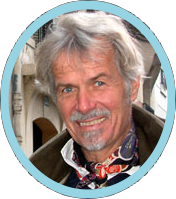 Mistral: Bonjour Gérard, what was your first thought when you learned about our Catherine de Montsalvy Website?

Gérard: first of all, it seems so far in the past, that I feel like an ancient knight in his armour, in front of a computer!!

Mistral: Do you remember how you got your role as " Chevalier Jean de Xaintrailles" playing the hero's (Arnaud de Montsalvy) best friend and one of Jeanne d'Arc's most faithful captain's in "Catherine, Il suffit d'un amour"?

Gérard: In fact it was the second time I worked with Marion (Marianne) She just asked me to ride, and being able to gallop (in my armour) saying my text!

Mistral: Now that many years have gone by, do you remember what your feelings were, partaking in that most awaited tv-production directed by Marion Sarraut - after the besteller "Catherine" by the author Juliette Benzoni?

Gérard: It was like an adventure with a time machine, wearing armour, living in castle's and riding horses all day long.

Mistral: Do you have any special fond memories from acting together with Claudine Ancelot (Catherine) Pierre-Marie Escourrou (Arnaud) Philippe Clay (Barnaby) Jean-François Porron
(Duke Philippe) Isabelle Guiard (Jeanne d'Arc) or Geneviève Casile (Queen Yolande) to mention only a few?

Gérard: A great complicity and a lot of laughs (and love!)

Mistral: Do you remember the reaction of the public, press and critic - after Marion Sarraut's tv-production which consisted of sixty episodes (each 25 minutes long) aired on March 1986?

Gérard: I think we had a very good audience. During that time, while on screen, a lot of people looked at me and said: "oh look, it is Xaintrailles, how are you?" That was very friendly.

Mistral: You participated in three out of four Marion Sarraut's tv-series, adapted by Juliette Benzoni's bestellers.

1985 in Marianne as the dashing Jason Beaufort the heroine's great love

1986 in Catherine as Jean de Xaintrailles, the hero's best friend

1987 in Le Gerfaut as John Paul Jones the famous American Admiral

If you had a wish free, which of the three characters would you like to be for a day?

Gérard: Jason

Mistral: Did you ever have the chance to meet your colleaques from that period again? Be it in a film, play or tv-series?

Gérard: Sometimes our paths crossed, but not in a film, neither in a TV-Serie (Pierre-Marie, very often in a pub!)

Mistral: In your long career, you acted in many tv-productions and international movies. You became a fantastic well known singer of chansons, musicals, rock operas and poet writer. Directed two operas you had written yourself. Is there still a part you wished to play and have never been asked or there was never the right moment for it?

Gérard: I would love to play the part of Jacques Brel in the future "life of Jacques Brel"

Mistral: During your concerts, you have travelled to many exciting places in the world - like Russia, Morocco, Spain, Jordan, Syria and as far as China. What kind of memories did you bring back home to your native France?

Gérard: The very simple idea, that men and women all over the world - are looking for peace and happiness. Discovering that the best way to share simple feelings and fraternity - are in songs.

Mistral: What are you plans in the near future? Can we expect to see you soon in another television production, see you on stage
or in a new musical?

Gérard: As you know, I am in the musical "Don Quichotte Jacques Brel" which I wrote. When we come back from Syria, we will perform next in Morocco and I hope to find a theater in Paris for the next season...perhaps a theater in Switzerland??

:::::::::

Gérard Chambre has done us the great honor to give us our first exclusive interview. For a small fansite like ours, this was an extraordinary unbelievable moment. We thank him for the trust he put in us - especially for that reason!

We would like to give our sincere thanks and gratitude to Gérard, who played Jean de Xaintrailles in our beloved series " Catherine de Montsalvy" and send him our best wishes for all his projects now and in the future.

Merci beaucoup Gérard

© Webmistress Mistral April 12 2009





link to official website