Before Claudine Ancelot became an actress, she was a teacher like her mother. Chance had it, that her uncle, who had some friends in the cinema world, took her on a filming set one day and there she met Olga Georges-Picot, who played "Catherine" in the movie adaption of Catherine Il suffit d'amour"in 1968. Destiny had it, that she was going to play eight years later in her first tv-role, the heroine in the TV-adaption of Catherine. For fourteen months she lived in the middle ages and loved every minute of it. The series was a huge success for everyone. There followed more tv-roles and Claudine Ancelot played very successfully also on stage "Shakespeare" and other very great roles.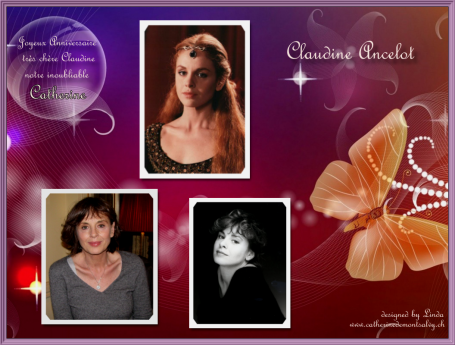 January 31, 2017
HAPPY BIRTHDAY
Dearest Claudine
---
Maxim's de Paris October 31 2016

When old friends meet...
Monday 31 October our Claudine Ancelot (Catherine de Montsalvy) went to see chez Maxim's de Paris Moi j'aime le Music Hall, the new show of Gérard Chambre, her partner in Catherine, il suffit d'un amour (Jean de Xaintrailles). After the show they did me the great honour to pose for my photo album.
photo copyright Linda Compagnoni Walther
---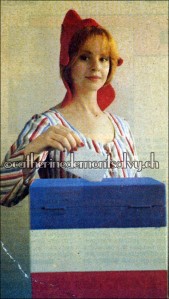 Claudine Ancelot / alias Marianne, Symbol of the French Rebuplic

On March 16 1986 a well-known French Newspaper, published this photo with Claudine Ancelot, showing her voting as Marianne. At the same time it announced that three days later the so-far longest French television series would premiere - that is Catherine, One Love is Enough.

This photo is a souvenir from my dear friend Marion Sarraut, director of the Catherine series. I had the great honor to meet Dame Marion last May 2016. She shared with me her A4 book (186 pages !) of her Revue de Presse with all articles concerning the TV-Series, photos and annecdotes back in 1985 - 86
---
The touching words of Claudine Ancelot to "Les filles des Grands chemins."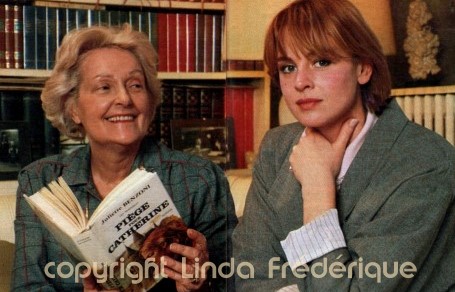 Claudine Ancelot (Catherine) private message
Dear Linda,
I am sad. Juliette has had a good life, because she gave a lot of happiness to millions of readers that made them dream... and she was loved in return by wonderful person like you and Frédérique. I am with my whole heart with you two. Please bring my touched and heartfelt and sad thoughts to her family.
I embrace both of you very strongly.
Claudine

Claudine Ancelot was present at the church of Notre Dame de Saint-Mandé to say for the last time au-revoir to our Juliette.
---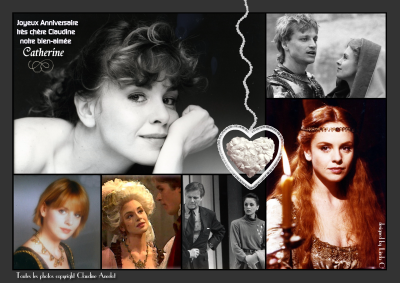 January 31

HAPPY BIRTHDAY DEAREST
Claudine
→ see also special page Congratulation

let us read what Claudine had to say about her role of Catherine in her interview to the Catherine de Montsalvy website.

I discovered and "devoured" the story of Catherine de Montsalvy at the age of 15 years. At that time a major national journal, published the story as a cliff-hanger, and my mother and I waited anxiously every night, to follow the adventures of Catherine, with eagerness drop by drop.

Subsequently, I bought the books to reread the story in its continuity. Some scenes were left very much on my mind, when I was called to the casting. Claudine Ancelot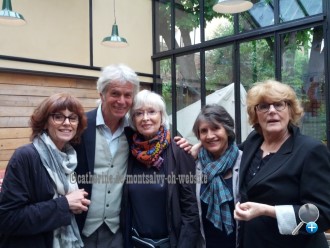 « at l'Entrepôt - Paris
Lecture Petites Musiques de Proust
with Gérard Chambre and Fabrice Coccitto

Dear friends of the Catherine series.

I like to share with you this unique and precious photo today! A photo I have been sent by none other than my dear friend Claudine Ancelot (Catherine de Montsalvy). We see on this photo united after a long time (over 20 years) Claudine Ancelot, Gérard Chambre (Xaintrailles), Anne Lefébure (Jacquette Legoix, Catherine's Mother) Catherine Jurquet (producer of the TV-Series Marianne, Catherine and Le Gerfaut) and Dame Marion Sarraut, the outstanding woman who was able to direct these series to all our liking! I like to say thank you so much to all of them for posing a moment to all our delight. Je vous embrasse all of you and a special kiss to Claudine for the photo...
Linda, webmaster
---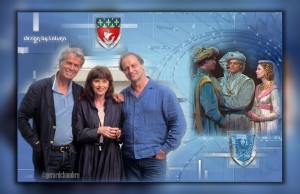 The touching meeting of the trio
Gérard Chambre
Claudine Ancelot
Pierre-Marie Escourrou
---

30 December 2011
I am very happy to announce
that our
CDM AWARD goes to
CLAUDINE ANCELOT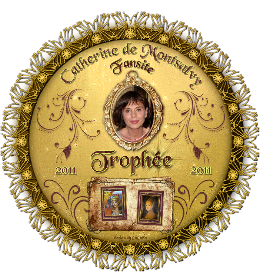 ---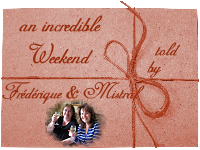 May 2011
Meeting between « Catherine and Xaintrailles »

---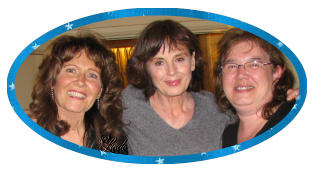 January 6 2011
MEETING
with the unforgettable Claudine Ancelot

---

My very dear Claudine
let me thank you also openly for the trust you offer us - for your adorable words about our passionate work - for giving us the joy to come into contact with us! My best friends know that I have wished for this since the beginning of this wonderful and amazing voyage. Thank you for being the CATHERINE of our dreams
We have NEVER forgotten you and will! You can trust us - we shall never betray your email address. You have my word of honour. I want to finish before I get too carried away - I am very touched by your words dearest Claudine.
very fondly Linda
I like to express my immense joy and gratitude to Claudine Ancelot, who opened again her private "treasure box" to us. Thank you so much Claudine for your generosity and your trust towards us. I shall treat your photos with all the respect and admiration I feel towards you. Mistral

The beautiful Claudine Anceolot has been in numerous films and other production - here is a link to imdb


Return


© 2008 - 2020 Linda Compagnoni Walther
design by LaLuna
non profit site
All rights reserved