May 2010
text Linda (Mistral) webmaster

My very dear Le Gerfaut fans, as you all know, Mistral had been invited by Magali, the webmistress of the "Official Homepage of Laurent le Doyen" to attend their fanmeeting and the launching of the new founded fanclub of "Laurent le Doyen"! With such a prominent "Member of honor" none other than "Juliette Benzoni" herself! When Juliette Benzoni had learned through Frédérique and Hélène (who could alas not attend this time!), she enthusiastically asked to be registered as a fanclub member!
With great pleasure, I had accepted to attend the fanmeeting, and to become also a member of the club. Smiling to myself, hearing voices who might say: "and what is a "Catherine de Montsalvy fan" doing there? "To me, that seemed no problem, since I love all books by our favourite author Juliette Benzoni. At the same time, the opportunity to make new friends, meeting for the first time Magali, webmistress like me and of course, without doubt, the very great pleasure to meet the leading actor of that wonderful TV-Series "Le Gerfaut" Laurent le Doyen in person! Travelling to France, to see again Frédérique of the Juliette Benzoni Bibliography, with whom I share a special friendship.
The date was set and I looked forward to this surely amazing weekend at Versailles, the home of "Le Gerfaut"! Alas, Magali, was not able to attend at the last moment! For months she had organized everything, so that the fans of "Laurent le Doyen" would be able to share some unforgettable days together. We all felt with her and were able to understand her great sadness, not to be there and enjoy the company of fans and of Laurent le Doyen. Magali, knowing how much I love writing a report, had contacted me, if I would be so nice and take her job of writing a summary of the day. Of course I agreed at the spot and Frédérique also volunteered to support with photos and some creations.
Let me now express officially my personal thank you, for all you organized dear Magali, be it the entry to the area of Versailles, the Grand and Petit Trianons, the beautiful gardens and even the restaurants, where we were able to rest our "strained" feet.
But let me begin; we met on Saturday 8 May at ten o'clock at the Hotel Angleterre. The weather fairy had decided to be nice to the "Le Gerfaut fans" and soon our little group consisting of Emmanuelle, her husband Jean-Marc, Sophie our Versailles expert ;-) Frédérique and I marched on to the gate of Louis Quatorze, world famous "Castle of Versailles"

Excited with meaningful looks at each other, we stood in line and entered this historical place. I do not know how it is for my friends, but I am always in awe and seem to be transported into another time of period. Imagining myself to be there, at the time when the most famous of all the Kings lived at Versailles, or seeing with my inner eye, the mob coming and tearing down the gates of the castle. In the hope to catch poor Queen Marie-Antoinette and her lovable, but shy husband King Louis Seize! But enough of dreaming, inside the castle, we met Romy, the president of the brand new fanclub, a very faithful Le Gerfaut fan, together with her sweet grandaughter Anaïs. Under Sophies conduct, we visited the Gardens of Versailles, stopped for a photo-shooting,
enjoying the sun, being spoiled by lovely Emmanuelle, who had brought home-baked cookies for us. Merci beaucoup Manue, what a grandiose idea! We walked on and soon it was time to take lunch in one of the restaurants. We got to know each other better and shared anecdotes about "Le Gerfaut". Emmanuelle, in the absent of Magali, taking her role as lady-in-charge, had discreetly a look at her watch! We felt how our puls was beating faster -soon we would meet in person Chevalier Gilles de Tournemine, the reason why we all had joined his fanclub!
There remained still time to buy some souvenirs, tension growing! We visited the Grand Trianon, admired the beautiful furnished rooms and felt like in "Back to the Future" stepped out of the castle, looking at Emmanuelle, who smiled at us and said: He is on his way... he is coming with the little train...

...and voilà,walking towards us, a smile on his face, a charming, and very good looking Laurent le Doyen, our "Star" of the day. Some of us had already had the great pleasure to meet Gilles/Laurent in person. Mistral, who pretented to be so cool, was now also a bit "flutteringly" to meet the famous "Le Gerfaut" in person ;-) What is my opinion after he introduced himself to me? Only one sentence: cher Laurent, you can count the "Catherine de Montsalvy fan" now also to your very faithful admirers ;-) !!
He joined us to visit the "le Petit Trianon" following the traces of "Le Gerfaut" joked with us, had a lovely word for everyone, patiently stopped for a photo-shooting,


which we naturally "shamelessly" took advantage of! Surprised Frédérique and me, as he sang to us, a few notes of a terrific version of "I love Paris in the Springtime"!. Let me say a few words to Laurent le Doyen. In my humble opinion, a very attractive, charming and pleasant person - showing his pleasure that we are his fans and that we loved his performance as "Gilles de Tournemine. Sharing little anectotes with us - helping us to find the shooting places, which Magali, to entertain us, had given us as a "treasure-hunting-mission"! Yes Magali, we found everything, thanks to Gilles or must I say Laurent ;-) - stopped on the place where he had his duell with "Ambassador Caramanico ", witnessed by "Anne de Balbi" and "Admiral John Paul Jones".
We never got tired to admire all the beauty of the Garden. For example the "Le Hameau" Queen Marie-Antoinette's refuge, together with the one of the personality, who had made "Le Gerfaut" so extremely popular years ago, and never forgotten by the fans, who had either watched Marion Sarraut's tv-series or read Juliette Benzoni's four books! Dear friends, I have no idea how many kilometres we made on foot...!! We laughed and joked about it, but would never have admitted then and there that we would pay the toll later on, for all this sauntering in one of the most beautiful places on earth. Our hero had an excellent idea (thanks Laurent for your superb idea ;-) and showed us a short-cut... I see, "Le Gerfaut" knew his way around at Versailles... as the private bodyguard of Queen Marie-Antoinette, he definitely recognized the area again ;-) !

We decided to take now all together the little train, to leave the background of "Gilles de Tournemine. At the precise moment we entered the vehicle, the sun went for a little rest and sent the first raindrops down to us. But what were a few drops of water, compared to this amazing afternoon together with the guest of honour? We made a last stop, took the very last photos and I noticed what an observant eye Laurent le Doyen had. As some of you know, he is not only an excellent actor, but also a painter and photographer - and so his eyes did not miss the unique moment, the sky showed itself before we went out:

| | |
| --- | --- |
| | |
We went quickly to the last stop of our fanclub meeting - inviting Laurent to join us in the car, while the sky had now opened and sent us some showers. At the restaurant, Magali had booked for us - Armelle, another fan club member, was waiting for us. She had not been able to attend during the day, (just like Hélène, my very dear friend, who spoils me sometimes with her splendid creations of "Catherine and Arnaud"). I am sure it was not easy for her at the first moment, when seven happy, all smiling, and chatting together, women entered. Amid them, tall and handsome Laurent le Doyen. But no worries, Armelle and the "Le Gerfaut" fans understood each other at the spot. We ordered our meals, Laurent found finally out that little Anaïs had the whole day a secret, she was hiding from him! I will not betray it, for me that was so cute, and I can tell all the fans of Laurent le Doyen, he is a sweet and and lovable man. Not forgetting to call Magali, in the restaurant, considering how upset she must still be, for not having been able to attend. Grinning at Anaïs for her private joke with him and answering patiently our questions about his career. Telling us of some of his future plans - joining JouJou for a cigarette break - teasing poor Mistral that it was now time to speak French! Voilà, "vous êtes très charmant Laurent", I was at least able to say to him ;-) My résumé of that stupendous day? I hope that all members of fan clubs are treated so courteously as we have been, by this gallant and well-mannered star of the memorable series "Le Gerfaut"!

Thank you again chère Magali, for making this all possible. Thank you cher Laurent for sharing a moment with your fans. I shall remember this founding day of the very first fan club of "Laurent le Doyen" with a deep gratification! I have been welcomed by the "Le Gerfaut" fans with open arms and I like to express my sincere thank you for that. I am sorry that I was not able to meet Magali and some of the other fan club members, who were for different reasons not able to attend the fan meeting at Versailles. Believe me, "Le Gerfaut" and with it Laurent le Doyen shall have a special place in my heart, together with all his fans. After all, we all belong to the "La Benzoni/Sarraut family, or as Laurent whispered in my ear "Mafia" ☺
Linda (Mistral) webmaster of the Catherine website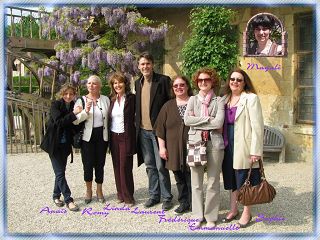 click...




I like to thank Frédérique for the beautiful banner
and for her help on certain facts about *Le Gerfaut*

© 2008 - 2020 linda compagnoni walther
non profit site
all rights reserved