Pierre-Marie ESCOURROU

Born: November

30


French Actor
comédien de théatre
Theater director
Screenwriter
Narrator of books



Originally of Carcassonne, Pierre-Marie Escourrou spent part of his youth in the South-East, Antibes and Vence in particular: « I benefited greatly from the South and its nature. I was out all the time, to go diving, caving. »

As a young adult, his plans to become a professional actor leads him to Paris, to join the prestigious National Conservatory of d'art dramatique. « I simply adore it"...
extract of an article by Martine Pitou, July 2014

La compagnie de l'ange

Pierre-Marie Escourrou has founded the « Compagnie de l'Ange » in 2008. He is an artist with many skills such as : directing, writing, acting for movie, theater and television, he was trained at the National Drama School named "Conservatoire Dramatique National Supérieur d'Art" from Paris. He is a dynamic contributor at the "Atelier à spectacle" by animating courses called "Prémices de la scène" (beginning on stage) or et "Premières Places". "L'Histoire du Tigre" is his second creation for his company.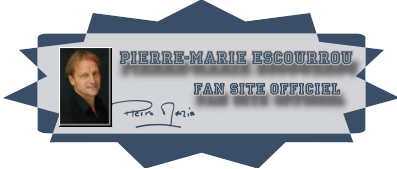 The fansite of my dear friend Magali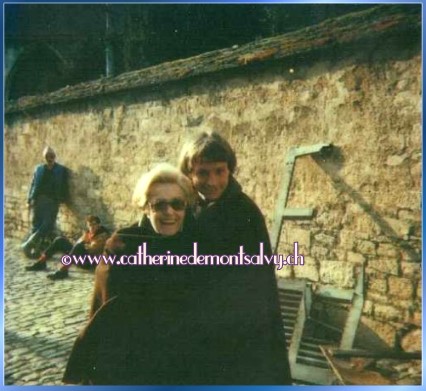 The touching words of Pierre-Marie Escourrou
about the loss of our dear Juliette Benzoni

My dear Juliette;
Arnaud de Montsalvy is sad today, his Juliette has gone to join the angels. So many happy moments in my life I owe you Juliette, your good humor, your kindness, your generosity. I recall in my memory these days of the year at your home in St Mandé ,surrounded by your immediate kin and all of us, Marion, Philippe Pascale, Claudine Catherine, Gerard, the so beautiful characters, fruit of your imagination and your talent that you offered to us. All my thoughts accompany you to the the top of the paradise of the poets and I'm sure a guard of honor is waiting for you, consisting of our comrades who have gone before you.
I embrace you with all my heart,
Pierre-Marie ESCOURROU

My dear Linda
Alas I work on Friday and cannot be with you to accompany Juliette to her final resting place; I have phoned Anne and I know you'll be there. I embrace you strongly.
Pierre-Marie ESCOURROU
---

NEWS about Pierre-Marie ESCOURROU 2015


Salle Le Paradis du Lucernaire
du 29 août au 10 octobre 2015 du mardi au samedi à 19h

De : Dario Fo
Mise en scène : Pierre-Marie Escourrou
Traduction / Adaptation : Nicole Colchat et Toni Cecchinato
Avec : Pierre-Marie Escourrou

Durée : 1h


Comment apprendre à résister, à lutter contre la violence des dogmatismes les plus féroces, politiques ou religieux, lorsqu'on est un soldat chinois rescapé de la longue marche, sauvé de la gangrène par une tigresse...
L'histoire du tigre est une fable polémique chinoise qui raconte le périple d'un soldat rescapé de la longue marche. Elle illustre l'esprit de résistance et de ruse du peuple contre la violence, le dogmatisme et la langue de bois des politiques. L'écriture talentueuse du provocant Dario Fo, son humour intarissable et corrosif, permettent de démystifier le sérieux de la situation par un rire salvateur.
Pierre-Marie Escourrou nous entraîne dans cette joyeuse épopée sur un rythme infernal et

mes remerciements vont à Sylvie B. qui a partagé cette nouvelle à propos de notre Pierre-Marie Escourrou avec mon site. Linda, webmaster
2015

ZZ
directed by François Villard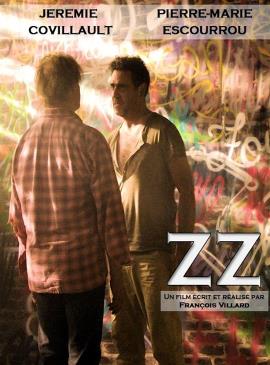 Short - Film

Jérémie Covillault is JACQUES
Pierre-Marie Escourrou is ALEXANDRE


texte par Pierre-Marie Escourrou (Dossier de Presse)

J'ai tout de suite été séduit par l'écriture ciselée de François Villard et l'esprit de fond qui s'en dégage. En effet, avoir choisi "Zidane" et son "coup de boule" comme sujet de conversation entre deux hommes privés de leur liberté, malmenés dans leur intégrité par leurs semblables, conversation qui va finir en pugilat verbal, leur faisant oublier totalement l'endroit où ils se trouvent
... Il fallait y penser ! La double métaphore sur notre capacité à conserver notre liberté de penser, à savoir si Zidane aurait dû rester cette icone défiée à tout jamais ou redevenir "humain" en se cassant la gueule de l'escalier de son olympe, avec son fameux coup de boule, tout en étant, enfermé reste une prouesse digne d'un tripple salto arrière sur un fil tendu au-dessus du grand canyon.
Et pour un acteur, l'exercice se révèle tout à fait jubilatoire ! Quelle belle leçon de résilience !! ça en dit long sur l'humanisme et l'humour de François Villard. Merci donc à François, mon réalisateur, à Jérémie, mon partenaire et à tous mes camarades de jeu pour ce beau moment de partage, cette chaleur et toute cette gentillesse dont je me suis enti totalement enveloppé.

mes remerciements vont à Sylvie B. qui a partagé cette nouvelle à propos de notre Pierre-Marie Escourrou avec mon site. Linda, webmaster
---

2013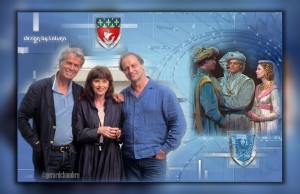 the beautiful meeting of the trio
Gérard Chambre (Xaintrailles)
Claudine Ancelot (Catherine)
Pierre-Marie Escourrou (Arnaud)
my great thanks goes to Gérard Chambre to have sent me THE photo
---
I can announce with great pleasure that we have found Arnaud de Montsalvy (not in Granada☺☺☺ PM Escourrou but at Dreux! to all fans of Pierre-Marie Escourrou the report
---
I would like to give my sincere thanks and gratefulness to my dear friend Pierre-Marie Escourrou who played Arnaud de Montsalvy in our beloved series Catherine de Montsalvy - Pierre-Marie has done me the great honor for an exclusive interview. After all Pierre-Marie Escourrou is forever our Arnaud de Montsalvy ! I send Pierre-Marie our best wishes and great success for his future career. 10 September 2009
---


some audio recording of Pierre-Marie Escourrou


Arthur Honegger


Jeanne d'Arc au bûcher
written 1989 - France


Marthe Keller


spoken vocals - de Jeanne d'Arc

Georges Wilson


spoken vocals - le frère Dominic

Pierre-Marie Escourrou

spoken vocals - de arrator


Audio books

2008

Dans les bois
author Harlan COBEN

2008
Paradis sur Mesure

by French author
Bernard Werber

Narrator: Pierre-Marie Escourrou


Narrator: Pierre-Marie Escourrou

Pierre-Marie Escourrou has played in many unforgettable and memorable productions. Here is a link to IMDB to do justice to his outstanding work.
I would like to thank Aleksandra for sending me the photos of the audio cover "Paradis sur Mesure) also for the photos concerning Pierre-Marie in " L'été de la revolution and "La Balance"

thank you Aleksandra