I am very happy to announce, that Gérard Chambre send me back my creation - which he has dedicated to the fans of Juliette Benzoni. Gérard has played in three of Juliette Benzoni's book series, in Marianne : alias Jason Beaufort - Catherine, il suffit d'un amour : alias Jean Poton de Xaintrailles and in Le Gerfaut : alias Admiral John Paul Jones. Thank you very much dear Gérard for this newest contribution to my treasure box and also for three never seen photos in "Catherine";-) I shall upload them one by one. The first one can be seen above!!

6.1.2011
MEETING with the one and only Claudine Ancelot!
Even though I seem to repeat myself, who would ever have believed, that I would one day meet Claudine Ancelot, the beautiful actress who played our heroine "Catherine"? With absolute great pleasure,I invite you to read my report of the meeting, together with my dear friend Frédérique from France. I am honest, even though a whole month has gone by, I am still very happy to think back of the that incrediable moment. At the same time, Claudine has done me the honor, to answer to my "12 quesition de Mistral" I would like to say again thank you so much, my dear Claudine, not only for me, but in the name of all our visitors. ♥ ♥ ♥


move mouse over writing above !!
20.7.2010
let me share my newest wonderful pleasure! I am talking about the
adorable SONG CATHERINE which was recorded in 1965 by French Singer "Bernard Stéphane" I was able to bid for the record on BAY, thanks to a hint by Claire from France - who informed Frédérique about it !!! And since we share our beautiful "Mistral & JouJou" connection :-) she sweetly said: that's for you ma chère, you are the Catherine webmistress!! Does one need more proof for knowing that there still exist REAL friendship in this world? I do not want to get sentimental tonight, I invite everyone to come and listen to the song of "Catherine, the girl with the golden hair"




:::::
7.6.2010
Laurent le Doyen

With great joy I have added my personal autograph in my treasure box. During our beautiful and unforgettable fan meeting in May, he did me the honor and signed me his photo, which I have added here. I want to thank Laurent again for being a star, who enjoys
move mouse over writing above !!
being with his fans. He has promised to answer my "Mistral's 12 Questions" and I am sure it is going to be another unforgettable interviewl
Merci beaucoup in advance dear Laurent.



9.5.2010
Corinne Touzet

While I had been attending the launching of the first "fanclub" of Laurent le Doyen in Paris, 9.5.2010 - Frédérique and I went to see the brand new play of Corinne Touzet
PERSONNE n'est PARFAIT

it was an
unforgettable afternoon - a marvelous play with fantastic actors. Lot's of laughter and an audience never wanting to end with applauding at the end! I would like to thank beautiful Corinne Touzet, for signing my selfmade card and for taking the time to pose for a photo with me. The "waiting-line" was incrediable long, for fans to get their dedication, even more so do I appreciate this special moment with the star of "Marianne" and of "Catherine" (Princess Zobeïda).
thank you very much dear Corinne


28.2.2010
Juliette Benzoni
I am very happy to announce that my very good friend Frédérique
and I, were able to spend another unforgettable day at Saint-Mandé. My favourite author, whom I have the permission to call by her first name - has done me the expectional honor to present me the very first book cover of "Catherine"! At the same time, writing a new dedication in a 1968 edition of Catherine - which is at the same time her preferred book cover of "Catherine de Montsalvy" Just like in October last year, I have written again a full account of this amazing meeting with the one and only Juliette Benzoni.

a very happy webmistress






:::::

25.12.2009
Gérard Chambre




With great delight I can present you Gérard Chambre's Christmas Wishes. I am very touched by his dedication and do not know how to express myself for once - other to say "Je vous en remercie"
cher Gérard

8.11.2009
Pierre DENY

Not enough that the very charming Pierre Deny answered my "12 Questions" he also did me the great pleasure, and sent me his autograph personally and also some lovely greeting to you, our visitors. I want to thank Pierre Deny, our Count of Dunois, for giving us the joy and knowledge that nothing is impossible, if we stay true to our dreams.

Again, merci beaucoup Pierre



:::::

31.10.2009
Juliette Benzoni

Meeting with Juliette Benzoni
Saint-Mandé

I am sure you can imagine how exited we were of this awesome moment, when two passionate webmistresses met for the first time, our beloved author Juliette Benzoni! A moment like this is something which usually only happens to other people or in a dream...
please enjoy my report of Frédérique and mine adventure at Saint-Mandé... and yes... to be continued...




:::::

26.9.2009
Pierre DENY

Not enough to have had the pleasure to interview one of the leading actors of the TV-serie "Catherine, Il suffit d'un amour in September - only weeks later, a very friendly Pierre DENY, who played Count of Dunois in the serie - honored us with answering "Mistral's 12 question's.
Like our other interviews, it was fantastic to learn about the shooting way back in 1986. But I am sure everyone agrees, Pierre DENY's recounting, how they had "swindled" to "Marion Sarraut, the director, of their ability to be able to ride a horse, was hilarious ;-)

Thank you very much Pierre DENY


:::::



10.09.2009
Pierre-Marie Escourrou
(Arnaud de Montsalvy)

I admit, when I created the "Treasure box site" after we were so lucky to bid for Claudine Ancelot's Autograph on 12 November 2008 - I never imagined for one moment, that I would one day be able to show some real-time Autograph's sent to us, by our beloved stars of Catherine, Il suffit d'un amour! Also to have the opportunity to bring some exclusive interviews. NO... not even I, a very positive thinking person thought this possible! But life is full of surprises !! Now let us all take pleasure in our newest accomplishment! THE interview with the one and only Pierre-Marie Escourrou alias Arnaud de Montsalvy :-) I like to say merci beaucoup again to him, for his kindness and the humor he showed towards me and on top of all this - to send the interview exactly on 10.09.2009, we celebrated our first anniversary.
Hmm... I begin to think I actually do have a fairy godmother... I wonder what she will offer me in the future?
Thank you very much Pierre-Marie


© 2008 - 2016 Linda Compagnoni Walther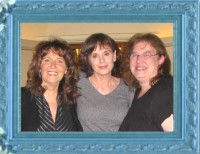 Mistral, Claudine Ancelot and
Fréderique
6.1.2011


To Linda who through her passion, her work, her creativity and her will to go deep into things, helped to perpetuate the memory of Catherine, who made us dream one day or another! Thanks for your kindness, your alertness and your simplicity.
with kind regards, I embrace you
Claudine Ancelot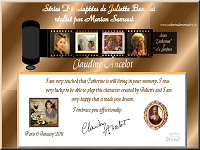 message by Claudine to her fans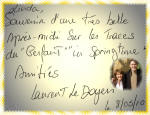 my personal autograph, which Laurent le Doyen signed for me, during our fan metting on 8 May 2010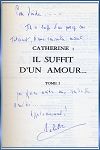 link to Meeting with
Juliette Benzoni


Gérard Chambre's
Christmas wishes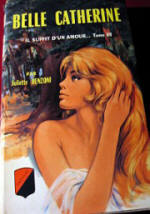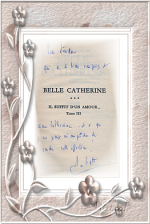 Mistral's dedication in her favorite of the serie Belle Catherine