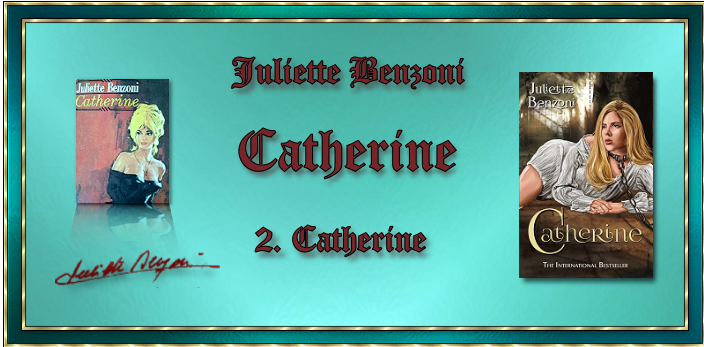 Catherine website since September 2008




for more information click on each high-lighted word below thank you


all seven Catherine de Montsalvy Novels are to be re-issued in England !



First published: in France by Editions de Trévise 1964



First published: in Great Britain 1965 by William Heineman Ltd.



re-issued by : Telos Publishing 2015 - unabridged this time !!



The re-issued Catherine series is dedicated to Linda Compagnoni Walther as was the wish of the late Juliette Benzoni

.

Chapters 19



translated into more than twenty languages



for Catherine and international book covers (31 countries !) - see my special sites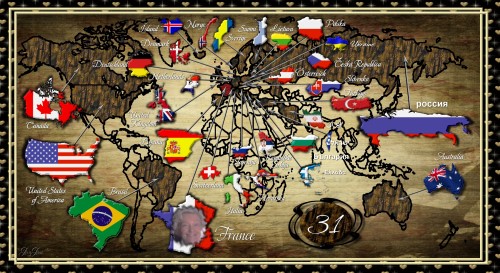 for more Catherine quotes- see extra pages



articles about Catherine



Film adaption in 1969 Catherine, Il suffit d'un amour - Director Bernard Borderie - Music by Michel Magne



Television-Serie in 1986 Catherine,Il suffit d'un amour - Co-Production Antenne 2 - SFP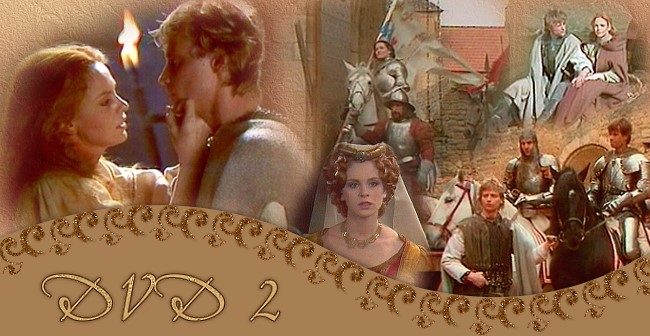 Director Marion Sarraut



Adaption by Juliette Benzoni & Jean Chatenet



Music by Robert Viger

Synopsis : Catherine

Catherine Legoix, daughter of a Parisian goldsmith in the time of the hundred Years War,is the victim of a hopeless passion for Arnaud de Montsalvy, prominent member of the Armagnac aristoracy, although she herself a favourite of the the Duke of Burgundy, Philippe le Bon. He has arranged her marriage to his wealthy Treasurer, Garin de Brazey, and every force in the troubled times in which they live: hatred, war, vengeance; drives Catherine and Philippe together, keeps her and Arnaud apart.

But Catherine defies the gulf which seperates Armagnac and Burgundian and, driven by the blind love, she travels the roads of France and Burgundy: from Dijon to Bruges, then to the beleaqured city of Orléans, where Arnaud de Montsalvy is among the defending corps. There her path crosses that of the Maid herself, Joan of Arc; and later she encounters an enemy from her childhood, the so-called "Butcher of Rouen"... Bishop Pierre Cauchon alias Bishop of Beavais.
' There is more sense in the flight of a blind bird than in a woman's hear.' Catherine's friend and adviser, the Moorish physician Abou-al-Khayr, once said to her. Through fire and water, hardship and every brutality of a country ravaged by war, Catherine pursues her destined course.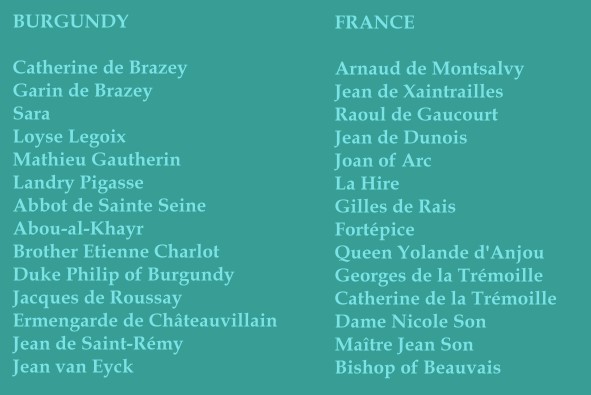 Memorable Quotes of Catherine


"A woman like you is made for love. I've been trying to din that into you for months now. So Arnaud is getting married, is he? So much for that! You can take him as a lover the moment this imbecile war is over...and be as happy as you like...
Ermengarde de Châteauvillain to Catherine Chapter Three

"This was not the kind of souvenir I had expected to take away with me my sweet...It looks as it will be the biggest bump on the head I ever had...the only one I shall cherish, at all event" ...
Philippe of Burgundy to Catherine chapter Four

"I shall always be glad I rescued you. But there is nothing you can do for me, Catherine. I am going to stay here in the Abbey. I have already asked the Abbot to receive me as a monk and he has agreed. He is a man after my own heart. I shall be proud to obey him."
Landry Pigasse to Catherine Chapter Nine

"You were wonderful...but forbidden, inaccessible to me...for ever! And I loved you, I loved you like a madman I all became...
Garin de Brazey to Catherine Chapter Nine

"The most beautiful Lady of the West! That is the name which he, whom they call the Great Duke of the West, has been pleased to bestow on me. Three years...Truly, Jean there is no woman more lonely than I...
Catherine to Jean Van Eyck Chapter Ten

..."so Messire de Montsalvy felt he ought to say farewell, did he? What an honour! What an extraordinary mark of esteem from a man of such tender pride!"...
Catherine to Arnaud de Montsalvy Chapter Thirteen

..."Arnaud, yours is the only respect I care about. Have you really made up your mind to hate me all your life?"
Catherine to Arnaud de Montsalvy Chapter Fifteen

"I haven't got the right to love you, Catherine, because the souls of my ancestors would rise up and condem me, but I do have the right to make sure you are save and well"!
Arnaud de Montsalvy to Catherine Chapter Fifteen

" A Montsalvy, eh? Michel's brother, I suppose! And you really thought I'd believe your little story? Do you take me for a simpleton, or do you think I've lost my memory? Release her? Your accomplice?...Do you think I would, knowing how devoted
she and her family have always been to the Montsalvy's?"
Bishop of Beauvais (Pierre Cauchon) to Arnaud Chapter Nineteen

...You don't know what you have just done for me, Bishop. Otherwise I think you would have thought better of it. Catherine, my love...my one and only love...can you ever forgive me?
Arnaud de Montsalvy to Bishop Beauvais and Catherine Chapter Nineteen

...I have nothing to forgive you...because now, at last, I can tell you that I love you...
Catherine to Arnaud de Montsalvy Chapter Nineteen
please click on each Book cover to reach your favourite book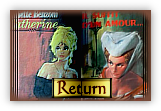 non-profit site
© 2008 - 2019 catherinedemontsalvy.ch
All rights reserved