Juliette BENZONI


30.10.1920 - 7.2.2016


CATHERINE
First published 1964 by :
William Heinemann Ltd
Pan Books, Fontana
translated by :
Jocasta Goodwin, Anne Carter

TELOS Publishing 2015
Cover Art©2015 Martin Baines
Cover Design : David. J. Howe

Return to International book covers


TITLES IN ENGLISH



Book 1 Catherine, One Love is Enough (before: One Love is Enough)
Book

2 Catherine




Book 3 Belle Catherine


Book 4 Catherine : Her great journey (before: Catherine and Arnaud)
Book 5 Catherine : A time for love (before : Catherine and a time for love)
Book 6 Catherine : A trap for Catherine (before: A Snare for Catherine)
Book 7 Catherine : The Lady of Montsalvy

to be translated by Telos Publishing...

ORIGINAL FRENCH TITLES

Livre 1 Il Suffit d'un Amour
Livre

2 Il Suffit d'un Amour




Livre 3 Belle Catherine


Livre 4 Catherine des Grand Chemins
Livre 5 Catherine et le temps d'aimer
Livre 6 Piège pour Catherine
Livre 7

La Dame de Montsalvy


Telos Publishing June 30, 2017

Catherine, her great journey, the fourth book in the Catherine Series by Juliette Benzoni's international Bestseller. It is now on the market since June 30 2017! .. either in book format or KINDLE or any other device ! stay tuned for more information soon.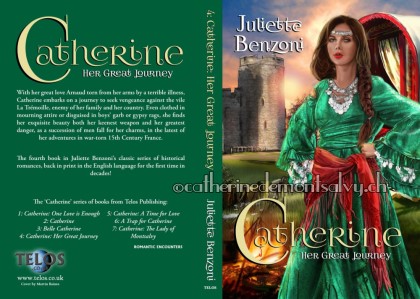 Souvenir from 1964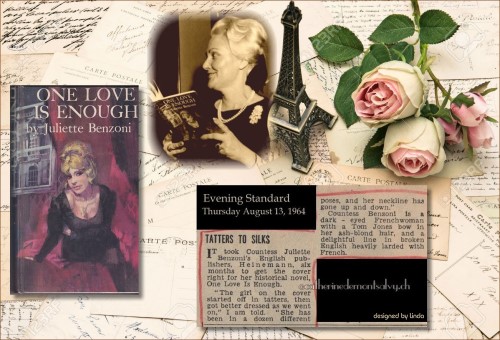 Evening Standard 13 August 1964 !
Only original English article so far about ONE LOVE IS ENOUGH even before the Novel was available in England at the bookstores. Do not miss to see the Press page → here


Souvenir from 1963
Juliette Benzoni is dedicating the first time her Catherine book IL SUFFIT D'UN AMOUR / ONE LOVE IS ENOUGH
We learn that England was also one of those 9 - 10 countries who bought the rights of the Book before CATHERINE was even available in the Bookstores... more to come about Juliette and her trip to LONDON in 1964 !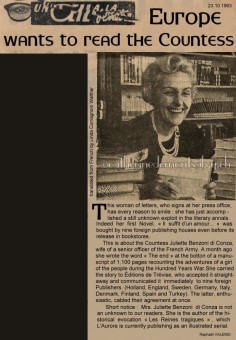 click on image to read the article...
Telos Publishing March 15, 2017

Belle Catherine the third book in the Series .... the first time with the whole text ... thanks to Telos Publishing who really cares that the faithful readers of Juliette Benzoni's international Bestseller can enjoy this beautiful book now. No one not the even the author herself knew that over 12 pages were missing - and not just that... even the last sentence was omitted ! You can order the book here
or at Amazon.com

For all the information about this great News, see my extra page → HERE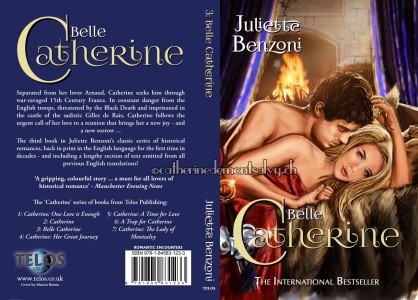 The Artwork is by acclaimed Artist Martin Baines



creation by Linda Compagnoni Walther, webmaster

CATHERINE, ONE LOVE IS ENOUGH - The International Bestseller reissued after more than fifty years !



Paperbacks and e-books by Telos Publishing 2015 & 2017

Hardcover images of the Catherine books between 1964 - 1974


Paperback images of the Catherine books for U.K., Australia, New Zealand, South Africa




book 1
1966


book 2
1967


book 3
1968
Paperback images of the Catherine books for Canada by PAN books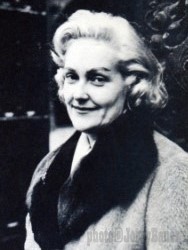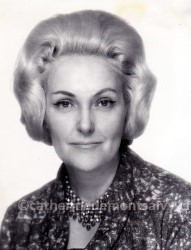 In Heinemann Ltd. original hardcover books we see these two beautiful photos of Juliette Benzoni. The one on the left was taken by the acclaimed late writer photographer Jerry Bauer ( 1934 - 2010 ) The photo on the right side was taken by another world famous photographer Sam Lévin (1904 - 1988). In 2009 I was able to bid for the photo of Sam Lévin on Ebay. It had a dedication on it and the person who sold it to me, was so kind to send with it also two original newspaper clips from 1967! for more information see my page Treasure box
© 2008 - 2019 Linda Compagnoni Walther