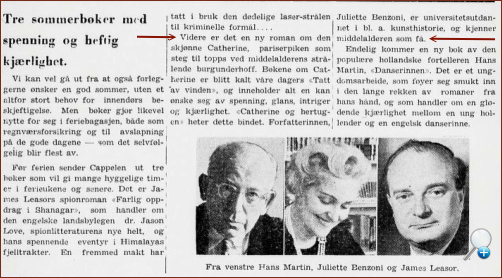 original Norwegian Journal 1965


In this original newspaper extract from summer 1965, the headline says :

« Three summer books with suspense and intensive love »

Juliette Benzoni, author with a university degree in history and medieval expert.

We see the same early portrait, as in the Italian book covers. It so happens to be, showing her the very first time signing her Catherine books at Opéra Mundi! I adore the Norwegian word «Parispiken » (Parisian girl ! )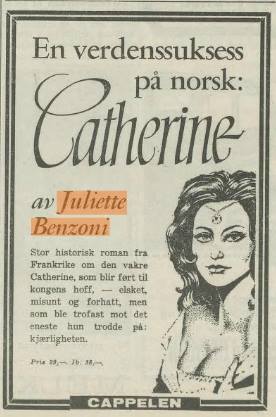 So far I have been out of luck to find the first Norwegian cover for book 1. I assume the above image was an advertisement in a Norwegian journal back in 1965 with the headline:

En verdenssuksess pĺ norsk: CATHERINE av Juliette Benzoni

Translation: A Norwegian world success by Juliette Benzoni.

We can also see the name of the publishing house CAPPELEN and the price for the book. I am sure the cover for Norway looked similar like the Swedish and Finnish covers. I am not giving up hope to see it one day in all its beauty...