Telos Publishing March 15, 2017

Belle Catherine and Catherine: Her Great Journey .... the first time with the whole text ... thanks to Telos Publishing who really cares that the faithful readers of Juliette Benzoni's international Bestseller can enjoy this beautiful book now. No one not the even the author herself knew that over 12 pages were missing - and not just that... even the last sentence was omitted !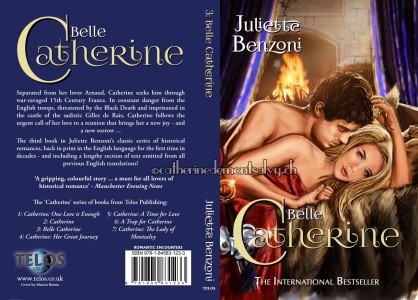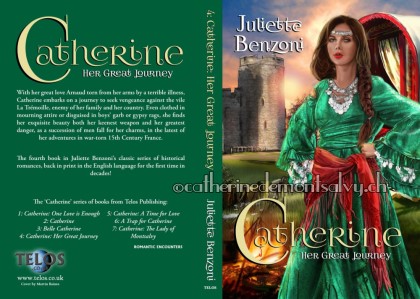 Artwork by acclaimed Artist Martin Baines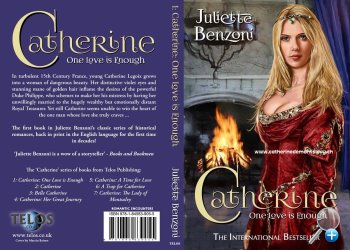 January 2, 2015
☆ Exclusively on the Catherine de Montsalvy website ☆
the brand new English book cover of CATHERINE, One Love is Enough
Cover Art Martin BAINES

HUGE ANNOUNCEMENT !

November 21, 2014
all seven Catherine de Montsalvy novels are to be re-published in English !
starting with ONE LOVE IS ENOUGH and CATHERINE on March, 1, 2015
When Telos Publishing contacted me in January 2014 with their hopes, nobody in the world could be happier than myself that at long last an English publisher wanted to bring all seven of the Catherine de Montsalvy novels to a fresh audience. For seven years I had written letters worldwide, begging for that seventh novel La Dame de Montsalvy to be published in English – and out of the blue came an email from Telos. Juliette was absolutely delighted, of course, and set me the task of being her « go-between » until the contract was signed. I am so thrilled to tell you all that Telos are working on new translations so that the full French texts will be in their new English editions in both print and ebook formats.

December 1, 2014
☆ What a wonderful surprise to be sent a proof copy of One Love is Enough, the new English translation by Telos Publishing, and what an honour too that they trusted my knowledge of the Catherine story and asked me to check it for errors!
For years I had hoped beyond hope that one day the English readers would be able to read Juliette Benzoni's « Catherine » without left-out texts and other mistakes. A dream is coming true before my eyes… forever combined with my heroine and all the other unforgettable characters of Catherine… a fairy-tale magically coming to life. ☆



creation by Linda Compagnoni Walther

CATHERINE, ONE LOVE IS ENOUGH - The International Bestseller
reissued after more than fifty years !