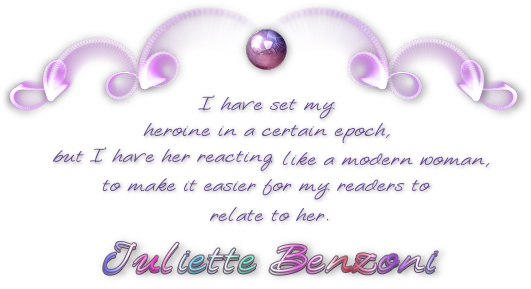 Juliette Benzoni 30. 10. 1920 - 7. 2. 2016




« Alexandre Dumas in petticoats » ! On the literary level, « she is of the same caliber as Alexander Dumas and Victor Hugo » (Alain Decaux: historian).
With Juliette Benzoni's death in 2016, it is even more important to maintain her legacy. Linda, Webmaster 2016


PROPOSAL FOR THE CENTENARY

JULIETTE BENZONI 100 YEARS 1920 - 2020


March 15, 2020
We, propose a Centenary stamp in France, dedicated to the Centennial of Juliette Benzoni 30.10. - 2020, to honour this extraordinary Author, whose goals it was to make the French love their History.


Please join us with this honourable proposal so this Tribute can be realised !
M E M O R I E S...
During one of our visits, Juliette Benzoni smiled and asked if we had entered her bed-room, which served also as her office. We had answered no, we would not have allowed ourselves to enter her room without permission... Her answer? But of course you can enter and look around where I work and write my books....
Today we entered it again, but with a melancholy heart... the typewriter is waiting for its owner, a drawer is still open, a notebook on the table... on the left side a book about the history of the Duchess of Berry... the room is almost uncanny silent.. what if the typewriter could speak?... silently, we tiptoe out of the beautiful room... and leave the orphaned typewriter in grieving...Saint-Mandé 11. 2. 2016

With deep regret I inform you that our dearest Juliette, our beloved author, passed away on February 7, 2016 in Saint-Mandé . She died quietly in her sleep, her dear daughter Anne at her side!

She was in her 96th year and for over 50 years has taught us so much about history, entertaining us with its beautiful characters with whom we loved and suffered! She leaves us 86 gems to read and re-read with as much pleasure as the very first time.
For more information's see my Press pages → here

For me she was more than my preferred author, she had my friend Frédérique and me adopted, and called us her « filles des grands chemins » (in line with Catherine, des Grands Chemins). I am going to miss her more than I can express in words... All my thoughts are with Anne her daughter.
I like to share with you some of the beautiful words Vincent Meylan, close friend to Juliette wrote to me on the Catherine, il suffit d'un amour Facebook page:

Dear Linda,
So many of us feel the loss of Juliette tonight. I know this is something very personal to say, but maybe it will help you a bit. I have decided a long time ago that I would never accept that someone is dead. I just live with it. I do not think people are ever dead. I keep dead people, which I love with me, always - this is quite easy to do in Juliette's case. Yesterday evening I started reading again Catherine and I so love it. I am so thankful to Juliette for having written such amazing books, which always take me to a place I enjoy so much. Juliette is not gone. You just have to open one of her books to be close to her. Try it...
Je vous embrasse amicalement and do not forget to read a few pages of one of Juliette's book tonight. Vincent
Portrait of Juliette Benzoni by webmaster

Personal life...
Juliette Benzoni was born 30 October, 1920 in Paris/France. Her maidenname was Andrée-Marguerite-Juliette Mangin. Her father Charles-Hubert Mangin, was a industrial, originally from Lorraine and her mother, Marie-Susanne Arnold from the region of Champagne, with Alsace and Swiss origin.


On the above photo, can be seen the oldest photo of Juliette when she was around three years old. It was taken in Reims at the place of her grandmother. On the bottom of the photo, we see the writing of Juliette about that photo. The photo has been shared with us by Anne Gallois, her daughter. Thanks so much for your generosity très chère Anne.

She passed her childhood in Saint-German-des-Près. When she was near fifteen years old, her parents moved to Saint-Mandé.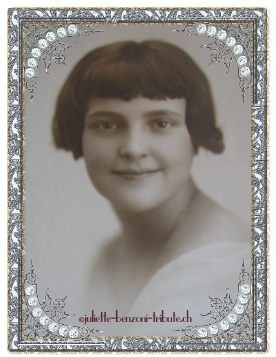 Juliette Benzoni (aged 11)

She studied at the Hulst College, then in the Catholique Institut of Paris, philosophy, law and literature. After her education she married 1941 a doctor from Dijon Maurice Gallois, and was soon mother of two children.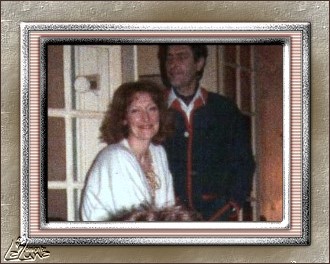 Anne Gallois and her brother François Gallois in 1985

During that period of her life, she spent many hours in libraries, studying the history of Burgundy in Medieval times. One day she came across the legend of the Orden of the golden Fleece, which would years later inspire her for the Catherine novels. After the liberation of France, she lost 1950 her husband and decided to go to Morocco, to visit her deceased husband's relative.
While in Morocco, Juliette joined the editorial staff at a radio station called Radio-International. She met Colonel Count André Benzoni di Conza and they married in 1953.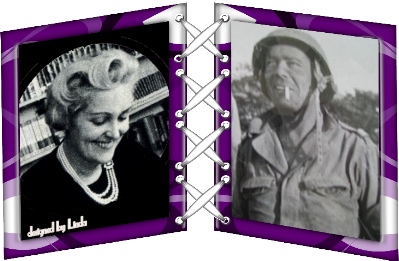 Juliette and her late husband André Benzoni, Count of Conza

Career...
After her return to Paris, France, she launched into journalism, writing for several newspapers, a number of historical articles.

In 1959 Gérald Gauthier, director of the Press Agency at Opéra Mundi had seen her in Le Gros Lot (Quiz TV Show) , and been impressed by her historical know-how about the Italian Renaissance. Gauthier asked her if she were able to write a historical romance in the style of Anne Golon's Angélique. Juliette remembered her time in Burgundy and her fascination for the Orden of the Golden Fleece. Juliette Benzoni started to write Catherine, (original French title: Il suffit d'un amour) The first book was immediately a huge success and already ten foreign publishers bought the rights to translate tCatherine, even though the story had only been published at first as a Cliffhanger in the daily newspaper France Soir. Her first bestseller, Catherine has been translated into more than twenty languages!

Photo of Juliette which dates back to the year of 1971. We can see Juliette dedicating Marianne, and the masked Prince from the series Marianne, a Star for Napoleon.

Even the author herself could not understand what fascinated millions of readers, about the life of a young Bourgeoise from the fifteenth century. Juliette had touched the hearts of her readers, the way she combined historical facts with the life of her heroine in bygone times. The secret of her success? Her ingenious way of writing, the leak-proof historical facts and also the human side of her fictive characters. The famous French historian Alain Decaux was a great admirer of Juliette.

The « Catherine novels » were to be a five book series hence the epilogue in the fifth book. That book was published in 1968 with the title Catherine and a time for love (Catherine, et le temps d'aimer).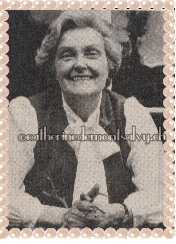 This is what Juliette said in an interview 1985 about Catherine:
« ...I have a weakness for Catherine. Because she was the first of my heroines, and also because her story I invented, while "Marianne, a star for Napoleon" was a command given to me for the bicentenary of Emperor Napoleon Bonaparte...»

After her great success with « Catherine » Juliette Benzoni, never stopped writing. Her next series was called « Marianne, une étoile pour Napoléon » which dealt in the Napoleonic period.
During the writing on one of the Marianne books, Juliette Benzoni was asked if she would write two more « Catherine books » due to the fact of the sensational success. She agreed and in 1973, five years after Catherine and a time for love, the first of the two books Snare for Catherine (Piège pour Catherine) was put on the market. Though her readers had to wait six years until the sequel La Dame de Montsalvy was published in 1979! This was not Juliette's fault, please see what the author told me on one of my visits to Saint-Mandé: follow this link → here for all the information.
Filmography:
In 1968 a French, German Italian co-production adapted the first two Catherine novels for cinema with the same director Bernard Broderie, who had created the Angélique films (Anne Golon). Unfortunately the film was a disaster. As Juliette told in many interviews her story had been totally changed. The film begun with showing nude girls in a bath in Paris - and her hero Arnaud de Montsalvy revolutionized in Paris 1413. When she saw the movie she "cried like a waterfall and for her the subject film was finished.

In 1983, French television Antenne 2, adapted Juliette's second bestseller, Marianne, a star for Napoleon directed by the ingenious Marion Sarraut. This time Juliette Benzoni was more than satisfied, she worked hand in hand with Marion Sarraut and the overwhelming success tells it's on tale.

In 1986 Antenne 2 adapted also the story of Catherine likewise with Marion Sarraut as director. Juliette was more than happy that finally her true story and that of her characters made forget that aweful movie from 1968! The success was overwhelming and until this day Claudine Ancelot who was such an adorable Catherine, and Pierre-Marie Escourrou, as the arrogant but beloved hero Arnaud de Montsalvy are unforgotten and remembered with great joy and admiration by all those who were able to watch the TV-series. Alas, ony the telespactors in France and years later in Poland were able to see that superb adaptation.

A fictive character named Aldo Morosini...
Juliette Benzoni wrote over 86 immensely successful books...! This article would not be complete without mentioning at least one more great success - that is of the 15 Aldo Morosini adventures, the Venetian prince, expert on precious and ancient stones.

Please follow the link to the Aldo Morosini extra pages to learn more about Juliette's favourite male character, she would have loved to have as her nephew as she told in an interview... more details → here...

Juliette's last book Le Vol du Sancy - Des Carats pour Ava? Was published two weeks before she left us on 7 February, 2016. It was the 15th adventure of Venetian Prince Aldo Morosini and his gang,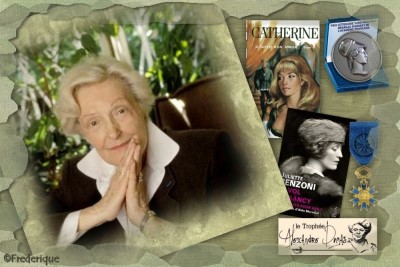 photo of Juliette Benzoni
covers of Catherine and Vol du Sancy
with images of her Awards
It had been one of Juliette Benzoni's wish that her Aldo Morosini books would also be translated in English, German and for sure in Italy! Is not the hero from Venice? But no publisher ever approached her, or her publisher PLON! Indeed a great mystery when already 9 countries: Hungary, Portugal, Spain, Russia, Slovakia, Czech Republic, Greece, Poland and Israel had translated the story of Aldo Morosini. Just for those who read my article and are interested to know, the Aldo Morosini series are not historical romances, but mystery books in the style of Agatha Christies and Aldo can be compared with Simon Templar, except the story starts in 1918 - 1932.

She was an incomparable author and her historical books were absolutely accurate. Every tiny detail and character was thoroughly studied. Her heroines are credible and lovable and the real personages seem to come alive and were not only a name in a history book anymore!

... but let us read what the acclaimed historian Alain Decaux said:

I know how you work, how you prepare yourself. I know you have spent five years collecting material for "Catherine". That you have gone through three hundreds books, made hundreds of notepads.
Certainly, as a part of the story, you introduce fictitious characters. Nevertheless, this is the perfectly legitimate privilege of the historical novelist. What the strictest historian must recognize is your will to paint the real characters, as they were, and to make them evolve in a perfectly authentic setting...
Alain Decaux in his Foreword for Par le Fer ou le Poison in 1973, Editions Trévise.
* * *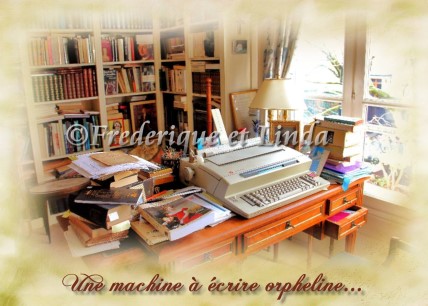 Meeting Juliette Benzoni at Saint-Mandé...
I had the extraordinarily joy to have met Juliette on many memorable visits to her home in Saint-Mandé. It has enriched my life and confirmed to me one thing « dreams can come true » we must only believe in them....! I shall never forget her and will always cherish those moments I was able to spent in her company. Her Catherine novels are closest to my heart, it was through them I started to love French Literature since my youth.

Now my dearest friend has gone on... I would love only one more time to thank her infinitely for all the memorable hours she has given me while reading her outstanding precious books, travelling with her characters to many places I would not have known without her books. I shall never forget the happy moments at her home together with her daughter Anne.

Juliette I miss you very much, but one day we shall meet again and you will tell me all about the secrets you have learned now about some of the historic characters. Who was behind the Iron Mask? What happened to Queen Marie-Antoinette's little son Louis, XVII ?

Every time we went to see Juliette, I thought of our first meeting. Every time it was like entering an enchanting room in a castle where a special aura prevailed and a venerable queen was waiting for us. As a ritual, without ever talking to each other about this, we took back our seats on the white comfortable settee. When it was time to leave and say our au-revoir, Juliette used to smile at us and say: "When will you girls come back to see me again?" And we answered back in unison, smiling at her while we got up to embrace her "as soon as possible dear Juliette..."

Until then my adorable sweet Lady of Saint-Mandé, I shall go on reading your books everyday, if only a few pages.

With all my love
Linda

* * *






1973 Alexandre Dumas Prix



1988 Prix Littéraire « Louis Barthou » Silver Medal of the Académie Française for her book Felicia au soleil couchant (Series Les loups de Lauzarques)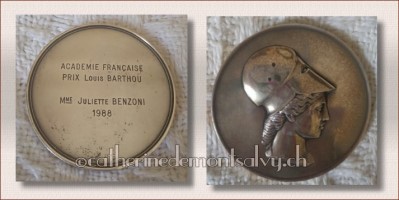 1998 Chevalier
of the National Order of Merit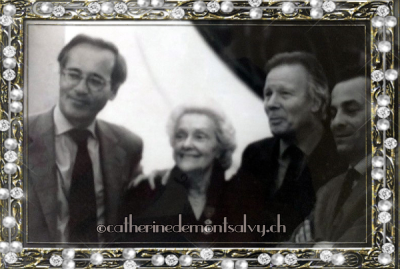 Juliette Benzoni receiving the National Order of Merit.
On the right we recognize Jean Piat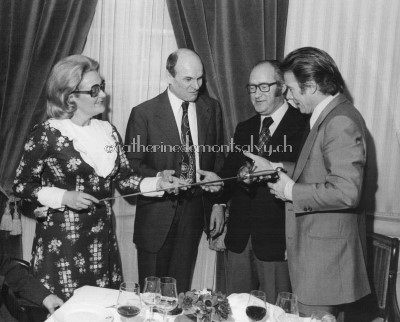 1974 Founder of the Trophy Alexandre Dumas

Souvenir of 1974
Trophée Alexandre Dumas



Do not miss to read in detail the story behind the Trophy Alexander Dumas, created in 1974 by our Juliette Benzoni.
We see on the above photo, the author Juliette holding the Sword which was awarded to, François Chaumette for his interpretation of ATHOS in the television Series d'Artagnan, Alain Decaux president of the Association friends of Alexandre Dumas, plus everyone's darling JEAN PIAT famous for his role in The cursed Kings, Lagardaire and many more fantastic roles. For more details see HERE
Juliette Benzoni was one my winners of the CDM Award 2010. I had created just for fun in 2008.
It was my way to say thank you, for her generosity to share with her faithful readers, so many articles, photos and anecdotes and for the joy she gave us, writing unforgettable books.

Linda, webmaster



photo©linda compagnoni

31 October 2009
the day I met my adored author Juliette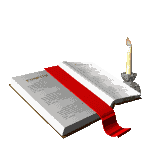 return button


non-profit site
© 2008 - 2020 catherinedemontsalvy.ch
All rights reserved

design by Evelyne Diggelmann Walther