Anniversary 2011
With great pleasure we announce
for the 91th anniversary of Juliette Benzoni, Frédérique of the français bibliojbenzoni blog and Mistral of the Catherine de Montsalvy website, work again hand in hand for this latest magnificent and marvellous gift.

You can send your foto either to Frédérique or Mistral :


The birthday of our Queen of Historical Novels is approaching fast… after the gathering of pictures of friends and readers of our Juliette Benzoni for her birthday present last year, I have asked myself - what could we do this year…???
if you missed this, we can still add you in the Portrait Gallery of readers.
Juliette Benzoni will see the updating of this beautiful gallery of friends …

at this point, let us welcome our latest guests on that page :
Nádia and Lurdes from Portugal and Nadine from France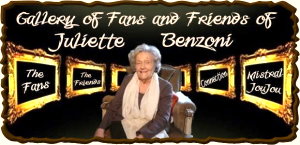 Frédérique remembered an idea that came to her mind a few months ago, by looking at pictures of friends and readers of Juliette on facebook. Why not, after having shown our faces last year, let our favorite author also see all our beautiful shelves, full of the books she has so well written! So - why not send us a picture of you reading one of her books and a short birthday message to her… We would gather all the pictures, creating a beautiful sideshow that we will bring to Juliette Benzoni, on 30th of October.
+
+"a message for the author "
Your shelves are not full of her books? But what you have read of Juliette Benzoni made you a fan to her writting style. Come and join us anyway , a picture of you and a message to her is enough… and if you do not want to be seen online, take instead a beautiful image...the most important fact is, to participate in a way or another!!!
The concept is up, we hope you love the idea and will come in numbers to participate for this new projet. We leave here the mail addresses to send us pictures and messages (they shall be translated by us into French for Juliette
)… each foto sent to us will be presented in a lovely creation, done by Frédérique) (we will be pleased to send you back the creation which was done on behalf of your material.) Below is a preview of what the birthday present will look like! Dear friends, come and join us quickly


Come and visit our message gallery, where already 51 birthday cards are shown. You will also see our two "special" cards, in case you like to participate, but without a photo...and do not miss with a twinkling of the eye, the future generation of Juliette's readers ☺
thank you so much to all of you who
participate for this outstanding
birthday present
Linda and Frédérique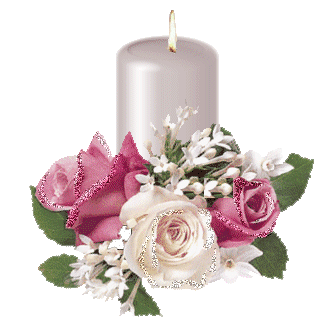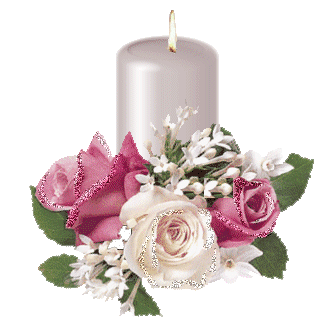 Très amicalement
Frédérique webmistress de la Bibliographie de Juliette Benzoni
Linda webmistress of the website Catherine de Montsalvy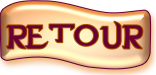 © 2008 - 201
8
www.catherinedemontsalvy.ch