audio books on CD MP3




1. La Dague au lys rouge (Plon 2010)
2. Le Couteau de Ravaillac (Plon 2010)

She is an orphan.
She was raised in a convent.
She is the heiress to a great fortune and the godchild of the Queen of France, Marie de Medici.

summary by Mistral
I adore the new heroine in Le Dague au lys rouge by Juliette Benzoni called Lorenza Davanzati and she is from Florence, Italy.
(plays between : 1608 - 1612) (bastard-child of Madalena de Medici and goddaughter of French Queen Marie de Medici) who had come to Paris to marry young and handsome "Antoine de Sarrance"! Her first fiancé Vittorio Strozzi had been stabbed with a dagger, ornate with a precious red lily. Together with the dagger, the assassin had left also a piece of paper: which said: whoever wanted to marry "Lorenza" would end the same way!

Lorenza's reception in France - is not the way she had imagined it! A betrothed who had refused to marry her - a godmother who is the Queen of intrigues - a supposed to be "father-in-law" who tries to rape her - and of course as we are used to from Juliette, lovable characters, we shall surely not forget!
What will happen to the adorable Lorenza? Will there be a happy end with the "Marquis Antoine de Sarrance" or his best friend "Baron Thomas de Courcy"?
All this will unleash, passion, intriques and murder.



♣ interesting detail : interview with Juliette Benzoni, talking about her book La Dague au Lys Rouge which was chosen in May 2010 as Grand Livre du Mois. A great honor, for an ingenious personalitiy as Juliette Benzoni is. I am sure it will not be the last AWARD Juliette Benzoni will receive. My personal wish, that finally her books shall be translated into English and all other countries, where Madame Benzoni has her faithful readers!
♣♣ interesting detail :I would like to thank Hélène, my French amie for her magnificence creation. It is her tribute to Juliette Benzoni's book la Dague au Lys Rouge. As we learned from Juliette herself, she would have preferred the paintings of Rossetti for her series La Bal des poignards - that is of Lilith. The text on this creation is taken from the book la Dague au Lys Rouge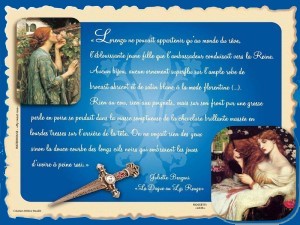 © 2008 - 2014 catherinedemontsalvy.ch