text by linda, webmaster

Before we got up to walk to "Maxim's" Claudine smiled at us and said she would bring us next time yet another photo of "Catherine" a very big one – something which has not yet been seen…or as we discussed between us later on…THE painting by « Jan van Eyck »? I am sure, Claudine is laughing when she reads my words here! We shall be more than happy, by whatever she will bring to us!

This is what I had written on May this year, when I returned home from Paris after our meeting with Claudine Ancelot at Maxim's. Four months later Frédérique and I were invited by our dear friend Claudine to come and pick up "our photo" at her place. There it stood, on the floor, a large parcel still unwrapped! Claudine told us it was her gift to us, smiling her unforgettable beautiful smile and telling us: " the photo is both yours, you do what you think is best"!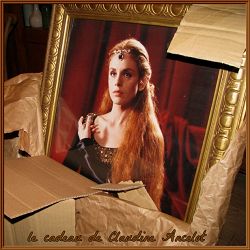 With friendly anticipation we opened a part of the parcel and we were able to have a first glimpse at "La Belle Catherine"! All of us who have seen the TV-Series Catherine, One Love is Enough" or read the book series by Juliette Benzoni, so wonderfully turned into a TV-Series by Marion Sarraut, do know which scene that was and what followed afterwards!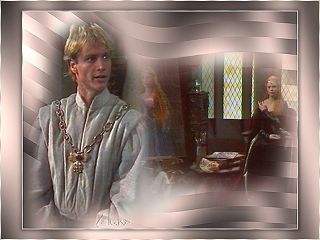 On a Christmas morning at Montsalvy in the beautiful country of the Auvergne, a messenger came from Burgundy. He stood in the snowy courtyard and carried with him a carefully wrapped picture, sent to the Comtesse Catherine de Montsalvy by her old faithful friend Jean Van Eyck.

My dear friends of Catherine/Claudine. This is not the picture Jean Van Eyck sent to Montsalvy. However, just as Van Eyck's painting once travelled to Montsalvy - it has has travelled many kilometres, coming from France to cross the border and arrive intead in Switzerland. Not by horse or protected by the soldiers of the Duke of Burgundy, but by your webmistress as if she carried with her the crown jewels of the Queen of England! I can tell you it was a spectacular adventure to travel by train, with a suitcase already heavily laden as usual, (Frédérique can confirm that ☺) and a picture in a golden frame by the size of 57 x 54 cm! I got many pitiful looks from women and some sardonic looks of men...! But...when has ever stopped something the webmistress of the Catherine de Montsalvy website? Especially if it concerns "Catherine"?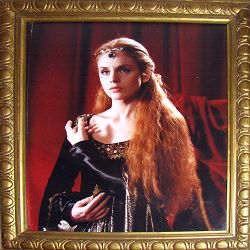 In mutual agreement we decided that "Catherine" will stay awhile in the land of the Confédération Suisse! After all the Mona Lisa traveled also once to New York (because of Jacky Kennedy, if I remember correctly)

In the meantime I am enjoying this precious gift, given to us by the beautiful Claudine our dearest and noble friend. It is in my "tower room" as I call the place where I work for my websites. At times I look at it and I just cannot believe the road it has taken me since the day I had the inspiration to create a website called: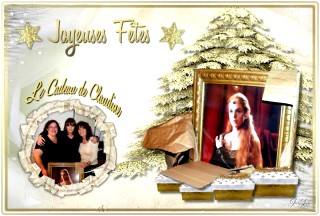 Frédérique's creation for the Advent calendar of 2011

I send again to Claudine my gratitude and thank her so much for trusting to us something so exquisit! Thank you dear Claudine, you are so adorable.

© 2008 - 2020 Linda Compagnoni Walther
Non profit site
All rights reserved