small image - click - large image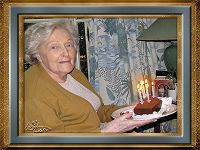 beautiful creation by LaLuna
We arrived in the early afternoon at Saint-Mandé to go straight to the now "famous" librairie de Saint-Mandé" and I our thoughts returned to the previous year, when we had met the first time, the person responsible that we were able to get in contact with Juliette Benzoni. The first act was to see if we could find Juliette's newest book: "Le couteau de Ravaillac"! There it was and I decided to buy the book for a good friend, whom I had already endowed the first book of the beautiful story of "Lorenza"
We were recognized in the bookstore, and we shared some anecdotes with the charming person, who was as thrilled as we were, about all our adventures.

Smiling we left the store to go and buy another bouquet for Juliette, like we had done the year before. All the while telling each other, that it was almost impossible that a WHOLE year had passed since two excited webmistresses, had been in exactly this flower shop! We left the store with our magnificence bouquet, to go to our final destination : Juliette' home"

| | |
| --- | --- |
| click to see Mistral's slideshow | click to see Frédérique's slideshow |

Like two schoolgirls who have done a harmless prank, we rang the bell (for those who keep count, it was Frédérique's turn this time☺ we waited... and waited...and no one answered us at first! We looked at each other and began to laugh, looking at our bags, our bouquet and birthday cake, I had in my right hand! Just then... a voice, recognizable as that of Juliette Benzoni asked who was at the gate! Frédérique smiling all over her face said: " Bonjour Juliette, it is Frédérique and Mistral"! We heard her chuckle and say: " That is not true...mon Dieu" and the gate was opening and we almost ran to the entrance door, which had been already opened by Juliette Benzoni herself - while she called her daughter, to see who had come to surprise her!
We embraced and kissed her and talked all together, meanwhile Oliver our dear hairy friend, wagged its tail joyfully! It was all very emotional as all of you can imagine. Our dearest friend shook a few times her head and smiled at us very happily. Our surprised coming on this special day moved her to the heart.

Anne, who had known that we would come, had kept the secret until the very moment when we rang the bell. She laughed and said it was time, to celebrate with a good glass of champagne and have some birthday cake, the only thing which was not able to betray our coming! Since I know of Juliette's passion for "Sprüngli" I had gone especially to get a small "chocolate cake" before I left for France. If that cake could talk, it would tell a long story, travelling from Zürich, Switzerland to Saint-Mandé France!
In the living room, which was decorated on this day, with several beautiful flower bouquets, sent by Juliette Benzoni's friends, we presented Juliette our personal gifts and showed her the birthday-DVD and Photo Album created by us, explaining that some of her friends, faithful readers and former stars of the TV-series had participated also on this exceptional and never heard of present! One by one, Juliette looked at photos and the names of the entire person, who had thought of her on this unique day! Her pleasure and joy was immense and even though she cannot thank everyone in person, she adored the idea and the sweetness of all the participating friends, readers and stars and sends them her heartfelt thank you.

While we enjoyed our Champagne, sang "Happy Birthday dear Juliette", tasted the various birthday cakes, Juliette smiled and repeatedly said what a big and wonderful surprise it all was! During our reminiscences, we remembered our very first visit a year ago, interrupted sometimes by a telephone call for the birthday girl. There was talk about her latest book "Le couteau de Ravaillac" her writing on the next Aldo Morosini and some other little secrets. I presented Juliette Benzoni with the "Catherine de Montsalvy AWARD" from my website, which she accepted with such grace as if it would really have been an important award!

When it was already dark outside, we took our leave of Juliette and Anne, hugging each other with a happy and content feeling. Smiling and saying one of my most favourites words in French: à bientôt très chères amies....and the door closed quietly behind us....