Fiora and Charles the Bold - Fiora et le Téméraire - 1988
Determined to avenge her mother Marie de Brévailles, executed for adultery and incest, Fiora left Florence of the Medicis and took the road to Burgundy of Charles the Bold. She vowed to kill the three responsible of the drama: the husband who mocked and violated her, her grandfather and the Duke of Burgundy, Charles the Bold. A perilous enterprise. To achieve this vengeance, all means are good. The young woman "forged out of iron and misfortune" will not hesitate to enter into the service of Louis XI and play courtesan or tracking Charles the Bold in his wanderings and his combats until his fall before Nancy. Nothing and nobody can stop Fiora. But exists there someone who can give her peace and happiness?
Fiora and the Pope - Fiora et le Pape - 1989
Nestling in the exquisite mansion Touraine which Louis XI donated to her, Fiora awaits the birth of her child by Philippe de Selongey her husband, when she learns the terrible news: her husband, "Bourguignon rebel" was sentenced to death for refusing to join France after the downfall of Charles the Bold and Burgundy. Crushed, Fiora must nevertheless confront new twists of fate. Shortly after the birth of her son, she is kidnapped and taken to Rome, where she is the victim of a heinous plot hatched by His Holiness Sixtus IV. Yet she manages to leave the holy city for Florence, the town of the Medici ...
Fiora and the King - Fiora et le Roi - 1990
A fabulous combination of circumstances threw Fiora into the arms of Lorenzo de Medici. But a messenger of the King of France carries a new surprise for her: her husband Philippe Selongey was not executed. Upset - Fiora returns to France and she begins looking for the man she has always loved. Thus begins a long quest that will lead her to Avignon, Bruges, Nancy ... her route will be sown with perfidy. Will Fiora succeed once again to triumph over adversity and to thwart the machinations of fate? Mystery is guaranteed until the end of the last page in this exciting saga.
Facts :
The La Florentine books were so far never translated into English or Italian! In Germany they translated only the first two books : Fiora - Eine Liebe in Florenz and Fiora - Eine Liebe in Burgund
Anecdote :
If Giuseppe Verdi were still alive, he would hurry up and create a opera with this novel - in LE FIGARO
Dedication by Juliette Benzoni to her faithful readers :
To all those, to all them who loved Catherine, Marianne and the Lure of the Falcon... with all my friendship J.B
Juliette Benzoni mentions in FIORA ET LE ROI DE FRANCE
her first heroine « Catherine de Montsalvy »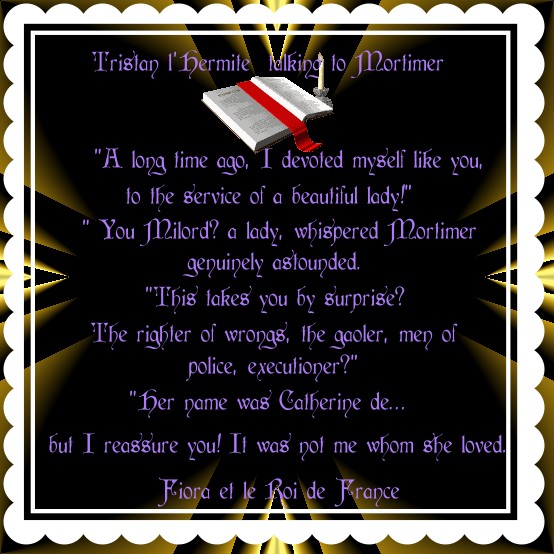 extrait : Fiora et le Téméraire
Charles le Téméraire : You hate me, is it not so?
She did not hesitate and had no trouble to answer, her grey eyes looking into the black eyes of the Prince:
Fiora : yes...without you, I would be happy...
Charles le Téméraire : without me, you would not even know him. Why would he have come to Florence?