Debut of the story in 1780...



The Lure of the Falcon (Heinemann Ltd 1978)
(first published by : Éditions de Trévise 1976)

The Lure of the Falcon marks Gilles Goelo's debut as Juliette Benzoni's first male hero in this new historical adventure. The novel opens in 1779 with young Gilles being primed for the priesthood at his mother's insistence. She believes her son's ordination will atone for an affair that left her with a bastard son and deprived her of a religious vocation.

But Gilles' heart rebels and he secretly wishes to go to America with Lafayette to join the fight against the British Imperialists. He also yearns to track down the identity of the father he has never known and whose name his mother refuses to disclose to him.
Gilles' frustrated love for Judith de Saint-Melaine, the daughter of an impoverished aristocrat, finally impels him to leave for the New World. In America, Gilles shows his true colours, both as a dauntless soldier and a formidable ladies' man. The renaissance man par excellence, he swims, fences, rides and makes love all with a nonpareil finesse.

General Washington sends him on an Indian mission where he again demonstrates his capacity for heroism and passion. Through a series of bizarre adventures, Gilles comes to terms with his own identity, which is revealed to him by the « Lure of the Falcon »
The Devils Diamonds

(Heinemann Ltd 1980)
Gilles Gaëlo now Chevalier de Tounemine, nicknamed the Gyrfalcon, hero of the Revolutionary War in America is finally ready for marriage he promised to Judith Saint-Melaine. Glory smiles at him, his reputation for bravery followed him back to Versailles.

In France, he goes in search of his missing fiancée, who has been the victim of an assassination attempt. He vows to find her and to raise money to buy his family domain. So Gilles leaves for Spain where he meets the Duchess of Alba and falls into the trap of love. She asks him to buy for her the famous necklace of Queen Marie-Antoinette.
The Treasure (not translated in English)
The Bastard child destined for the priesthood, Gilles Goëlo left his native Brittany to become a war hero at the side of La Fayette. Now Chevalier Tournemine he fascinates the court of Versailles by the story of his bravery and strong powers of seduction. The long-awaited night of his wedding with Judith, his beloved, Gilles is kidnapped by a woman and taken to a dungeon of the Bastille. With the secret complicity of Louis XVI, he manages to escape. In liberty, he tries everything to find Judith again, who disappeared in despair, believing her husband had betrayed their love on their wedding night.
To save the passion of his youth, Gilles, the Lure of the Falcon, sets off again on the path of love and war ... that of the greatest danger...
Haute-Savanne (not translated in English)
Gilles de Tournemine believes finally to know the delights of love and parts again for America with his young wife Judith. During a halt on the journey, he wins a plantation called "Upper Savannah" located on an island of the Caribe's. While taking possession of the place, he believes he has found paradise ... but he discovers hell.

The master of the prestigious area, Simon Legros is a greedy and unscrupulous man, desperate to keep the plantation. Facing this new setback of fate, his life also in danger the Gyrfalcon fights with bravely. But he seeks above all to win back Judith who refuses to be his wife, since she knows that Gilles is attracted by someone else. Will they succeed to be united by the desire that binds them together since the dawn of their Youth?
Anecdote :
As can be read in many articles, Juliette Benzoni mentions that she had received a personal letter by the 40th President of the United States Ronald Reagan, whre he thanks the author for her excellent narration of the "Independence War" 1775 - 1783 in the first volumne of her Le Gerfaut Saga « Les Gerfaut des Brumes » (The Lure of the Falcon). The letter was signed also by his wife Nancy. Unfortunatelly that letter was destroyed by a fire that broke out in one of the rooms of Juliette's house. She told me on one of my visits that not only that letter was burned on that unfortunate day, but also the manuscript of her Bestseller Catherine, One Love is Enough.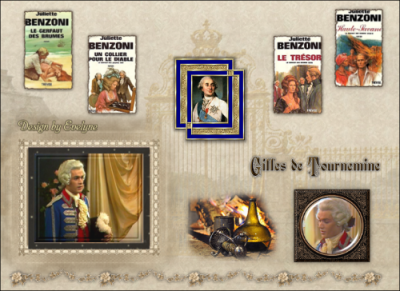 Extract 1. The Lure of the Falcon

Gilles : But... my father ? (...)
His Godfather the abbot de Talhouët : Your father ? He is the last of the scary breed of the Tournemine, who over centuries have melted like birds on prey on anything that came within reach of their laps (...) He was left with no power or the enormous wealth that was said at one time to be theirs, at a certain epoch the lords of the Hunaudaye were only slightly less great Seigneurs than the King of France. His name was Pierre...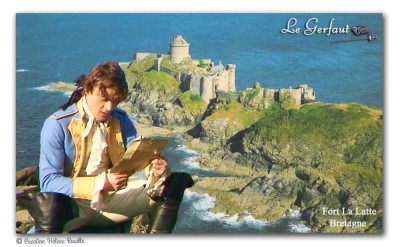 Laurent Le Doyen in the role of Gilles de Tournemine
Extract 2. The blood of the Falcon
- Why would you do that?" she asked almost timidly. You have had nothing from me so far but disdain and disrespect...

- Being who you are and who I am, it was almost normal," he said kindly. On the contrary, I think I owe you a lot because without you I might have let myself be locked up in the seminary. But you have given me a great desire to get closer, to try to become worthy of you... I think... yes, I think I love you...

The word had started on its own, as simple, as natural as a bird song and Gilles was surprised that the confession had been so easy. On his shoulders he felt Judith's hands quiver. They suddenly slipped, tied themselves around his neck and suddenly the girl's body tightly clasped against his as their lips united without anyone knowing which one had gone to meet the other...

(--)
- I'll be waiting for you, Gilles Goëlo! I'll be waiting for you.... three years, not a day more. If you keep your promise, I will belong to you and you can do with me whatever you want. Otherwise.... »

nota: On the photo below we see Juliette Benzoni at her home in Saint-Mandé. It was there she met Marianne Anska who would play in the 1987 TV Series Le Gerfaut the heroine Judith de Saint-Melaine. Laurent Le Doyen was chosen amongst many young actors to play the leading role of Gilles de Tournemine.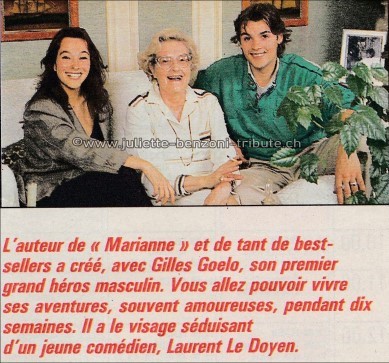 In this wonderful article from 1978 the author talks about her first male hero. In team work it was translated by Linda and Frédérique, the two friends who became close friends of the author since 2009.