synopsis : Ces femmes du Grand Siècle 2015

About twenty portraits of emblematic and essential women from the reign of Louis XIV. Female agent, mistresses or courtesan, they all evolve in the shadow of the Sun King.

Louis XIV's secret agent, woman of letters and power, adventuress, rebel, scorned wife, schemer or favorite... all the women gathered by Juliette Benzoni evolve in the shadow of the Sun King. All are emblematic and essential figures of the 17th Century.

Combining the breath of adventure with the rigour of history, Juliette Benzoni brings these exceptional women back to life, whether they are spies, mistresses or courtesans, whether they are the Mancini sisters, the Princess of the Ursins, the Grande Mademoiselle, Henriette of England, the Marquise de Sévigné, Louise de La Vallière or Ninon de Lenclos....

Among the many historical short stories written for the magazine Confidences, in which Juliette Benzoni made her debut in the 1960s, some have remained unpublished. Found at the bottom of a trunk, they reveal the qualities of style, sobriety, elegance, light irony and descriptive talent that made the author's success nearly sixty years ago. And, beyond a loving chronicle embroidering on the eternal Montespan, La Vallière or Ninon de Lenclos, to get to know some small or famous well forgotten ladies, to whom she gives back the beauty, the spiciness, the audacity, the spirit that made the bed of their happiness, their misfortune, even their disgrace. Just for the pleasure of telling!
Joëlle Chevé HISTORIA (2015)

♣ interesting detail : creation with painting of King Louis XIV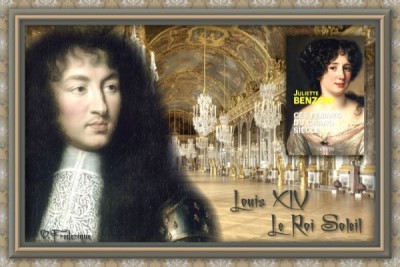 Exract of the chapter « Als Louis XIV Marie Mancin liebte »

Dialogue between : Le Cardinal Mazarin and Marie Mancini

—Vous n'êtes qu'une insolente, Mademoiselle, et vous n'êtes pas encore reine. Je peux même vous assurer que, moi vivant, vous ne le serez jamais, car j'aimerais mieux vous tuer de mes propres mains. Prochainement la Cour va se rendre à Saint-Jean-de-Luz, où le Roi rencontrera sa future. Mais vous, qui êtes toujours ma nièce et sur qui j'ai tout pouvoir, vous partirez demain matin pour Brouage avec vos sœurs, et Madame de Venel aura ordre de vous y garder à vue !

Subitement dégrisée, Marie poussa un cri de douleur :

—Non, mon oncle, je vous en supplie, pas cela ! Ne m'éloignez pas ! Je ne pourrais pas le supporter !

—Il a bien fallu, moi, que je vous supporte, vous et votre impudence ! J'ai dit que vous partiriez, et vous partirez demain ! Sortez, maintenant, et allez faire vos coffres !

Il n'y avait pas y revenir. marie, éplorée, alla se jeter dans les bras de Louis et le supplia de la sauver. Mais Louis savait bien que le cardinal avait tout pouvoir sur sa nièce, un pouvoir que même le Roi ne pouvait rompre, car il représentait la puissance paternelle. Il comprit qu'il fallait se résigner.

Le Lendemain, 22 juin 1659, Louis, qui ne songeait pas à cacher ses larmes, conduisit Marie au carrosse qui attendait dans la cour du Louvre. Elle y monta sans un mot puis, comme le jeune homme, dans la peine qu'il avait à se séparer d'elle, se penchait à la portière pour la revoir encore, elle lui jeta avec rancune _

—Ah, Sire ! Vous êtes Roi, vous pleurez... et je pars !

Louis hocha la tête d'un air désolé. Mais comme il se rejetait en arrière pur laisser partir la voiture, Marie arracha sa manchette de dentelle en criant :

Je suis abandonnée !