Les Loups de Lauzargues 1985
The Wolves of Lauzargues

this series has not been translated into English !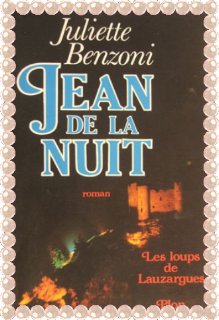 synopsis : Jean de la Nuit

In Charles X's uncertain and troubled Paris, a scandal broke out at the end of 1827. Having caught his wife in the company of a gentleman at a reception, banker Granier de Berny reportedly killed her before killing himself. Wealth, fortune, beauty, all the fairies had looked at the cradle of Hortense, their only daughter, whose fate now seems to be broken. The tragic end of her parents' life is far from over when she has to go to her uncle the Marquis de Lauzargues' dark castle in Auvergne to bury her youth there. On the way to the castle, from the depths of the forest, preceded by a band of menacing wolves, a great devil with blue eyes appeared, Jean. Jean of the night, whose first glance pierces the orphan's heart.

By painting the striking picture of a confusing and colourful era, Juliette Benzoni, a flamboyant novelist, rediscovers Alexandre Dumas' secret, which consists in violating history to make them the most beautiful children.
♦ interesting details :
The first book of the series Jean de la Nuit is dedicated to Marion Sarraut director of the TV-Series Marianne, Catherine, Le Gerfaut and la Florentine !

« A Marion Saurraut avec beaucoup d'amitié » (To Marion Sarraut with a lot of friendship)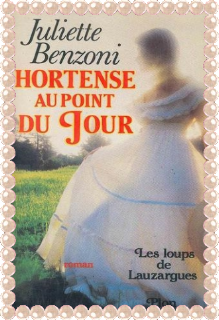 synopsis : Hortense au point du jour 1985
Hortense de Lauzargues fled her fathers' feudal residence, which stands above the forests of Auvergne still haunted by wolves. Behind her, she leaves an impossible love, born of the spells of these wild lands, that of Jean de la Nuit, the wolf leader.

We find her tested, alone but determined to conquer her freedom, in the feverish atmosphere of Paris, where the elegant and frivolous celebrations of the Palais-Royal make us forget the absolutism that reigns in this year 1829. There she meete Felicia, her friend who had once become Countess Morosini, and undertook to help her save a brother unjustly held secret by the services of the tortuous Vidocq.

But will she herself, at the turn of her life, discover the truth about the tragic death of her parents? Will she then have the courage to face Lauzargues one last time, a place blessed and cursed at the same time with all her anguish and desires?


In the Press:
Juliette Benzoni knows how to combine historical truth with human truth, which is authentic... To a passionate theme lover, Juliette Benzoni adds the influence of history. It shows how it can affect people's daily lives; it thus finds its originality and human interest.
Journalist : Jean-Charles Varenne, in the Mountain
♦ interesting details : Countess Felicia Morosini (born Orsini) great-aunt of Prince Aldo Morosini - see adventures of Aldo Morosini → here
♦ interesting details : the second book of the series Hortense au point du jour is dedicated to Catherine Jurquet producer of the TV-Series Marianne, Catherine et Le Gerfaut.

« A Catherine Jurguet, avec tout autant d'affection » (to Catherine Jurquet, with equal affection)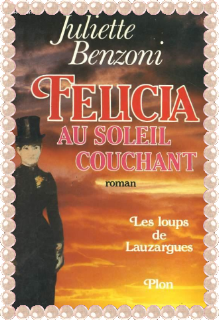 synopsis : Felicia au soleil chouchant 1987

Beautiful and rich heiress of a family of bankers who died in mysterious circumstances, Hortense de Lauzargues was able to resist the despair that awaited her in her uncle's house and thwart the manoeuvres of this feudal castlelain.

Fate eventually rescued her from a husband married under duress as her heart and senses called Jean de la Nuit, the wild wolf leader she met in the vicinity of Lauzargues. Fleeing a hostile province, she regained her place in the tumultuous and revolutionary Paris of 1830, fought to protect her child and even, alongside her old friend Felicia, Countess of Morosini, defied the authorities.

As the third part of his adventures begins, Hortense's fate seems threatened on all sides. Is this the end of a dream? The last act before the conquest of happiness?
♦ interesting details : In 1988 Juliette Benzoni received the Prix Littéraire « Louis Barthou » Médaille d'Argent de l'Académie Française for : Félicia au soleil couchant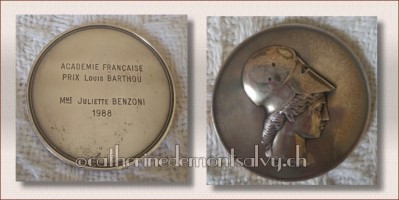 ♦ interesting details : These excellent books were translated in:
Germany, Hungary, Slovakia, Russia and Ukrania.Hongrie.
♦ interesting details : extract of Jean de la Nuit about the adorable Hortense, created by my dear friend Hélène.Thank you my dear friend.


Dialogue between Hortense and Jean de la Nuit

'

Will

I see you again ?
I would love so much to be your friend ! I am so much in need of a friend ! (...)

' I shall be your knight, your servant, please Hortense and you can call me anytime you need me. However, I think I can never be your friend !

' Oh... why ? she said desolate.

He bent so low that his nose almost touched the girl's and he felt the warmth of hi breath on her face.

' Because your eyes are too beautiful !
Les Loups de Lauzarques 2016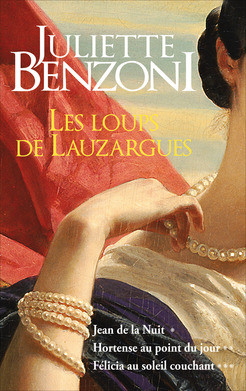 In 2016 France Loisirs printed this beautiful edition of Les Loups de Lauzargues as Integrale - 1. Jean de la Nuit 2. Hortense au point du jour 3. Félicia au soleil couchant.
In my own words : webmaster(Linda)
I enjoyed the story of Hortense de Lauzarques very much. Besides, that it has as always in Juliette Benzoni books - unforgettable characters, like Princess Félicia, Jean de la Nuit or Colonel Duchamp

However, one of the most memorable moments for me in that story, her talking again about the Auvergne...! The name which forever reminds me of Catherine de Montsalvy where I can see with my inner eyes the mountains of Auvergne, or smell the fields of Lavendar! I have sworn myself, one day I shall go and visit it!

Personally I was very much amused about the last segment in the book! Dear Juliette, I adore your humor!
In the German translation, the heroine is called Napoleone instead of "Hortense" as in the French original edition! The beautiful story of Hortense was also never translated into English or many other languages!

In this book, Juliette Benzoni once more mentions Saint-Mandé the beautiful locality near Paris, where lived since her childhood.



non-profit site
© 2008 - 2020 catherinedemontsalvy.ch
All rights reserved