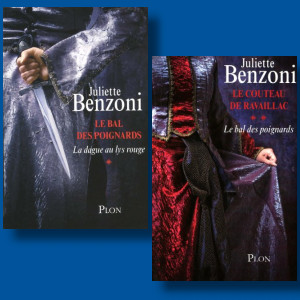 Synopsis : La Dague au Lys rouge 1 (The Dagger with the red Fleur-de-Lys) (Plon 2010)

She is an orphan.
She was raised in a convent.
She is the heiress to a great fortune and goddaughter of the Queen of France, Marie de Médici.

Her fate changes when her charming fiancé, Vittorio Strozzi, is murdered the day before the wedding by means of a dagger with a note: anyone who claims to marry the girl will die the same way.

When the Queen of France is threatened with repudiation by Henry IV, overwhelmed by her ugly character and her crazy expenses, she asks her rich goddaughter for help. Lorenza accepts. She must win for the Queen's cause the oldest friend and adviser of Henry IV, the Marquis Hector of Sarrance. But how? By marrying his son Antoine.

But Antoine is in love with a maid of honour of the Queen and does not want to marry Lorenza. It is therefore his father who will marry the beautiful Florentine since his son is not free... Until the day Lorenza is presented to the Court and Antoine, when he sees her, falls in love at first sight.

As a result passions, intrigues and murders will be unleashed.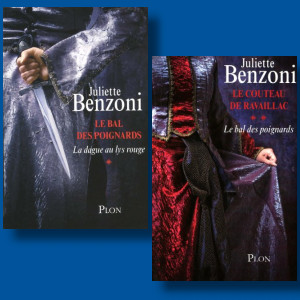 Synopsis : Le Couteau de Ravaillac 2 (The knife of Ravaillac) (Plon 2010)

Despite the serious threats to his union with Lorenza, Thomas de Courcy has no intention of giving up on the young woman. Their marriage gives rise to a beautiful celebration barely disturbed by the order given to the bridegroom by the king, is it a trap to join him immediately... Now in the fiery arms of Thomas, passionately in love, Lorenza, amazed, finally discovers love.

After a few days of absolute happiness, the couple must unfortunately return to reality. War is about to break out. All for King Henri IV's passion of the moment for the beautiful eyes of young Charlotte de Montmorency, wife of Condé who took her to the Netherlands.

Three gentlemen, including Thomas, have the task of kidnapping the lady before the French troops attack Brussels. In Paris, the coronation of Marie de Médici is being prepared, to which the King has consented despite the dark presentiments this awokes: a strange red-haired man, dressed in green, whom Lorenza once met, is already wandering in town...

The day after his wife's coronation, Henry IV was murdered. Did Ravaillac's knife, by taking the life of the sovereign, also destroy the happiness of Lorenza and Thomas?
♦
interesting detail :
Foreign Editions : Hungary, Czech-Republic and Russia
♦ interesting detail:
Here I can offer you an interview with Juliette Benzoni which I have translated from French. The author was talking about her book La Dague au Lys Rouge in 2010. My personal wish, that this excellent mini series will be translated into English and especially Italian,. The story begins in Florence where we meet many historical characters. like Marie de Medici and the famous Henri IV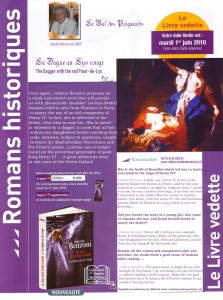 The Star book (critique in Le Club de L'Actualité Littéraire)
Once again, Juliette Benzoni offers us a novel of Cloak and Dagger that will give us delicious shivers! Lorenza, illegitimate child of the Medicis, was sent from Florence to Paris to marry the son of an old companion of Henry IV. In fact, she is handed over to the father, who undertakes to rape her. She is saved in extremis by a dagger: a curse threatened to all her future suitors that their throats shall be slit before reaching their ends. Arrested, submitted to the question, trapped between the Machiavellian Florentines and French justice, Lorenza can only rely on the proverbial generosity of good King Henry... A superb account of adventures at the court of Vert-Galant!
♦ interesting detail :
Great honour for Juliette Benzoni! Her new book La Dague au Lys Rouge had been chosen as "The Great Book of the Month" in May 2010
♦ interesting detail

:
In the France Loisirs Edition from 1/1/2011 we find once again a personal dedication from Juliette Benzoni to her faithful readers for the club reders of France Loisirs.
Ce sera une joie si mes personnages de la Dague au Lys Rouge s'attirent l'amitié des lecteurs du Club. (It will be a joy if my characters from the Red Lily Dagger attract the friendship of the Club's readers)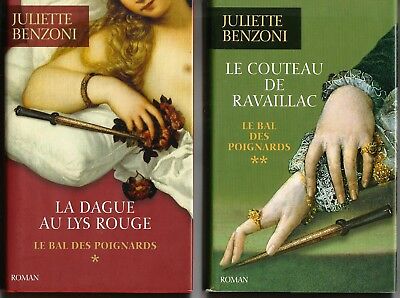 ♦ interesting detail :
On 15 September 2011 Editions Pocket published the Lorenza Saga the first time in paperback.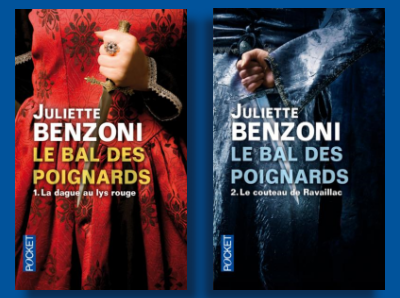 ♦ dans la Presse :
Le Bulletin des Lettres
« It is the best Benzoni, heiress - voluntary or not - to Alexandre Dumas. Novel of Cape & Dagger, at the Court of France, under the reign of Henry IV and Marie de Médici. »
♦ interesting detail

:

Audio MP3 : 1. La Dague au lys rouge ! and 2. Le couteau de Ravaillac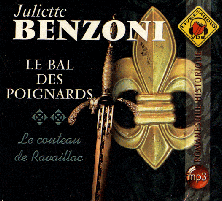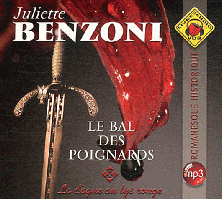 ♦ interesting detail

:

I would like to thank Hélène, my French amie for her magnificent creation. It is her tribute to Juliette Benzoni's book la Dague au Lys Rouge.

As we learned from Juliette herself, she would have preferred the paintings of

Dante Gabriel Rossetti for her series Le Bal des Poignards - that is of Lady Lilith. The text on this creation is taken from the book la Dague au Lys Rouge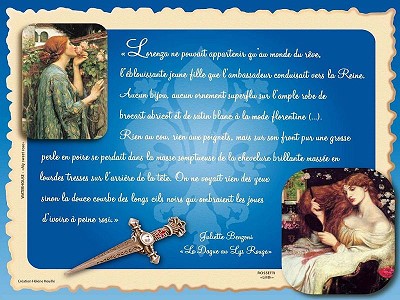 Extract from the first Book
Text chosen by Linda Compagnoni

The sky had fallen...

She's very young, very beautiful and rich! That's why they are killing her!
Respect to death! said another.
(--)

And there was silence, troubled only by the creaking of the wheels and the slow beat, haunting and heavy as that of an anguished heart...

When she reached the scaffold, straight and proud, she took a firm step towards the executor who, as he approached, put one knee in the ground to obtain her forgiveness.
I have nothing to forgive you for," she says. But couldn't my hands be untied so I could reach them?

He nodded with a blink of his eyelids, took a knife from his belt and cut the rope. She asked to incur:
Do you have to cut my braid ?

No. It will be enough if the neck is clear.....
That's why I'm going to have to cut the collar of your dress....

At that moment, the rue de la Boucherie burst into a huge noise that covered the bell tower: a horseman screaming "get out of the way! His lungs were almost bursting as he rushed through the crowd, which opened instinctively. At a gallop, he rode straight to the scaffold, jumped off his horse in vaulting and climbed the ladder four at a four:
Do not touch that lady, executioner! I am Thomas, Baron de Courcy and I want to marry her! And, by God, I swear she's innocent!
♦ interesting detail :

In Le Bal des Poignards our heroine Lorenza Davanzati is described as a beautiful girl with « large black eyes and golden reddish hair ». On a visit to the Metropolitan Museum in New York 2013, I was attracted by this painting called Girl with Cherries. My sister later on surprised me with this magnificent Artwork.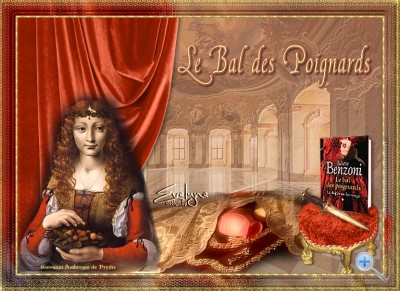 ♦ Girl with Cherries

♦

© Metropolitan Museum of Art, New York

attributed to Giovanni Ambrogio de Predis

(artist in Leonardo da Vinci's circle)



© 2008 - 2019 juliette-benzoni-tribute
tous droit réservé
non profit site