extract from :
Snare for Catherine 6
Laurent Le Doyen
A beautiful surprise featuring "Laurent Le Doyen)"do not miss the exhibition on the blog of my dear friend Frédérique. My sincere admiration for this show goes to my dear Hélène (who surprises us from time to time with awesome creations) and my dear friend Romy, whom I met at the very first meeting of "Le Gerfaut". My dear friends, you are fantastic!


© 2008 - 2018 Linda

small image - click - large image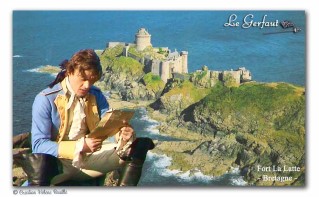 Laurent Le Doyen - in his role of Gilles de Tournemine
Click here for more details

Thank you dear Hélène for this wonderful creation ☺


thank you very much dear Hélène

20th Anniversary of the Aldo Morosini books -
Juliette Benzoni's Bestseller (15 adventures)
A superb surprise awaited me! A creation sent to me by my dear friend Hélène, who from time to time presents my site with beautiful Artwork. Hélène called it The Black Diamond - we see our adorable Claudine Ancelot in her role as Catherine and a reproduction of the Black Diamond, created by a breton jeweller, plus a precious mediveal dress, both a present from our mutual friend Romy (president of the fan club Laurent Le Doyen - Le Gerfaut) to Hélène. I am delighted that they share this with us. Receive my thanks dear friends.
| | |
| --- | --- |
| | |
| Quote from the book: les loups de Lauzarques | Quote from the book : Les Treize Vents |