text by Linda Compagnoni Walther, webmaster

This text was written on the Press page of the Catherine de Montsalvy website on December 16, 2009

Fascinating news - a French singer called "Bernard Stéphane" recorded back in 1965 a 45`gramophone record (maxi) consisting of four songs - one of them was called: "Il suffit d'un amour, Catherine ma Mie".

The song was written by P. Amar and Juliette Benzoni !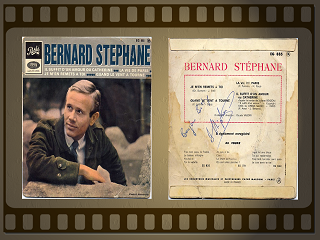 At that time, only two « Catherine » books were available. The third of the Series was yet to be published in 1966. For the Catherine de Montsalvy site this was another proof how much Juliette Benzoni's "Catherine" Series was already loved and cherished throughout the world.
I do not remember which other Bestseller has had the honour to get a chanson of its own! For those who love little anecdotes – only her heroine CATHERINE did have that honour!

I was able to bid for the record, convert it to MP3 and listen to it, together with Juliette and my friend at her home in Saint-Mandé. Juliette had remembered the song, but not heard the beautiful version yet of Bernard Stéphane. The chanson can be heard on the official Catherine de Montsalvy website at the moment.