Do not miss to see also the extra Press pages about Juliette → here

Original material concerning the Catherine books
For years I have collected one by one every article about the Books and the filming of the Catherine de Montsalvy TV-Series.
It is a great challenge for me since the TV-Series was not shown on Swiss television back in 1986. That really was a pity as I am known for being the great collector, be that articles about Grace Kelly, Farah Diba, Jacqueline Onassis or even about the moon landing! I keep them all in a secret place... I am very thankful to my dear friends Frédérique, Marion Sarraut, Claudine Ancelot, Gérard Chambre and our very dear Juliette Benzoni who left us alas last year on February 7, 2016. Juliette knew where my heart lies and surprised me on our first meeting at her home, with her very own Catherine book cover of Il suffit d'un amour ! To be precisely Juliette took the cover out of a frame and told me I could keep it ! It is since then back again in a silver frame in my home.
Of course there exist still more articles from the debut of the Catherine Books ! Unfortunately a fire destroyed a lot of material at Juliette's house a few years ago. But who knows... maybe some of you faithful readers out there have some never-seen articles you would share with the official Catherine website. In whatever language you have material about Catherine and Juliette Benzoni, everything is welcomed.
Kindly Linda Compagnoni Walther, webmaster

The original Hardcover editions of Catherine in the Sixties
Book 7 La Dame de Montsalvy not translated into English !
| | | | | | |
| --- | --- | --- | --- | --- | --- |
| Book 1 | Book 2 | Book 3 | Book 4 | Book 5 | Book 6 |
TELE 7 JOURS 1962
announces

IL SUFFIT D'UN AMOUR (ONE LOVE IS ENOUGH)
by Juliette Benzoni
as a Cliffhanger in :
France-soir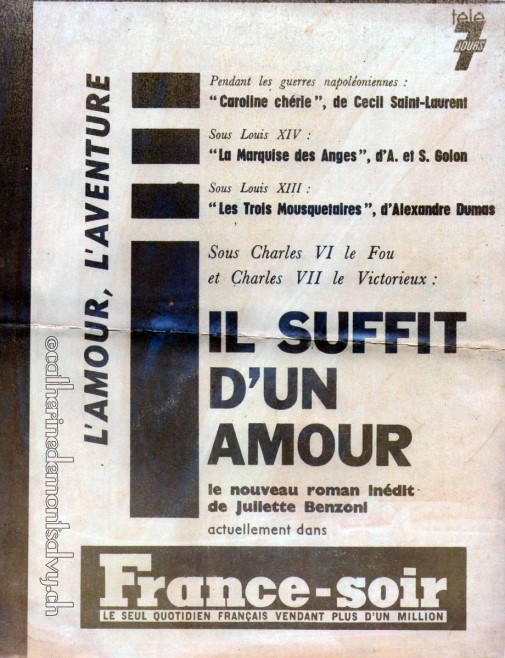 Il suffit d'un amour in France Soir 1962
a rare Souvenir
TELE 7 JOURS publicity of Juliette Benzoni's first roman IL SUFFIT D'UN AMOUR which was published in France-soir each day as we can see on this exclusive document.

It was in Juliette Benzoni's personal Souvenir box and shared with this webmaster here. It is so far the earliest advertisement which dates back to the time the Novel was published as Cliffhanger in the French newspaper France-Soir and not yet available in the book stores.
Editions Trévise October 1963
Juliette Benzoni signs the first time the Catherine books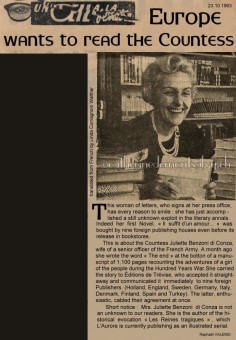 It is a great moment to share with you a magnificent souvenir from a long missed magic box of Juliette Benzoni, author of "Catherine, One Love is Enough ". The material had been believed destroyed in a fire at Saint-Mandé many years ago ! It is an article (now translated into English) which should make every fan of the Catherine Series go wild. We see Juliette ( 7 days before her 43rd birthday !) signing at her publisher house the first time a Catherine book - precisely the French edition of "Il suffit d'un amour ! It pleases me enormously that we have now the proof to read that Juliette's CATHERINE was indeed sold to at least ten foreign publishing houses, before the book could be bought at bookstores !

1963 Text translated from French by Linda
This woman of letters, who signs at her press office, has every reason to smile : she has just accomplished a still unknown exploit in the literary annals. Indeed her first Novel, « Il suffit d'un amour… » was bought by nine foreign publishing houses even before its release in bookstores.
This is about the Countess Juliette Benzoni di Conza, wife of a senior officer of the French Army. A month ago she wrote the word « The end » at the bottom of a manuscript of 1,100 pages recounting the adventures of a girl of the people during the Hundred Years War.
She carried the story to Editions de Trévise, who accepted it straightaway and communicated it immediately to nine foreign Publishers. (Holland, England, Sweden, Germany, Italy, Denmark, Finland, Spain and Turkey). The latter, enthusiastic, cabled their agreement at once.
Short notice : Mrs. Juliette Benzoni di Conza is not an unknown to our readers. She is the author of the historical evocation « Les Reines tragiques » , which L'Aurore is currently publishing as an illustrated serial.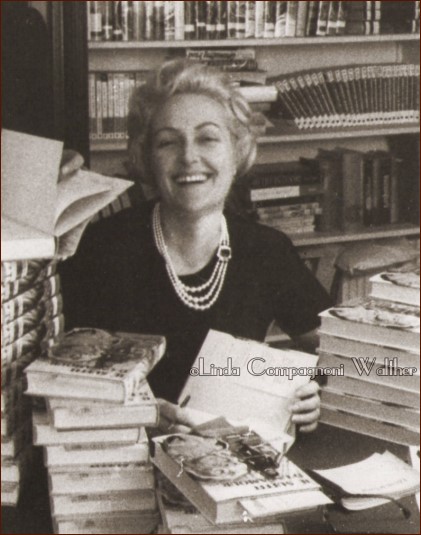 Juliette Benzoni at the office of Publishing house Editions Trévise in 1963. On the left side of see Paul Winkler (He founded 1957 together with Gérald Gauthier Editons Trévise).
Editions Trévise 1962
La Reines tragiques announces Il suffit d'un amour
France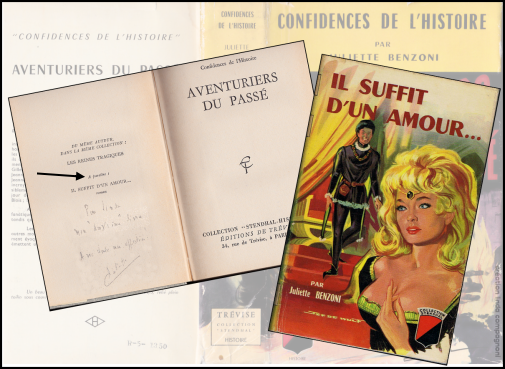 Some time ago I bought "Aventuriers du Passé" Juliette Benzoni's second book in 1963. When I opened it I held my breath for a second!

What is so special about buying an old book you might ask? Everything for a passionate collector like I am – because it mentions that next, a book called "Il suffit d'un amour" shall be published! I count myself more than happy to have now in my "magic box" the first announcement of Catherine by the French publisher Editions Trévise – who already knew the value of the book, publishing it in the special Stendhal edition.
p.s on one of my visit to Saint-Mandé, my dearest friend Juliette has been very kind to sign this souvenir for me.

Der Spiegel 1963
GERMANY
Verlag Blanvalet 1963
Cathérine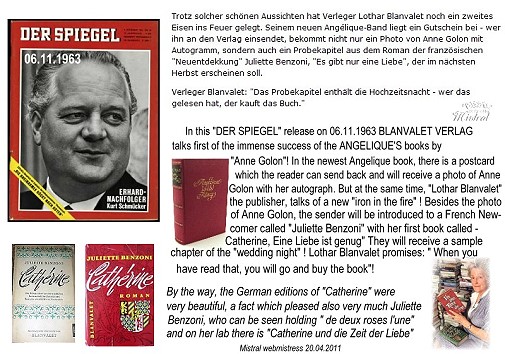 While searching online for book covers of Catherine, I stumbled upon this Der Spiegel edition of 1963 which featured a long article about Anne Golon and her success with "Angélique". The final paragraph caught my attention because it introduced a certain French newcomer called Juliette Benzoni and her book Eine Liebe ist genug (One Love is Enough). In the new Angélique Novel was a gift coupon. Every reader who sent back this coupon would receive Anne Golon's autograph AND an extract from Eine Liebe ist genug !
This shows us how well aware Mister Blanvalet was of the worth of this new writer called Juliette Benzoni... and the German magazine Der Spiegel has always been highly-renowned! As I have already mentioned on the Book series pages the German publisher designed very beautiful book covers for the Catherine Series (which pleased very much Juliette Benzoni as she told us ) which I have the great pleasure to own myself ☺
By the way, the German first edition of "Cathérine" was called then simply Cathérine (not, Eine Liebe ist genug, as it was announced in the Spiegel article!). The first two books in French were joined into one edition and abridged...!

Verlag Blanvalet 1963
Extract from Cathérine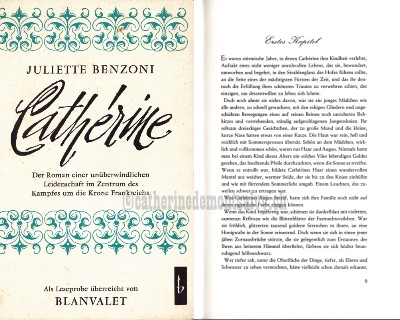 The fairies were with me, after many years I found that free first chapter of Catherine which was sent to Angélique readers by Blanvalet Verlag in 1964.
The quality of the booklet is awesome. I suppose it was in a box and never touched again since 1963 - waiting for me ☺ What makes it even more precious is that Juliette has done me the great honour and writing a very lovely dedication in that booklet !
ENGLAND 1964
Welcomes ONE LOVE IS ENOUGH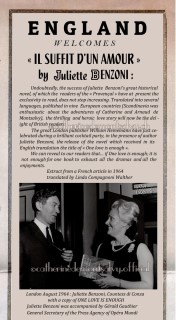 Extract from a French article in 1964
translated by Linda Compagnoni Walther

Undoubtedly, the success of Juliette Benzoni's great historical Catherine which was sent to novel, of which the readers of the « Provençal » have at present the exclusivity to read, does not stop increasing. Translated into several languages, published in nine European countries (Scandinavia was enthusiastic about the adventures of Catherine and Arnaud de Montsalvy), the thrilling and heroic love story will now be the delight of British readers.
The great London publisher William Heinemann have just celebrated during a brilliant cocktail party, in the presence of author
Juliette Benzoni, the release of the novel which received in its English translation the title of « One love is enough ».
We can reveal to our readers that… if One love is enough; it is not enough for one book to exhaust all the dramas and all the enjoyments.

London August 1964 :
Juliette Benzoni, Countess di Conza with a copy of ONE LOVE IS ENOUGH in London. The small article to be seen on this Poster (created by Linda Compagnoni Walther) was in the EVENING STANDARD on 13 August 1964 . It tells us of the importance taken by publisher Heinemann to get a good cover for Juliette's first ever book in Great Britain.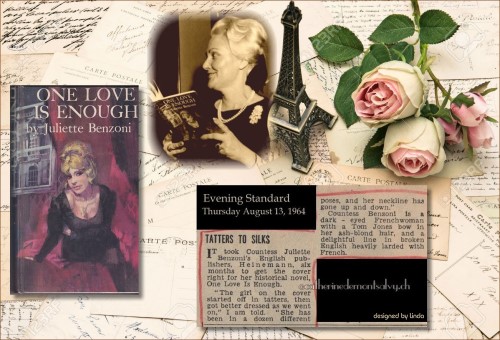 Juliette Benzoni was accompanied by Gérald Gauthier, General Secretary of the Press Agency of Opéra Mundi. On the below photo we see the author interviewed by well-known BBC man Leigh Crutchley.

On the left side is a Scottish article from the newspaper the "Scotsman" dated 14 August 1964. A precious souvenir...
Le Provençal 1964 introducing to its readers :
ONE LOVE IS ENOUGH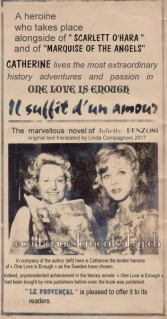 Treasure box...
... and what had the newspapers to say back on June 10, 1964 when Juliette Benzoni's second book "Catherine" came out ?
" A heroine - who takes place - alongside of "Scarlett O'Hara" and of "The Marquise of the Angels " (Angelique)
The quality of the newspaper has suffered in the last 53 years, taken in account that it lay hidden in a box in a cellar at Saint-Mandé, but that is what makes it even more precious to a souvenir collector. .

1964
GERMANY
Blanvalet Verlag
CATHÉRINE


NEW NEW NEW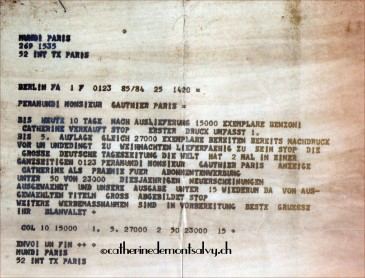 Original Telegram by BLANVALET

Telegram sent 1964 to Gérald GAUTHIER Opéra Mundi by Blanvalet publisher:

Berlin/Germany
Until today ten days after the delivery of the books - 15'000 copies Benzoni, Cathérine sold...
stop ...
We prepare already reprint for being definitely ready to deliver for Christmas... stop... the great German daily newspaper «Die WELT» has chosen CATHERINE twice in a full-page advertisement amongst 50 out of 23'000 new publication this year, and chosen our edition once again from 15 titles to reproduce in LARGE... stop...other advertising are being prepared.
Best Regards your BLANVALET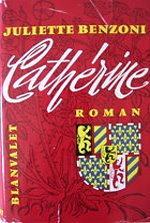 1965
NORWAY


Catherine

og hertugen
(original title in English : Catherine)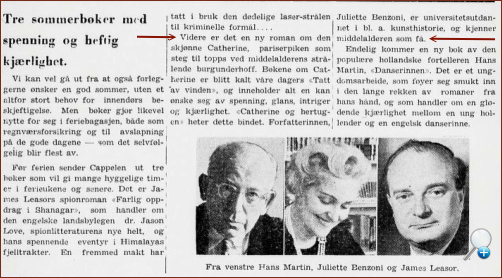 original Norwegian Journal 1965

In this original newspaper extract from summer 1965, the headline says :

« Three summer books with suspense and intensive love »

It says of Juliette Benzoni, author with a university degree in history and medieval expert. We see the same early portrait, as in the Italian book covers. It so happens to be, showing her the very first time signing her Catherine books ! I adore the Norwegian word «Parispiken » (Parisian girl ! )

1965
HOLLAND
Het hunkerend hart
(Catherine en de gebroeders de Montsalvy)
(original title in English : One Love is Enough)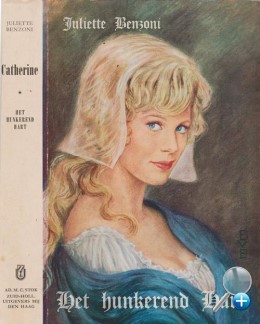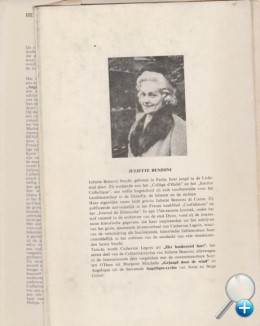 Original Book cover from 1965

I always try to stay neutral (as a true Swiss that I am) and not comment on any covers of Catherine - but just this once I like to say the first cover of the Swedish Catherine books; is a very beautiful image of Catherine Legoix. The designer of the four original book is called EVE.

On the back side of the book Juliette is introduced as : Juliette Benzoni di Conza and it says that her book about Catherine Legoix, was in the international Press compared with the irresistible Scarlett O'Hara in Gone with the Wind !

1965
GERMANY

Unbezwingliche Catherine
(Belle Catherine)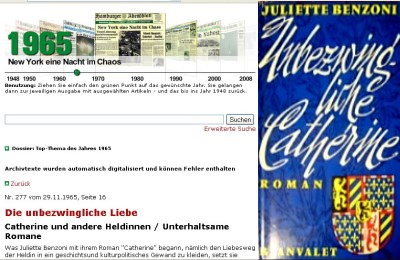 German Article in 1965 about the publishing of Unbezwingliche Catherine in Germany

1966
ENGLAND

Belle Catherine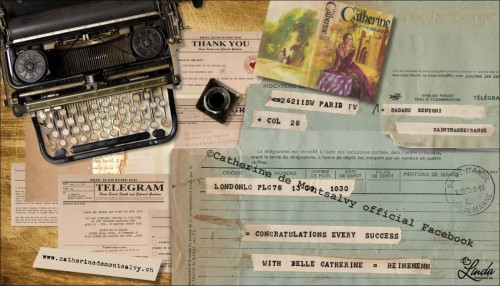 O
riginal TELEGRAM
from William Heinemann
Ltd. to Juliette Benzoni !
On March 15, 2017 Telos Publishing had continued to re-issue The Catherine Novels with BELLE CATHERINE, the 3rd in the Catherine Series.

With this creation we look back to the year 1966 when HEINEMANN Ltd. sent Juliette BENZONI a telegram to her home at Saint-Mandé, to inform the author that the translation of Belle Catherine was having a huge success in the English speaking world !

This original telegram is one of those precious souvenirs found in the long-forgotten-magic-box of Juliette Benzoni... it was not just the French or English publishers who rejoiced for the number of books they sold ---- stay tuned to learn what other Countries confirmed about the incredible sales figures !

1966
ENGLAND

Belle Catherine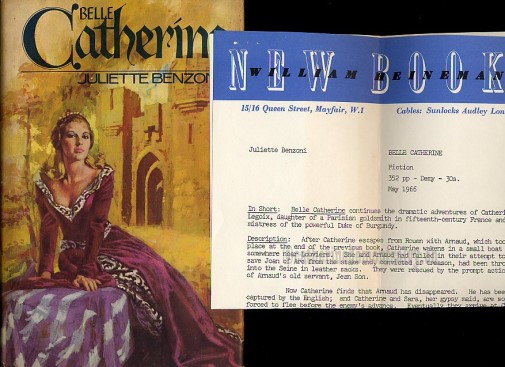 O
riginal
flyer from William Heinemann
Ltd.,
Published by William Heinemann Ltd., First UK Edition 1966. London 1966. First UK edition hard back binding in publisher s original French blue paper covered boards, gilt title and author lettering to the spine. Publisher s flyer regarding the book and Author.

I am thrilled to announce that I stumbled by chance on this rare treasure ! My very first announcement of a Catherine book in England by the company William Heinemann.

1967

FRANCE

Catherine, des Grands Chemins
(Catherine and Arnaud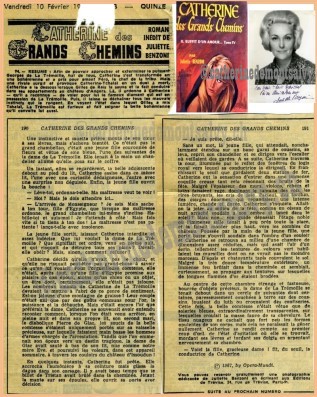 The above Newspaper - clipping is very special for me !

While looking for missing Book covers, my sister had spotted on Ebay a rare occasion to bid for an autograph of our Juliette Benzoni. In Spring 2009 I had no idea that I would a half year later get the marvellous chance to meet in person my favourite author Juliette.

Evelyne is the specialist for bidding, and was able to get hold of the photograph. When I received the letter from France, with the signature of JulietteBenzoni - I saw to my astonishment that, not only did we have this famous photo which we had seen so often on the book covers - no - with the photo came an old yellowish newspaper clip! Great was my delight to find out that I had in my hands a rare piece of document.

As some of us remember - way back in the Sixties - newspapers used to print popular books as "roman-feuilleton" - that is - everyday you read a short piece of a story - which was continued day after day. I assume that the person who sold the autograph, had read in the newspaper back in February 1967 ( see above on the second image on the bottom)
« You can receive a free photo, dedicated by Juliette Benzoni, if you write to Editions de Trévise, 34 rue de Trévise, Paris »
So I put two and two together and figured out, that the owner of the photo did exactly that - when the fourth book of the Catherine-series Catherine and Arnaud had been first published ! Apart from having this remarkable photo I shall guard jealously (dreaming of course, that one day we shall also be so lucky to see our name on a dedicated photo or book from Juliette Benzoni !
p.s which did actually happen on October 31 2009 !

196
7
ICELAND
SÚ ÁST BRENNUR HEITAST
(One Love is enough)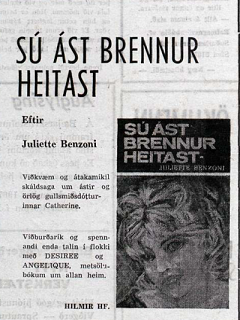 Original advertising in an Icelandic newspaper I found on the Net some time ago. I still hope that one day we shall find the cover of the first Catherine Book in colour.

1968

FRANCE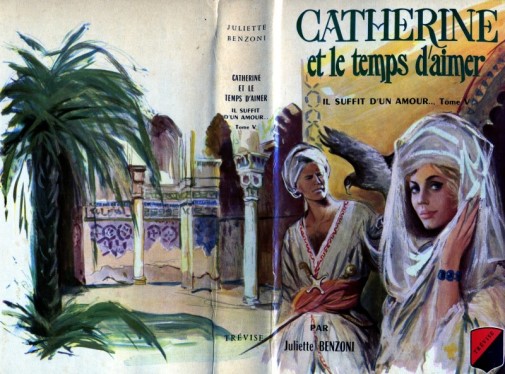 1968 Editions Trévise
Catherine et le Temps d'Aimer
Catherine and a time to love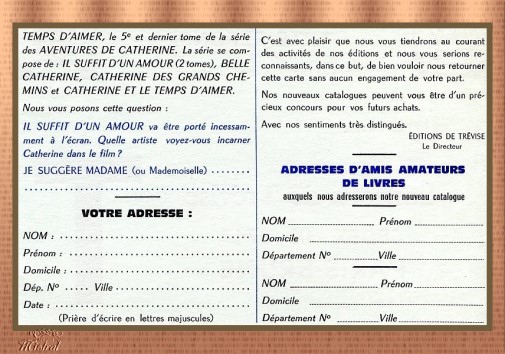 Voting card from 1968
In one of the first editons of the original French books of Catherine, I found in book 5 Catherine and the time to love a voting card! There was the announcement - who should play in a future movie CATHERINE !

Now the fascinating question: Was Olga Georges-Picot in 1968 chosen by the "Catherine" readers or the filmakers?


1969


ITALY
La fuga di Catherine

(Belle Catherine)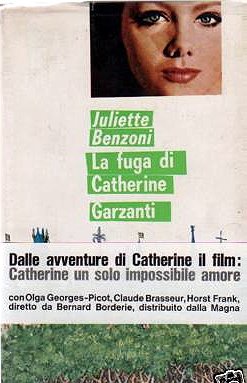 Italian book cover of « La fuga di Catherine » Publisher Garzanti added on a second printing a preview for the movie Catherine, Il suffit d'un amour in 1969 - the film alas - flopped at the cinéma - read more on our meeting with Juliette in Saint-Mandé 2010 what the reason was and why our author cried like a fountain when she saw the film.

196
9
ICELAND
Catherine og Arnaud
(Catherine and Arnaud)

O
riginal advertising in Icelandic newspaper

What you see here, is an extract of book six "A Snare for Catherine" the last book translated into English so far ! This magazine printed it also as a cliffhanger and they used my favorite motto: to be continued... !
Please have also a good look at the image of Catherine on the large magazine cover. This image Juliette Benzoni had not seen before until we showed it to her on one of our beautiful visits. She is convinced that the painter is the same one as of her favorite Book cover of the 1968 edition « Catherine, il suffit d'un amour ».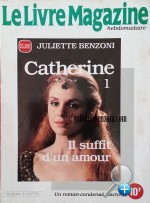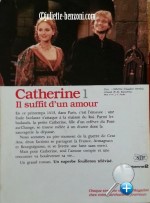 August 2014
In 1986 the Weekly journal Le Livre Magazine, printed a very abridged version of Catherine, Il suffit d'un amour 1 & 2..
Interesting fact: in the TV-series we do not see a smiling Catherine and Arnaud in that scène (Catherine learns Arnaud is a leper) so we can assume this is a studio photo !

Merci to my friend Stéphanie for sharing this Number 1 booklet with me. I like to mention that it was Stéphanie, who had been 2003 the very first person in France to dedicate a website to Juliette Benzoni ! ♥ Stéphanie was at that time 22 years old.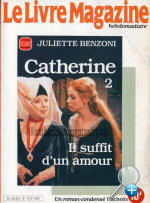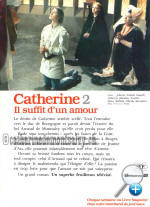 In 2009 my friend Frédérique found this booklet and was sure I would love to have it for my Catherine collection. Merci Frédérique for this special treat ♥


1982

FRANCE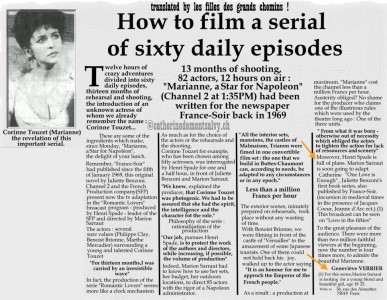 For us Catherine fans, this is a very exciting document! During the shooting of Marianne, the director Marion Sarraut, already was in search of a young beautiful girl between 18 - 25 to play Catherine in the upcoming TV-Series Catherine, il suffit d'un amour.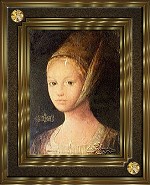 Dear friends of the Catherine books,
What you see on the above image, is Catherine de Montsalvy. It was painted for Juliette Benzoni by the same artist who did some of the covers for the French Catherine Editions Trévise (and for the Angelique books of Anne Golon !)