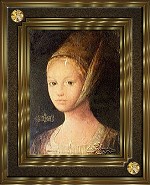 Dear friends of the Catherine books,


What you see on the above image, is Catherine de Montsalvy. It was created for Juliette Benzoni by the same artist who did some of the covers for the French Catherine Editions Trévise (and for the Angelique books of Anne Golon !)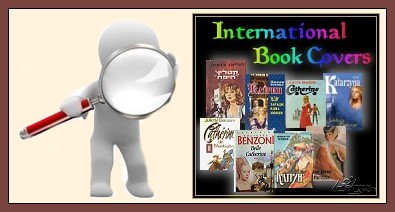 For years I have collected one by one every article about the Books and the filming of the Catherine de Montsalvy TV-Series.
It is a great challenge for me since the TV-Series was not shown on Swiss television back in 1986. That really was a pity as I am known for being the great collector, be that articles about Grace Kelly, Farah Diba, Jacqueline Onassis or even about the moon landing! I keep them all in a secret place... I am very thankful to my dear friends Frédérique, Marion Sarraut, Claudine Ancelot, Gérard Chambre. To our very dear Juliette Benzoni who has left us alas last year on February 7 2016. Juliette knew where my heart lies and surprised me on our first meeting at her home, with her very own Catherine article dating back to 1986.
I am deeply touched a
Of course there exist still more articles from the debut of the Catherine Books ! Unfortunately a fire destroyed a lot of material at Juliette's house a few years ago. But who knows... maybe some of you faithful readers out there have some never-seen articles you would share with the official Catherine website. In whatever language you have material about Catherine and Juliette Benzoni, everything is welcomed.
Kindly Linda Compagnoni Walther, webmaster

The original Hardcover editions of Catherine in the Sixties
Book 7 La Dame de Montsalvy not translated into English !
| | | | | | |
| --- | --- | --- | --- | --- | --- |
| Book 1 | Book 2 | Book 3 | Book 4 | Book 5 | Book 6 |
Editions Trévise 1963
Il Suffit d'un amour
France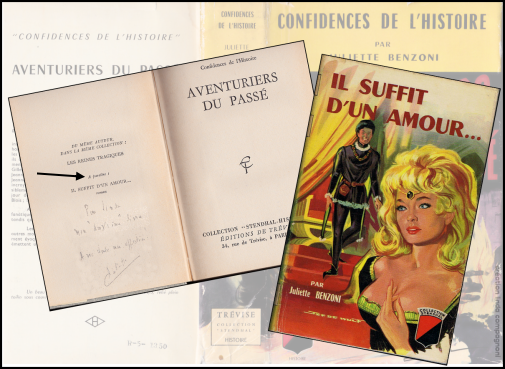 introducing Il suffit d'un amour in 1963
A while ago I bought "Aventuriers du Passé" Juliette Benzoni's second book in 1963. When I opened it I held my breath for a second!

What is so special about buying an old smelly book you might ask? Everything for a passionate collector like I am – because it mentions that next, a book called "Il suffit d'un amour" shall be published! I count myself more than happy to have now in my "magic box" the first announcement of Catherine by the French publisher Editions Trévise – who already knew the value of the book, publishing it in the special Stendhal edition.

p.s on my latest visit to Saint-Mandé, my dearest friend Juliette has been very kind to sign this souvenir for me.

Der Spiegel 1963
GERMANY
Verlag Blanvalet 1963
Cathérine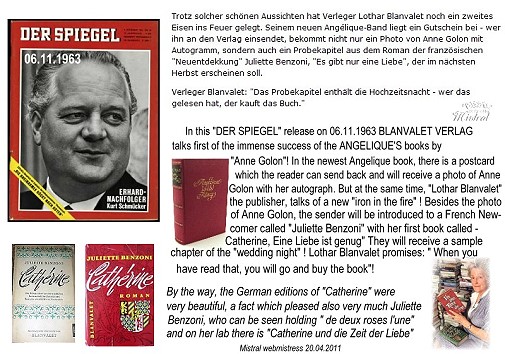 While searching online for book covers of Catherine, I stumbled upon this Der Spiegel edition of 1963 which featured a long article about Anne Golon and her success with "Angelique". The final paragraph caught my attention because it introduced a certain French newcomer called Juliette Benzoni and her book Eine Liebe ist genug (One love is enough). Within each new Angelique book was a gift coupon. Every reader who sent back this coupon would receive Anne Golon's autograph AND an extract from Eine Liebe ist genug !
This shows us how well aware Mister Blanvalet was of the worth of this new writer called Juliette Benzoni... and the German magazine Der Spiegel has always been highly-renowned! As I have already mentioned on the Book series pages the German publisher designed very beautiful book covers of Catherine (which pleased very much Juliette Benzoni as she told us ) which I have the great pleasure to own myself ☺
By the way, the German first edition of "Cathérine" was called then simply Cathérine (not, Eine Liebe ist genug, as it was announced in the Spiegel article!). The first two books in French were joined into one edition and abridged...! And when I say abridged I really mean it! An utter impertinence to the readers...!
Verlag Blanvalet 1964
Cathérine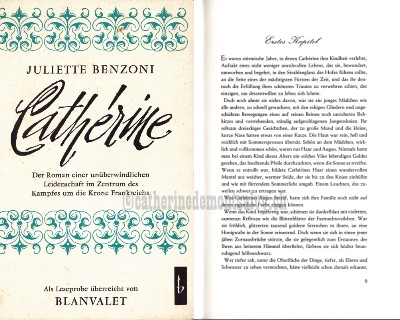 Extract from Cathérine

The fairies were with me again. After six years I found per chance that free extract of Catherine which was sent to Angelique readers by Blanvalet Verlag in 1964.
To my great pleasure this find came right after the very first French cover of Catherine was offered to me by Juliette Benzoni, the second piece of original material I possess.
The quality of the booklet is awesome. I suppose it was in a box and never touched again since 1964 - waiting for me ☺ What makes it even more precious is that Juliette has done me the great honour of writing a very lovely dedication in that booklet !

1965
NORWAY


Catherine

og hertugen
(original title in English : Catherine)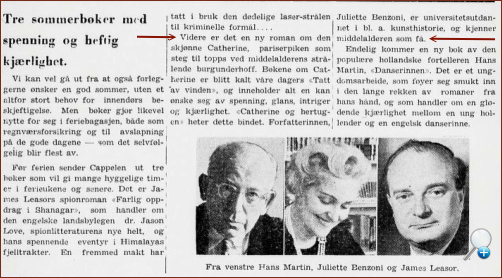 original Norwegian Journal1965

In this original newspaper extract from summer 1965, the headline says :

« Three summer books with suspense and intensive love »

It says of Juliette Benzoni, author with a university degree in history and medieval expert. We see the same early portrait, as in the Italian book covers. It so happens to be, showing her the very first time signing her Catherine books ! I adore the Norwegian word «Parispiken » (Parisian girl ! )

1965
HOLLAND
Het hunkerend hart
(Catherine en de gebroeders de Montsalvy)
(original title in English : One Love is Enough)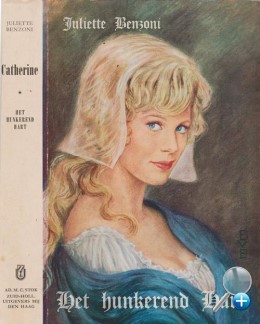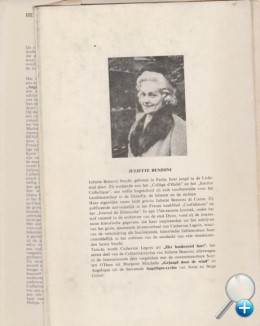 Original Book cover from 1965

I always try to stay neutral (as a true Swiss that I am) and not comment on any covers of Catherine - but just this once I like to say; this is a very beautiful image of Catherine Legoix - yes I know she looks like a sweet girl from Holland, because of her headpiece . The designer of the four original book is called EVE.

On the back side of the book Juliette is introduced as : Juliette Benzoni di Conza and it says that her book about Catherine Legoix, was in the international Press compared with the irresistible Scarlett O'Hara in Gone with the Wind ! Unfortunately the seventh book was also not translated in Holland!

1965
GERMANY

Unbezwingliche Catherine
(Belle Catherine)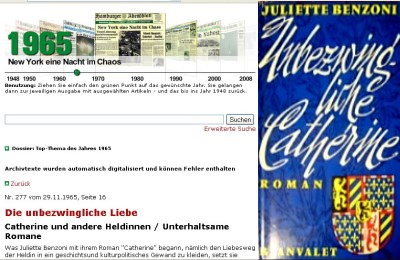 German Article in 1965 about the publishing of Unbezwingliche Catherine in Germany

1966
ENGLAND

Belle Catherine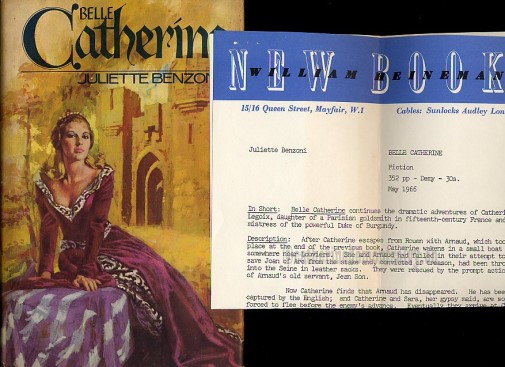 O
riginal
flyer from William Heinemann
Ltd.,
Published by William Heinemann Ltd., First UK Edition 1966. London 1966. First UK edition hard back binding in publisher s original French blue paper covered boards, gilt title and author lettering to the spine. Publisher s flyer regarding the book and Author.

I am thrilled to announce that I stumbled by chance on this rare treasure ! My very first announcement of a Catherine book in England by the company William Heinemann

1967

FRANCE

Catherine, des Grands Chemins
(Catherine and Arnaud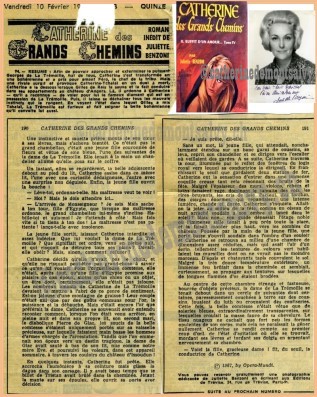 original French newspaper-clipping 1967

for more information see:
my treasure box

196
7
ICELAND
SÚ ÁST BRENNUR HEITAST
(One love is enough)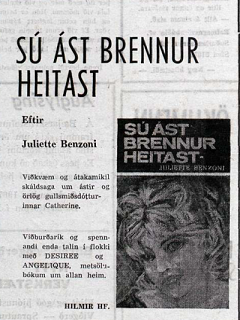 original advertising in icelandic newspaper

1968

FRANCE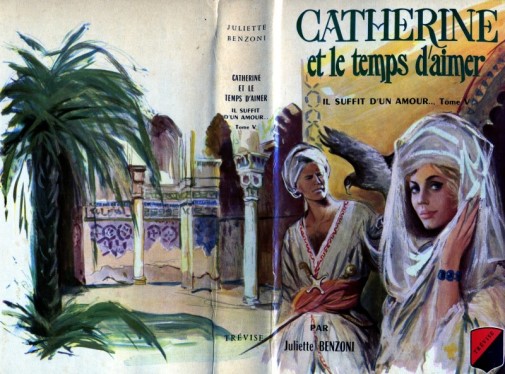 1968 Edition
Catherine et le Temps d'Aimer
Catherine and a time to love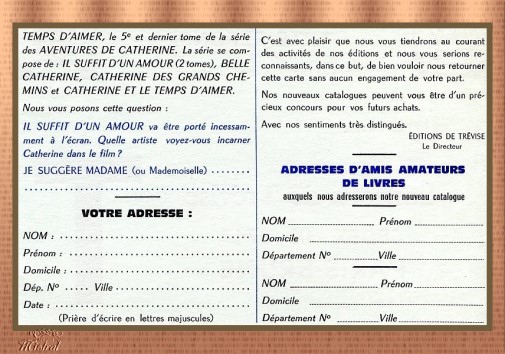 voting card 1968
In one of the original French books of Catherine, I found in book 5 Catherine and the time to love a voting card! There was the announcement - who should play in a future movie CATHERINE !

Now the fascinating question: Was Olga Georges-Picot in 1968 chosen by the "Catherine" readers or the filmakers?


1969


ITALY
La fuga di Catherine

(Belle Catherine)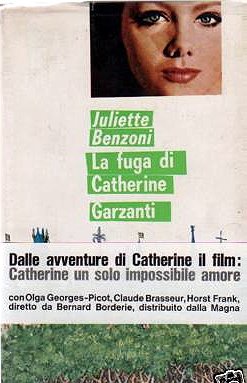 Italian book cover of « La fuga di Catherine » Publisher Garzanti added on a second printing a preview for the movie Catherine, Il suffit d'un amour in 1969 - the film which flopped at the cinéma - read more on our meeting with Juliette in Saint-Mandé 2010

196
9
ICELAND
Catherine og Arnaud
(Catherine and Arnaud)

original advertising in icelandic newspaper


1982

FRANCE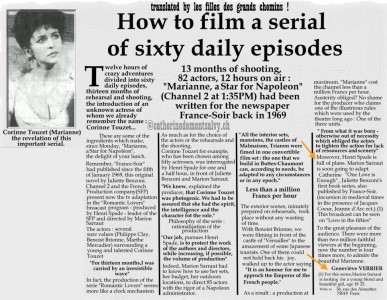 For us Catherine fans, this is a very exciting document! During the shooting of Marianne, the director Marion Sarraut, already was in search of a young beautiful girl between 18 - 25 to play Catherine in the upcoming TV-Series Catherine, il suffit d'un amour


What you see here, is an extract of book six "A Snare for Catherine" the last book translated into English so far ! This magazine printed it also as a cliffhanger and they used my favorite motto: to be continued...!!
Please have also a good look at the image of Catherine on the large magazine cover. This image Juliette Benzoni had not seen before until we showed it to her on one of our beautiful visits. She is convinced that the painter is the same one as of her favorite book cover of the 1968 edition of Catherine, il suffit d'un amour.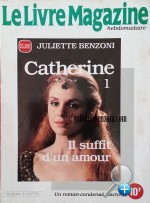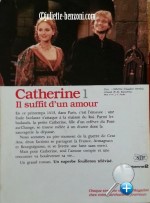 August 2014
In 1986 the Weekly journal Le Livre Magazine, printed a very abridged version of Catherine, Il suffit d'un amour 1 & 2..
Interesting fact: in the TV-series we do not see a smiling Catherine and Arnaud in that scène (Catherine learns Arnaud is a leper) so we can assume this is a studio photo !

Merci to my friend Stéphanie for sharing this Number 1 booklet with me. I like to mention that it was Stéphanie, who had been 2003 the very first person in France to dedicate a website to Juliette Benzoni ! ♥ Stéphanie was at that time 22 years old.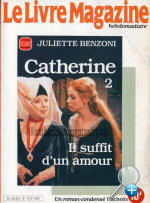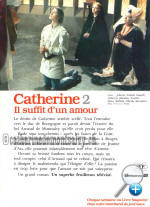 In 2009 my friend Frédérique found this booklet and was sure I would love to have it for my Catherine collection. Merci Frédérique for this special treat ♥