to see all other Press pages - please click on each image above

welcome message by Juliette Benzoni contributed to this website

I hereby confirm that most of these rare over 50 year old articles and photos you see on these Press pages and all over this website - concerning Juliette Benzoni, belonged to the author Juliette herself. Be that newspaper articles or photos. She trusted me with her material to do whatever I thought was best. No infringement is intented. All information and material on this site are not for sale nor are services being paid for.
Catherine the television Series 1986
Article in one of France leading TV-Programms by Lise Genet

Three women for the longest TV Series on Television

Juliette Benzoni:
My Catherine on television ? It is at the same time both a great joy and revenge". Director Bernard Borderie( the Angélique films) made a movie about the student revolt of 1413 in Paris Olga Georges-Picot incarnated Catherine. Not only that the film was a failure, I could not recognize my story anmore. I wish Claudine Ancelot, who plays the role of« Catherine », the same success as Corinne Touzet, who has been my « Marianne ».

Marion Sarraut :
Corinne Touzet and Claudine Ancelot are two discoveries of director Marion Sarraut. Marion spent two years of preparation in filming Catherine. A huge undertaking, she said. 200 performers, 1,500 costumes, 130 horses, countless extras, and all for a reasonable price... 15 months of filming, living side by side with th actors and technicians, affectionately around the young newcomers based on the story.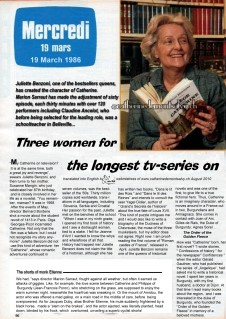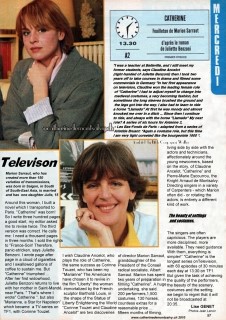 Article translated in 2010 from French by Linda
Catherine - the longest TV-Series ever made 1986
Translated from French to English by Linda, webmaster

This article had been in Juliette Benzoni's treasure box of Souvenirs. I had the great honour to receive it as a present the very first time we visited her in Saint-Mandé. As you can see the article has below on the left side a little stain. I have on purpose not erased it. A souvenir is a souvenir...

Catherine, il suffit d'un amour :
Television began filming the largest soap opera ever made in France: Catherine, One Love is Enough. 120 episodes, 24 hours of filming, nothing but the best! Antenne 2 and S.F.P are the two partners of this epic Serial, which will be filming for a year. « Not even the Americans » do that, said a famous Comedian. The Cecil B. de Mille of this televised and hexagonal « Ben Hur » is called Marion Sarraut. The author's name is Juliette Benzoni. Moreover, the script-writer is Jean Chatenet. A guarantee of success. « We do not change a winning team like the one of Marianne, a star for Napoleon Series."
Catherine, this is Claudine Ancelot, a young actress of twenty-five years, still unknown to the viewers. It is she who throughout the one hundred and twenty episodes of this series, will live the exceptional adventures of Catherine Legoix, daughter of a Parisian goldsmith whose personal history is close to the History of France at the beginning of the fifteenth century. Love, passion, betrayal, vengeance, hatred and friendship, all ingredients united, so that Catherine finally finds the love of her life in 625 lines. In addition, that she herself enters history: the screenplay has foreseen that she meets Joan of Arc in Orléans!

I like to add that the script was a team-work of Jean Chatenet and Juliette Benzoni (this was left out in this article). Juliette had told me that she had loved to work together with Jean Chatenet. He had made her understand that not all situations invented by an author, can later on be added in a film. Juliette was very impressed by Monsieur Chatenet and said it was a wonderful experience to work with him.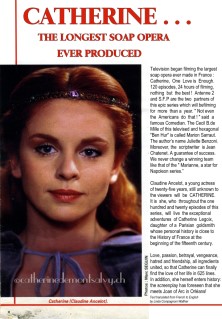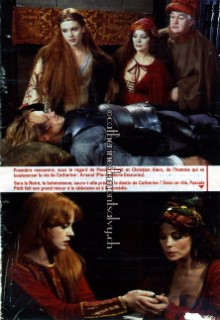 Article translated in 2010 from French to English by Linda
History : A marvellous source of Inspiration 1985
Article in the Magazine Jours de France by V.D
Translated from French by Linda, webmaster

A fortune made with the Heroes of our History
'They ask me for a synopsis. I give then one. I am signing a contract. I go to work. At the two hundred and forty-seventh page, the editor called me: Peter Lazareff just bought your book to be published in form of a Cliffhanger. He wants a thousand pages in three months. Eight days after the publication of Catherine it is a shout of triumph.'

We see Juliette Benzoni at her home holding a German Blanvalet Edition of "Zwei Rosen die Eine" in her hands. On her lap there is the fifth book of the French Trevise edition of "Catherine, et le temps d'aimer.

On one of my many visits to my dear friend Juliette, she has signed for me the last page of this article. LInda, webmaster.

About the filming of Marianne 1983

Authors Note - Juliette Benzoni
Text translated from French by Linda Compagnoni Walther

« The implementation and the filming of Marianne was a great joy for me and even a kind of revelation. The word is not exaggerated. Indeed, a previous experience at the Cinema – was rather bitter indeed! -
I have discovered that if an author wishes to see his work faithfully reproduced, he will have a greater chance of satisfaction with Television than with Cinema where, too often one comes across a screenwriter who, convinced of being able to do better than the author, betrays and disfigures without shame ». Juliette Benzoni 1983



The text we have here would have been long forgotten, if I had not discovered it in a magic box of Gérard Chambre. He played Jason Beaufort in Marianne, a star for Napoleon and had kept many souvenirs of that filming. (see his personal website www.gerardchambre-tribute.ch (I am also the webmaster of his site). Gérard had been a great admirer of Juliette Benzoni and read many of her bestsellers. He is also the cousin of the late French author Myriam de Béarn.

On the photo below we see the ingenious director Dame Marion Sarraut, Corinne Touzet (Marianne) Claudine Touzet (Catherine) and our most favourite author the late Juliette Benzoni. I like to say again thank you to our dear friend the adorable Claudine who shared her personal photos with us.


Juliette Benzoni « But this is my Marianne » ! 1983

Article by Geneviève Verrier
Text translated from French to English by Linda and Frédérique

Marianne the heroine of Juliette Benzoni on television - or how to film a serial of sixty daily episodes...

extract :
Corinne Touzet had been chosen amongst 50 actresses and interrogated by Henri Spade (number one producer at that time on French television) one and a half hour in front of Juliette Benzoni and Marion Sarraut. When Juliette saw Corinne Touzet the first time she called out: « But this is my Marianne » ?



The beautiful Corinne Touzet, before Marianne, an unknown young actress, has had a very great success on television. She played for some seasons the leading role in a very succesfull police Series called "Femme d'honneur". Nowadays as beautiful as ever she appears regularily on theatre and on television.