September 2012 text by Linda, webmaster

When the Catherine website was founded in 2008, I chose the name of« Catherine de Montsalvy fan site » which seemed the perfect name for what my sister and I had in mind – to bring Juliette Benzoni's first bestseller CATHERINE back to the public eye, to talk about my all-time favorite series and to share my knowledge of the seventh book with like-minded people who never had the chance to read the end of the story!
At that time there was no Catherine website in English or French who presented Catherine in a similar way - creating clips on youtube, writing short summaries of the stories for those who could not buy the DVD's of Catherine, creating quizzes, puzzles and the CDM AWARD to say 'thank you', and making contact with the former stars of the marvelous and beautiful TV- Series Catherine, Marianne, Le Gerfaut and La Florentine!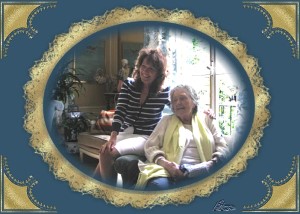 It has been my joy to spend time with our most beloved author Juliette BENZONI. I'm also in contact with other adorable people such as Marion SARRAUT, the exceptional brilliant director of the Series. I've been invited to the home of Claudine ANCELOT together with my dear friend Frédérique and sat in the audience at Palais Bulles listening to a Gérard CHAMBRE concert! I was at the Restaurant Maxim watching Gérard's spectacles to surprise him with a reunion between Xaintrailles and Catherine de Montsalvy ! Frédérique and I have also been to the Théâtre in Paris to watch SOIF, the phenomenal play directed by our Marion Sarraut, where beautiful Corinne TOUZET (Marianne, Princess Zobeïda) played the leading role!
The handsome and much-adored Pierre-Marie ESCOURROU (our hero Arnaud de Montsalvy) sent me a personal invitation to see his breathtaking one-man play l'Histoire du Tigre. It was a glorious moment to share with him, and he kindly posed for a few photos !
We spent such a pleasant afternoon in a café in the Rue de Rivoli with the gracious Isabelle GUIARD. Pierre DENY sent a charming message to my mailbox. Philippe CAROIT, who played in a few episodes in Catherine, is unfailingly helpful when I ask for a message for the Catherine fans. The charming Laurent Le DOYEN, who played Gilles de Tournemine, charmed me into becoming a fan also of Le Gerfaut!
Many visitors have also become dear friends to me. Kristina borrowed seven books from a library just to take photos of the book covers for the Catherine site. Jean Brittain my special dear friend from the country of Sir Hugh Alan Kennedy, one of the real characters Juliette Benzoni brought to life. It is thanks to her that we owe such marvelous facts of that Scottish Chevalier, which Juliette so enjoyed when I brought some material to her at Saint-Mandé! Marie Christine from Belgium who once shared a very exclusive email address with me - and sent to me the tremendous magazine about the play Un Homme Nomme Jésus! There is Catherine from Poland, the very first person who knew of my idea to launch a Catherine site. My dear friend Hélène from France, one of the first Benzonettes, who surprises us also from time to time with an exquisite creation. Valery, the adorable webmistress of the Russian Juliette Benzoni website, who translated many articles and interviews, and corrected many facts in Russia about Juliette! I am especially happy to say that I am personally responsible for her being able to receive on her wedding day an original Trévise Edition about her favorite heroine Marianne , with best wishes from her idol Juliette Benzoni.
I am especially grateful to my sister Evelyne/LaLuna who always creates such wondrous graphics, and to Frédérique, for her French translations, for the laughter we share together and the immense joy we each have in bringing Juliette, the Queen of History books and her world nearer to her faithful readers.
This Catherine de Monstalvy website is no longer a mere fansite – it is the official Juliette Benzoni website of her Catherine books, with the blessing of the author herself and her daughter Anne Gallois.