2018 13 August - Birthday wishes for dear Lady Marion

To one of the most inspirational women I know. When you look back and wonder where all the time has gone, remember that you helped shape history and you can be proud.

Wishing a happy birthday to dearest Dame Marion who defines what it means to age with grace and beauty. May you enjoy this wonderful milestone with the ones who love you so dearly.
Linda, webmaster and one of your greatest admirer.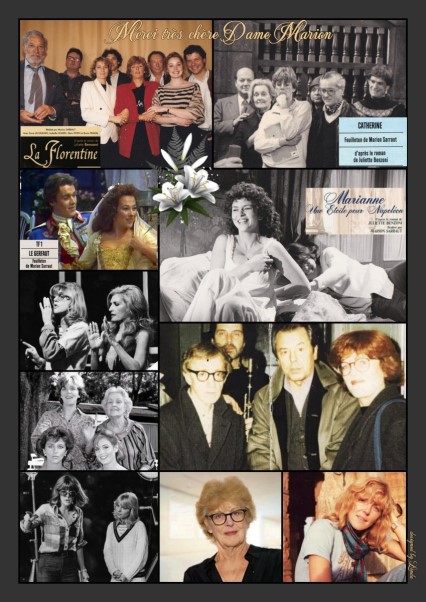 May 2016
Did you also want to enter the cave of Ali Baba at times ? YES ? You have also adored the book series Catherine, One Love is Enough and likewise the TV-Series directed by Dame Marion Sarraut in 1986 ? Then you will understand my immense joy to inform you that Marion Sarraut has invited me to her home to take back home all of her material of the shooting of CATHERINE ! When I say ALL I mean ALL of her souvenirs concerning Juliette's book series Marianne, Catherine, The Lure of the Falcon and the Florentine. Hundreds of photos and articles never seen before.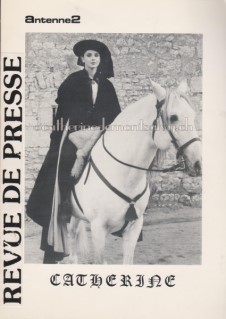 Brigitte Sarraut, sister of Marion had created during 1985 - 1986 a REVUE de PRESSE, that is a Dossier size A4 with all articles which had been published all over France. This rare document of the shooting in 1985 has been done with all the admiration Brigitte Sarraut felt towards Marion, Juliette Benzoni and the over 150 stars. I have the honor to scan whatever I like and I promise you, I shall share as much as possible from these believe it or not 186 pages ! You will be able to see photos either on Facebook Catherine, il suffit d'un amour or on my page called TOURNAGE Catherine.

I would like to address again my heartfelt and sincerest thank you to my très chère amie Dame Marion. Marion, who had right from the beginning of launching this the website (2008) a loving heart towards me/us the Sarraut/Benzoni fanbase.
Linda, webmaster and moderator of the Facebook pages Catherine, il suffit d'un amour fr/en.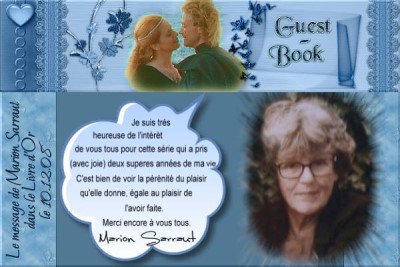 2008 - December 8
My sister and I, would like to thank Dame Marion again for her gentleness and kindness, to answer our mails and even go so far as sign our Guest book. It is a great honour for us and also for our visitors - that a well known personality like her - granted us this precious moment. We wish Marion Sarraut all the best for the future and that she may go on directing for a long time. Thank you very much dearest Dame Marion