In the late afternoon last Saturday I arrived in Paris to meet my friend Frédérique at the famous Gare de l'Est. We wanted to take advantage of the fact that I was already in Paris, to make the most of my stay in France! I admit with pleasure, we did our name « les filles des grands chemins » all honor this last weekend!

Our first destination on that night was a visit to the theatre! It is quite an adventure to walk around the streets of Paris....so we decided to take the métro to go to "Le Petit Saint Martin" an adorable little theatre!
The idea was to watch the brand new play « SOIF » with the lovely Corinne Touzet, directed by our creative and ingenious Marion Sarraut - Mistress of fantastic TV-Series.
Even if I repeat myself; no one could have directed Marianne, Catherine, La Florentine and Le Gerfaut like Marion Sarraut did! I do not have the right to critisize other directors, but for once I am sure that all fans agree with me, Marion Sarraut and only she - was destined to do such an enormous and dreamy job! To satisfy and make all fans of Juliette Benzoni's precious books very happy!

We arrived in time, to get our tickets, which we had reserved some time ago. As we stood there smiling and joking with the girls at the reception, a door opened and a woman walked past us...and we recognised Marion Sarraut on the spot! She looked beautiful, dressed all in black and in one accord we walked up to her and introduced ourselves to Madame Marion. To our immense joy, Marion Sarraut recognised us and greeted us very amicably. She hoped that we would enjoy the play, smiled and said we could meet her after the play for a little talk!

My friend and I entered the adorable little theatre, took our seats and said in one accord: "Unbelievable"...a few minutes after our arrival and we meet already the one and only Marion Sarraut! It was almost at first impossible to concentrate on the scene before us, because now

had begun. It was a great play and Corinne Touzet was as beautiful as ever. Her male partner Fred Nony, who also wrote the play, a fantastic partner. The two actors were marvellous and the piece very entertaining, at times funny, contemplative and sexy.

Corinne looking absolutely ravishing in a pair of blue jeans and a very becoming white blouse. We just adored her dancing to a popular song during the play! She is a great actress and for a moment one forgot that it was after all just a play in front of us. We felt close to the two marvellous actors, who did a tremendous job, being on stage alone for over an hour and having their audience all the while greatly entertained.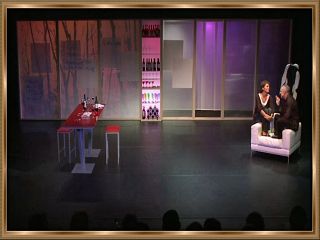 Before we knew it the play was over. A great applause called Miss Corinne and Fred Nony back on stage again and again and almost regretfully we left the cosy atmospheric salle.
We joined all the other spectators, who like us, were hoping to meet the actors and Madame Marion...! We were not disappointed, shortly afterwards, the ladies and a gentleman, entered under applause the room. JouJou recognised at the same time attractive Yves Peney, the actor who played to perfection « King Louis XI » in La Florentine and « Cardinal Rohan » in La Comtesse de Charny (both directed by Marion Sarraut). It is to the charming Yves Peney we must say thank you for these gorgeous photos of Marion Sarraut, Corinne Touzet and Fred Nony. It was really delightful of him to play « papparazzi » for us girls. I apologise openly for having messed up the only two photos of that evening - and that with him, Marion and Frédérique on the picture!

We had a long talk with our dear Marion, who is such a adorable warm-hearted woman. We will never forget her kind words to us and the sympathy she showed openly to us and for our passion towards everything connected with the Benzoni/Sarraut family. I understand now why everyone who answered my Mistral's 12 questions, talked so enthusiastically after all these years about Marion Sarraut. One just has to love this enchanting woman.

It was Marion Sarraut herself, who took us by the shoulders and brought us over to Corinne Touzet for the signing of our booklets we had bought at the entrance.
A very relaxed Corinne looked smiling up and recognised us from last year. I thanked Miss Corinne again for sending me that magnificence interview. To our great joy we received a new dedication from Corinne, which I personally treasure even more so this time. The sympathy which was shown to us by the beautiful actress filled us with affection.

I exchanged also some words with the author of the play Fred Nony, who agreed with pleasure to sign our booklet too. During that time Marion Sarraut sat down and wrote without our noticing it, for each of us these splendid dedications.

We could not resist to ask for a mutual photo, together with Marion Sarraut, Corinne Touzet and Fred Nony. I would like to express again my deep gratitude for that fabulous moment, standing together with these extraordinary personalities. Even though they had just had a "working day" behind them, they stayed a moment longer to give us this special gift! Already smiling at us, Yves Peney took my camera and shot this terrific image of all of us. After all, not everyone can say they have had their picture taken by a King of France, once called "the spider" ☺ ☺ ☺ !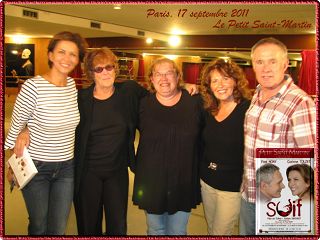 We said good-bye to Corinne Touzet and Fred Nony and just then Marion Sarraut invited us to come and have a glass of wine with her in a bar near by. Happily we agreed and spent another unforgettable moment with the woman we had always in secret wished to meet one day in person - to say thank you to her for bringing alive our heroines like "Catherine, Marianne, Fiora and Gilles!

Thank you again dear Madame Marion, you have made two passionate girls very happy last Saturday. We shall never forget what you did for the fans of Juliette Benzoni's books. Without you, those films would long be forgotten. Your capacity to have chosen the right people for each role is stunning! To be able to do that, it needs a person with an empathetic heart, something which is really rare in this world. We send you our sincere and deep admiration and hope to have the honor to meet you again one day...we already enjoy our latest nickname "warriors" tremendously, you have given to us ...☺