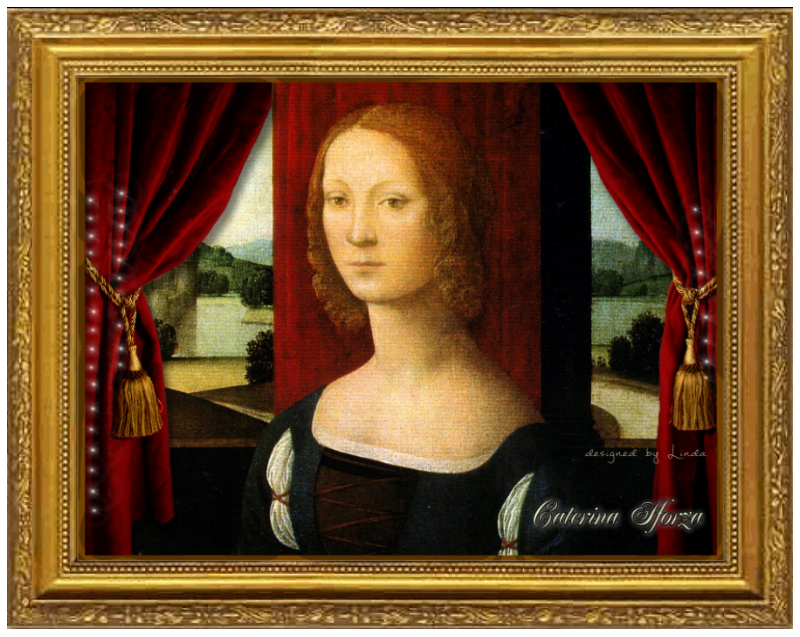 Suite italienne

by Juliette BENZONI


La Comtessa Caterina Sforza

The woman Juliette Benzoni admires for her courage and beauty ! Caterina was educated and treated as a princess and was admired for her beauty and elegance.

Caterine Sforza, was the wife of Count Girolamo Riario, Lord of Imola ( who was the nephew of Pope Sixtus IV who had given him the Lordship of Imola !)

She was the illegitimate daughter of Galeazzo Maria Sforza, Duke of Milan. Her uncle was the famous Ludovico il Moro Sforza.

After her marriage to Count Girolamo Riario she lived a few years in Rome. After Pope Sixtus IV died she showed her bravery during the coming of the Conclave. She took her horse ( being in the seventh month of pregnancy) and took over the Castel Sant'Angelo. After the new Pope was elected, she and her husband had to return to Imola and live there. After her husband was murdered she was the Lady of Imola and Forli.

She is known in history as a Virago « a large strong and couragous woman » The kind we know from the series of the Catherine series, Countess Ermengarde de Châteauvillain.

Juliette Benzoni brings her to life also in the Florentine series "Fiora and the Pope" where she is a good friend of the heroine Fiora de Selongey.

****************************************






creation by Linda, webmaster 2014





idea and conception © 2008 - 2015 linda compagnoni walther