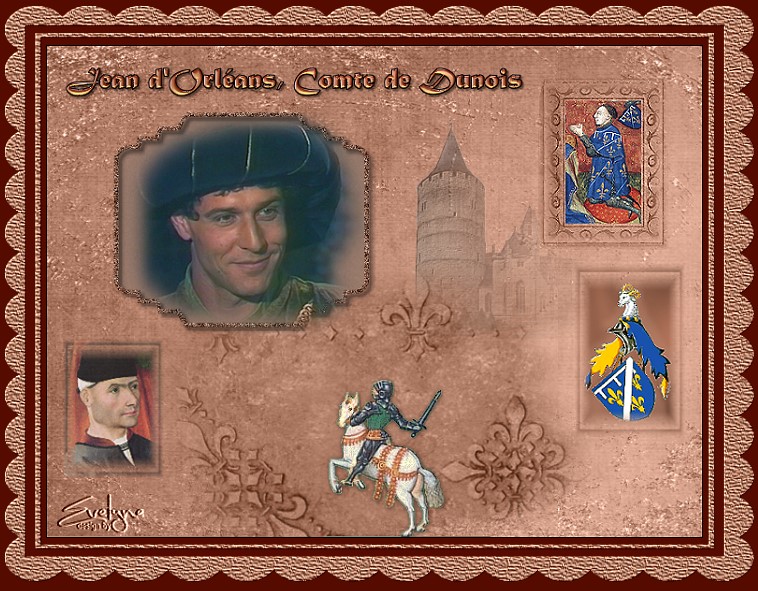 A Snare for Catherine

by Juliette BENZONI

creation by Evelyne
extract of « A Snare for Catherine »

He was magnificently dressed in a green velvet doublet and close-fitting black hose thrust into high, kid-lined boots. On top of this he wore, with an air, a great gold-embroidered gown of black velvet, its wide sleeves slashed to show the green taffeta lining beneath. a heavy gold chain around his neck and a green velvet hat with a pin like a gold griffon added the finishing touches to a dress which the provincial knights in their stained leather and mail beheld with an admiration untinged by either criticism or envy.

« As they passed through the gateway with its crowned porcupine carved in the stone, Catherine could not repress a shudder. Her companion noticed it and glanced at her anxiously.

Jean de Dunois :
"Are you cold ? I think you're shivering."

Catherine :
"No, my lord. Not cold. Frightened."

Jean de Dunois :
You? Afraid ? there was a time, Catherine, when you were not afraid of torture, or even the gallows. You were going to it very proudly when the Maid saved you."

Catherine :
Because then the threat was only to myself ! But I'm not brave where someone I love is concerned. And I love my lord Arnaud more than myself, you know that!"

Jean de Dunois :
I know, he agreed seriously. "And I also know what feats that love can accomplish. But be comforted, what you are going to face here is not an enemy but a prince who wishes you well...

* * * * * * * * * * * * * * * * * * * * *

photo with Pierre DENY
TV-Series : Catherine, il suffit d'un amour
directed by Marion Sarraut


idea and conception © 2008 - 2015 linda compagnoni walther