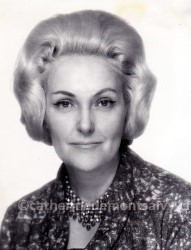 Juliette BENZONI


30.10.1920 - 7.2.2016
CATHERINE

First Edition : 1963 par Editions Trévise
Autres Editions : Collections Toison d'Or, Hachette, Succes du Livre, Ed. JC Lattes
Livre de Poche : 1975, 1978, 1986
Livre de Jeunesse : 1987
POCKET : 2002, 2015
Grand Livre du Mois : 1995


Kindle e-book : 2013

Original Titles
1963 Livre 1 Il Suffit d'un Amour
1964 Livre 2 Il Suffit d'un Amour
1966 Livre 3 Belle Catherine
1967 Livre 4 Catherine des Grand Chemins
1968 Livre 5 Catherine et le temps d'aimer
1973 Livre 6 Piège pour Catherine
1979 Livre 7
La Dame de Montsalvy

English Titles

1964 Book 1 One love is Enough
1965 Book
2 Catherine
1966 Book 3 Belle Catherine
1967 Book 4 Catherine and Arnaud
1968 Book 5 Catherine and a time for love
1974 Book 6 A Snare for Catherine
........ Book 7 La Dame de Montsalvy - not translated so far !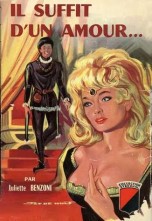 The very first French book cover in 1963
Art Designer of this cover was JEF DE WULF (1926 - 1996) who created in 25 years more than 500 various covers. One of the companies he worked for was : Editions Trévise, who published the Catherine Series.