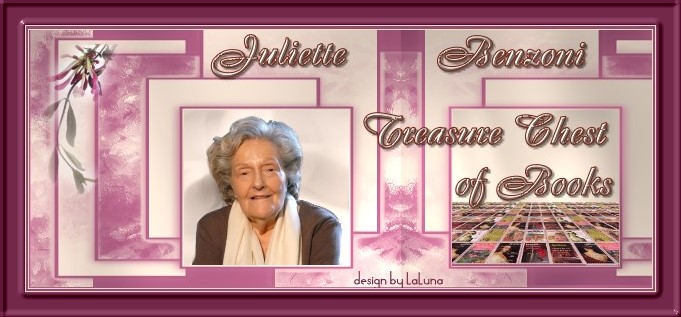 Ces Belles Inconnues de la Révolution
(These unknown Beauties of the French Revolution)

Ces belles inconnues de la Révolution 2014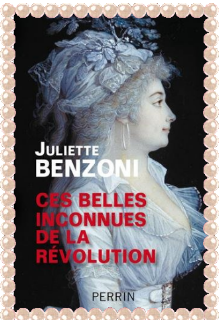 synopsis : These unknown beauties of the French Revolution
text translated by mistral

Wonderful Queens, lawyer by passion, mistress of a prince, queen of the theatre of gallantry, willing to go to jail for love, a woman's sacrifice's, adventuress ... all the beautiful unknown reunited by Juliette Benzoni who lived at the epoch of the French Revolution between drama and passion. The author offers twenty portraits of women who had an extraordinary destiny: Madame Tallien friend of Josephine, Madame de Genlis mistress of a prince and "governor" of a king, Madame Roland and her lovers, the adventures of Lady Elliot in Paris, the romantic life of the beautiful Pamela, Gabrielle and Louise the two loves of Danton, the tumultuous loves of Madame de Beauharnais and of Lazare Hoche, the misfortunes of the passionate Sophie Monnier, Emilie Chalgrin and the painter David, Victoire de la Villirouet lawyer for love ... Combining the breath of adventure to the rigor of history, Juliette Benzoni raises the figures of these famous but forgotten women.
♦ interesting details
:
« Ces belles inconnues de la Révolution »
the new book includes texts, which were published in the 70s as columns in the magazine « Confidences
» and never again published since then.
♦♦ interesting details
:
Huge congratulations to my dear friend Frédérique who has been honoured in Juliette's dedication of this book: « A mon irremplaçable Frédérique » Frédérique is the webmistress of the most complete Juliette Benzoni bibliography
♦♦♦ interesting details
:
How wonderful, the new book by Juliette Benzoni is only since May 7 2014 on the market - and we get the first critique! And what a precious one - by none other than the acclaimed Vincent Meylan, journalist and historian, also author of many Biographies, the list is long of his work ! We like to say thank you to him for his excellent chosen critic. We know his words count among experts...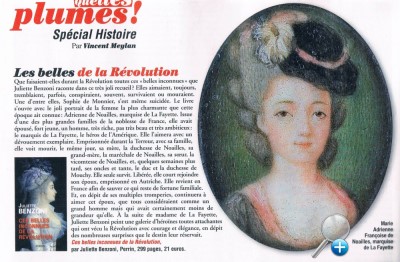 by Monsieur Vincent Meylan (Point de Vue)

extract :

Les belles de la Révolution : (the Beauties of the Revolution)
What were all these « unknown beauties » doing during the Revolution that Juliette Benzoni tells us in this very beautiful collection? They loved, always, trembling, sometimes, conspired, often, or died.

...Juliette Benzoni painted a gallery of fascinating heroines at the time of the Revolution with courage and elegance, despite the many surprises that fate had in store for them.