Ces Belles Inconnues de la Révolution 2014
(These unknown Beauties of the French Revolution)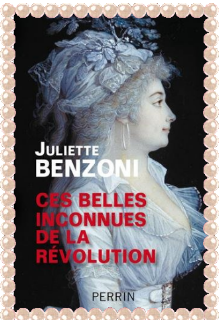 synopsis : These unknown Beauties of the French Revolution
text translated by webmaster

Wonderful Queens, lawyer by passion, mistress of a prince, queen of the theatre of gallantry, willing to go to jail for love, a woman's sacrifice's, adventuress ... all the beautiful unknown reunited by Juliette Benzoni who lived at the epoch of the French Revolution between drama and passion. The author offers twenty portraits of women who had an extraordinary destiny: Madame Tallien friend of Josephine, Madame de Genlis mistress of a prince and "governor" of a king, Madame Roland and her lovers, the adventures of Lady Elliot in Paris, the romantic life of the beautiful Pamela, Gabrielle and Louise the two loves of Danton, the tumultuous loves of Madame de Beauharnais and of Lazare Hoche, the misfortunes of the passionate Sophie Monnier, Emilie Chalgrin and the painter David, Victoire de la Villirouet lawyer for love ... Combining the breath of adventure to the rigor of history, Juliette Benzoni raises the figures of these famous but forgotten women.
♦ interesting details
:
« Ces belles inconnues de la Révolution »
the book includes texts, which were published in the 70s as columns in the magazine « Confidences
» and never again published since then.
♦ interesting details
:
To my knowledge « Ces belles inconnues de la Révolution » has so far only been translated and published in Russia

♦ interesting details
:
Huge congratulations to my dear friend Frédérique who has been honoured in Juliette's dedication of this book: « A mon irremplaçable Frédérique »
♦ interesting details
:
Review of the Online website: Paris Frivole on August 2014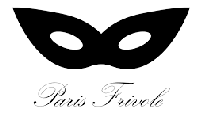 Ces belles inconnues de la Révolution – Juliette Benzoni
Many women have made history... We all think we know them, but sometimes it is the most admirable who have remained in the shadows.
Paris Frivole has plunged into Juliette Benzoni's opus "Ces belles inconnes de la Révolution".

The best-selling author's refined and effective pen depicts portraits of heroic women with sometimes tragic destinies. The French revolutionary period exalted and raised extraordinary souls. It is true that the character of Marie-Antoinette transcended this period of history. However, she was not the only female figure worthy of all attention...

This book is as exciting as possible and can be read passionately... May these women rest in peace, a tribute is finally paid to them.
♦interesting details
:
A great critique by acclaimed Vincent Meylan, journalist and historian, author of many Biographies, the list is long of his works ! We know his words count among experts.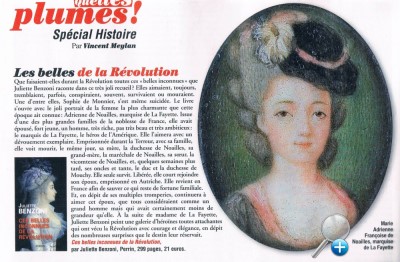 extract from article above:
Les belles de la Révolution : (the Beauties of the Revolution)
What were all these « unknown Beauties » doing during the Revolution that Juliette Benzoni tells us in this very beautiful collection? They loved, always, trembling, sometimes, conspired, often, or died.

...Juliette Benzoni painted a gallery of fascinating heroines at the time of the Revolution with courage and elegance, despite the many surprises that fate had in store for them.
by Monsieur Vincent Meylan (Point de Vue)






non-profit site
© 2008 - 2019 catherinedemontsalvy.ch
All rights reserved