La Petite peste et le Chat botté
(The little Pest and Cat in Boots)


Single Novel


Synopsis : La petite peste et le chat botté 2015
(The little Pest and Cat in boots)
Summer 1807: What is the carriage of General Junot doing in the middle of the night in the courtyard of the Elysée palace, and who is this young and beautiful woman on the point of losing her patience losing patience inside?
Bound since childhood to the Bonaparte family, Laure Martin de Permon, of Corsican and Greek origins, has not yet decided if she loves or hates the General apprentice with his thin legs in his too vast boots whose truly fabulous destiny made of him Emperor Napoleon the first.
At sixteen, she married for requited love, General Andoche-Alexandre Junot, a wonderful gifted man with exceptional bravery. Now Junot dedicates his emperor a devotion and admiration near idolatry.
Governor of Paris, showered with honors and wealth, and soon to be Duke of Abrantes, he would give away everything without hesitation to be nothing more than a small aide-de-camp (assistant in-the-field) attached night and day to his personal God …
Which prodigiously annoys his wife, who became maid of honor to Madam Mother, a function she does not often fulfil while she is a close friend of the charming and cfoolish Pauline, princess Borghese by marriage.
Her relationships is not nearly as good with Caroline, the youngest of the Bonaparte sisters who became Grand Duchess of Berg and then Queen of Naples.
The knives are even drawn between her and Laure when she discovers that her husband is Caroline's lover, that she brags willingly about it and that she has undertaken to make her rival's life miserable.
Other worries: Since his last campaign, Napoleon seems to put gradually Junot away from his immediate entourage, which puts the unhappy man under torture. A frequent topic of conversation between the Emperor and the One who since the affair, "Puss in Boots", he nicknamed "the little Pest".
♣ E-book - Format Kindle... Amazon.fr.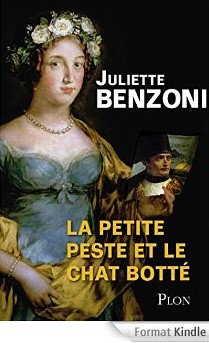 ♣ interesting details : Editions Libra Diffusio
Publisher of books with large lettering since 1998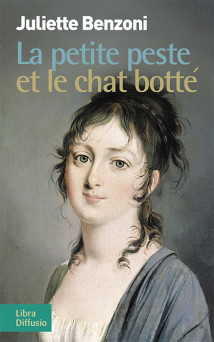 synopsis by Editions Libra Diffusio 2016
Leading figure of Parisian life under the Empire, Laura, Duchess of Abrantes, is the sworn enemy of Caroline Bonaparte, the mistress of her husband

(

General Andoche-Alexandre Junot

)


With great generosity towards the duchess, whom Napoleon affectionately nicknamed "little pest," he entertains a tinted seductive and affectionate relationship. In a removed and entertaining script, we delight in the intrigues at Napoleon's court.
♣ interesting details
: In 2018 two years after Juliette Benzoni left us, Publisher Pocket printed this amusing Novel in Paperback Format.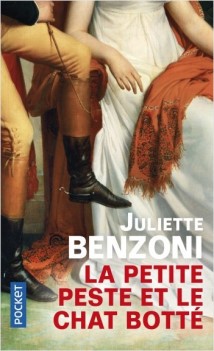 Synopsis : La petite peste et le chat botté - summary by Publisher POCKET
(The little Pest and Cat in boots)
The "Little Plague" is in fact : Laure Junot, duchess of Abrantès and wife of a General, a great figure in Imperial Paris. The "Cat in Boots" is Bonaparte, as he was nicknamed when, fresh from the military school, he seemed much too thin for his large boots.
These two have known each other for a long time. Glory has taken them both to the top. It is not until their heartache is linked, in one way or another. And who decide, between palace alcoves and mysteries of power, the fate of the Empire....
♣ interesting details : summary of le club l'Actu Littéraire
Her almond shaped-eyes touched the hearts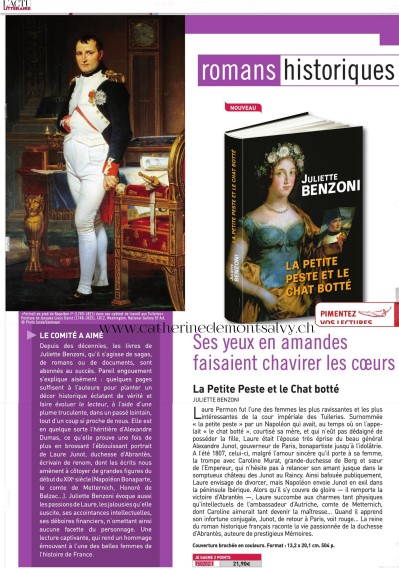 The committee enjoyed ... translated by webmaster linda
For decades, the books of Juliette Benzoni, who deal about sagas, novels or documents, are crowned with success. Such popularity is readily explained, a few pages are enough for the author to plant a historic decor, strikingly truthful to move the reader, with the help of a truculent quill, a faraway past, suddenly so close to us.
She is sort of the heir of Alexander Dumas, which she proves once again with drawing the dazzling portrait of Laure Junot, Duchess of Abrantes, a renowned writer, whose writings leads us to major figures of the early nineteenth century (Napoleon Bonaparte, Count Metternich, Balzac ...).
Juliette Benzoni also evokes the passions of Laura, the jealously she evoked, her intellectual acquaintances, her financial setbacks, not omitting any facet of the character. A captivating lecture, which pays tribute to one of the beautiful women in the history of France.
♣ interesting details : Magazin Point de Vue
The Greatness and Decadence of a Duchess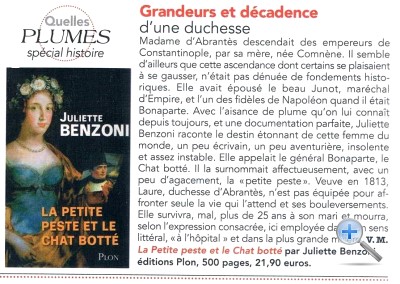 by Monsieur Vincent Meylan (Point de Vue)
♣ interesting details : Artwork by webmaster Linda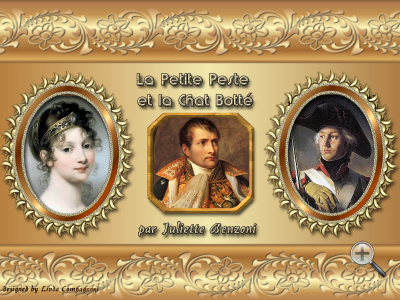 We see on this creation a painting of Laure Junot, Duchess of Abrantes, Emperor Napoleon and her husband

General Andoche-Alexandre Junot

.