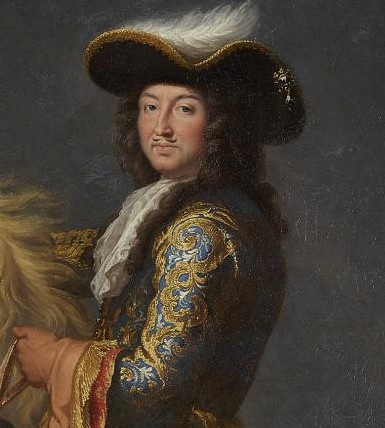 Extract from La Chambre du Roi - translated by Linda, webmaster

The King! The King! The bailiff of the Chamber dressed in the tabard with the French coat of arms came to rest at the entrance of the Hall of Mirrors, on the side of the Salon de la Paix where the violins and the clapping of the feet of the bodyguards can be heard. Louis XIV appears....

His pourpoint is entirely embroidered in gold, but unlike his custom, he wears few jewels. However, a whisper of admiration hovers over the Court: staring at the plumet of his hat, a splendid daffodil diamond radiates with a thousand lights... No one has yet known such marvel.

Aware - and probably delighted! - of the effect produced, Louis XIV steps forward with his majestic step, a slight smile floating on his lips. Monsieur and his Nobles watch him approach - especially one of them - with a stupor that brightens his eyes.

Sire, my brother! exclaimed the prince without being able to hold his curiosity any longer. You have a very beautiful diamond here! I didn't know you knew of it!

Neither did I, you see, that's what makes it so charming... ah, Monsieur le chevalier de Lorraine, I didn't see you! You seem uncomfortable tonight? Are you suffering?

The King is too good to worry about my health but I am fine. Simply, I am in a state of dazzlement....

This jewel? It is a beauty, isn't it?

Is it a recent acquisition? asked Monsieur after swallowing his saliva.

No, it's a gift!

A present? they all said in chorus, but....

A lady's! That's why I have a very particular faible for it!

She must be... very rich! hiccuped Monsieur.

Or very affectionate! I was all the happier for it because I was unaware until recently of the existence of this beautiful stone. Otherwise, I probably would have tried to get it. And honestly! I would never have had the idea, for example, to send hatchet men to search a house from top to bottom, as I know some of them are capable of doing. I would have bought it, and without skimping! But it happens to have been given to me.

Your Majesty is very fortunate, Lorraine said, without succeeding in completely concealing his spite.

The King gave the gentleman a look from which all traces of amusement had been erased:

The luck is earned, Monsieur. Sometimes it is enough to do good instead of the opposite. In any case, we would not tolerate that this generous lady should still have to suffer from bad procedures. I hope you understand that?

But, as with all the Guises, insolence was never far away with Chevalier, the latter replied:

Yet again do we know the lady in question?

You do not know her?

No, Sire.

Then continue! It will be better for everyone....