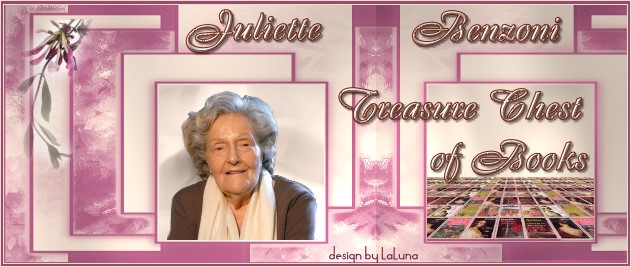 Les Dames du Méditerranée-Express 1990
(The Ladies of the Mediterranean Express)



♣ interesting detail :

The Ladies of the the Mediterranean Express Saga was not translated into English !
Foreign editions : Hungary, Slovakia, Slovenia, Ukraine, Russia

Juliette Benzoni, who left us on 7 February 2016, loved trains. The Ladies of the Mediterranean Express is one of the most romantic series by the queen of historical fiction. This one-volume edition (1. The young Bride 2. The Proud American 3. The Princess Manchu)

La jeune mariée


synopsis : La jeune mariée

Summer 1902.... On a perched tree, Melanie was watching the ball given by her illustrious neighbour. The branch broke. Melanie fell at the feet of a handsome marquis.... She was fifteen years old. Her heart was beating for the first time. The Marquis married her. When, after the party, they reach their wagon-cabin of the Mediterranean-Express, she thought they were boarding for Kythera... It was not so. The Marquis spent "their" wedding night with a Spanish dancer... Melanie would like to die of shock. She wants to throw herself off the train when she is rescued by a very seductive enigmatic painter... It is the beginning of incredible adventures during which she will discover love, foil ignominious plots and attract the attention of a king... Passion, tears, emotion... The first volume of a great saga....

La fière américaine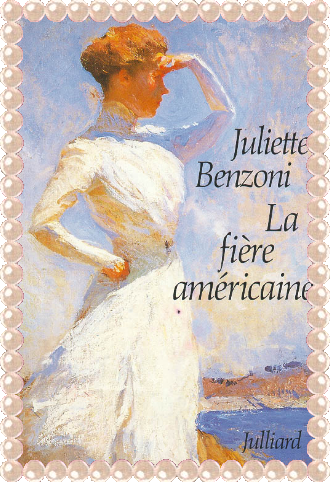 synopsis : La fière américaine

Alexandra loved to travel. Her husband hated them. She wasn't a woman to beg. Then, one fine day in 1904, the beautiful American embarked on a luxury liner and headed for France. She had decided that this journey would be a delight. She wanted to perfect her culture, rob the couturiers, shine at balls and receptions, flirt "American style" without giving anything to the gentlemen too pressing...
But she didn't know that France is the land of love and that fate was going to put in its path the most beautiful man that the earth had ever carried....

La Princesse Mandchoue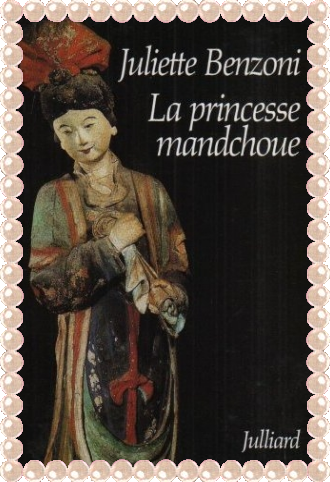 synopsis : La princesse mandchoue
Because of her love, Orchidée, the little Manchu princess, had forgotten China and the Empress Ts'eu-hi whom she betrayed to marry Edward. But, suddenly, she receives a terrible letter...
Ts'eu-hi ordered her to return to China after stealing a brooch in Paris that belonged to the imperial family.
Heartbroken, Orchidée steals the jewel. But the nightmare continues. The next day, Edward is murdered. And it is her whom the servants are accusing!
Devastated, Orchidée flees. Direction Marseille, then.... On board the Mediterranean Express, she finally meets the providential man who might be able to help her...

♣ interesting detail : Articles in Point de Vue and L'Actu Littéraire

The Integrale by Publisher POCKET of the Saga The Ladies of the Mediterranean Express in 2016
Article by Vincent Meylan (in French)
Dame Juliette takes the train...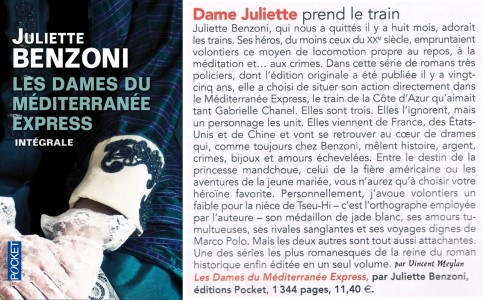 The Time of a Voyage...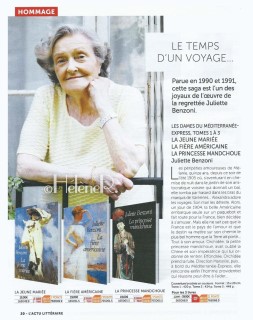 non-profit site
© 2008 - 2019 catherinedemontsalvy.ch
All rights reserved