written by Linda

On Thursday 6 January 2011, three Webmistresses from three different countries, took their suitcases and travelled all in the same direction PARIS FRANCE! All three Webmistresses have something very important in common - they are all fans of Juliette Benzoni, the author of over 77 beautiful and outstanding historical books!
Without Juliette Benzoni "Frédérique from France, Webmistress of "Juliette Benzoni Bibliographie" - Magali from Belgium, Webmistress of "Les amis de Laurent le Doyen (Le Gerfaut) and Mistral from Switzerland, Webmistress of "Catherine de Montsalvy fansite" would never in their life have met!! Each on her own - not knowing of the other, have dedicated for over three years now, a great part of their life to Juliette Benzoni. They discovered each other, one by one and it was obivious that such passionate girls would one day just have to meet each other!

A meeting was already planed last year in May, when Magali the Webmistress of the new found "Laurent le Doyen" fan club invited Mistral to come to the founding of their fan club. As you might remember, I was touched by the invitation and also a tiny bit excited, to meet not "Catherine fans" but the "Le Gerfaut" fans. The Juliette Benzoni book, which had also a very great success with the television spectators back in 1987! Due to the fact that Magali had broken her foot - the meeting of the three Webmistresses had to be postponed for another time! (For those who want to know more of that meeting - read my report from last May...)
In December we decided the 6th of January 2011 - would be the perfect moment to have a reunion with the Le Gerfaut fan club, to wish each other in person a very Happy NEW YEAR. Many mails, telephon calls, facebook messages passed between all of us - and we all agreed 6 January was the golden date for that surely exciting meeting between the three Webmistresses and saying hello to our new friends of the fan club!
The railway station Gare de l'Est was the magic meeting point, where for the first time "Frédérique, Magali and Mistral fell into each others arms! It was like in one of those movies I love so much "LOVE ACTUALLY! Imagine three passionate girls, having so much in common! Our other dear friend Hélène (who creates for my site so many beautiful creations) sat beside us and was greatly amused! Dear Danette, let me thank you for the patience you had with us and also for your support later in the day ;-)
Time went by, while passengers came in and out of the railway restaurant and all of a sudden we realized that if we would not leave right at the spot... Mistral and Frédérique would be late for their MISSION IMPOSSIBLE at two o'clock this same afternoon!
In my report I must take now a TIME MACHINE since what happened between two o'clock - four o'clock in the afternoon, does not concern my beautiful story of the meeting between the three Webmistresses ☺

Frédérique and I, who had left our friends for some hours (and what hours that were...!!! ) returned smiling, chatting and saying over and over again " Unbelievable - Incroyable - Fantastique , to join the girls, who were waiting for us at the "le café du Palais Royal" together - to our great delight "Laurent le Doyen" the unforgettable Gilles de Tournemine". I could not resist to ask him to sign the creation LaLuna had done for me last May! Kindly he signed it and Frédérique you will "forgive" your dear friend, that she stole your idea ;-) When she had gone to see Laurent le Doyen in Paris to see him on stage, she had taken with her the photo, I had taken of her at Versailles last year! Cool idea JouJou ;-)

petite image - click - grande image - click fermer
One by one, more of the fan club members came to join us. It was so good to see again Sophie and Armelle, whom we had meet last May the first time at Versailles. Laurent was as always very charming and even though he had a bad cold, answered all our eager questions, gave us our asked for dedications (Laurent, thank you again for your lovable words in my brand new Le Gerfaut agenda ;-) We took photos, admired his painting he had done for Magali and a bit sadly had to let him go some time later. I would like to say, also in the name of my dear friends, thank you dear Laurent, to have joined us all, even though you should have stayed in bed that day!

Reunion of fanclub Laurent le Doyen


We left the "café Palais Royal" to have dinner, chatted and exchanged presents, souvenirs and promised each other, that in Spring we would love to meet again, hoping that Romy would then also able to join us! We hugged and kissed, had tears in our eyes and went, each of us to go in search of our car! Erm...not many cars were left in the parking garage, but finally JouJou, Magali and I were on our way to Reims, where we were all invited by JouJou's parents to stay overnight! Because the three Webmistresses had another marvellous meeting in front of them...that of being invited by Juliette Benzoni at Saint-Mandé.

We arrived at noon the next day at Saint-Mandé. Magali like JouJou and I the very first time, was very moved to have the possibility to meet her all time favoured author Juliette Benzoni! A promise she had given her dear Grandmother, many years ago! Our dear Juliette and Anne greeted us as warm-hearted as always. Magali felt soon at home and the beautiful living room of our Juliette, was soon filled with talking, laughter, anecdotes - interrupted by Anne, who really spoiled us with delicious appetizers and sparkling champagne! Later on Anne served us a dreamy lunch, which was followed by dessert, which this time consisted of a not from this earth cake, called the "King's cake" !! It is a tradition on 6 January, which is celebrated in many European countries. In the cake is hidden, depending in which country you live, a porcelain king, a coin or a bean. Whoever catches the piece, will be King or Queen for a whole day! Something which naturally adore all children - and without doubt also the grown ups!
Juliette had chosen Magali to decide who should have which piece of that awesome cake (which was again from that famous and gorgeous place called LeNôtre in Paris). We carefully ate our piece of cake, careful not to bite on whatever was hidden in the cake. Smiling and almost not believing it herself, Magali became our Queen of the day ;-)

The meeting of three webmistresses at Saint-Mandé
Frédérique, Magali and Linda at Saint-Mandé


We toasted to that and could of course not resist eating another piece of "leNôtre's" masterpiece, even though the Queen was chosen! We stayed on the table for a long time, wishing each other again a very "Happy New Year" heard Juliette talking about the book she is writing at the moment - answering me the question in which time period she would have loved to live! She told us...(and that was no surprise to me, she would of loved to have lived in the Medieval times. Be it because of Arts, the personalities who lived then or of the constructing of countless beautiful monuments, castle or churches! To my question if she chose the place of Montsalvy because she had been there before she wrote Catherine - Juliette laughed and said no, I just picked it out like that!

From time to time she answered her telephone. By one of the phone calls, she called me to herself and said: "here is a very good friend of mine, who wants to talk to you"! Someone wanted to talk to me I smiled? Thinking quickly I wonder I wonder, and before I got nervous, I took the phone from Juliette. To my great surprise and joy and I swear for me an enormous honour, I had the former publisher of my "Catherine de Montsalvy" on the phone. "Monsieur Alexis, what a surprise and unbelievable moment that was for me! I thank you from the bottom of my heart, that you were the man, responsible that millions of fans, all over the world were introduced to that unforgettable, wonderful heroine called Catherine" !

Much too fast, the time had come so say again, au revoir to Juliette, Anne and Oliver my favourite dog. We wished Juliette good luck with the work on her book and... no... that is not now to tell... but...yes it is again hard to keep quiet about this - but be sure I will inform all you as soon as it will be for certain!

We drove our new friend Magali, to the railway station, promising each other to meet as soon as possible again for a next fan club meeting in spring. Also to keep in touch and visit each other very often, if it was only through our own websites.

For all of you, who have faithfully stayed now until the end of my report, it is with absolutely great pleasure that I want to inform you - that Mistral and Frédérique have met on 6 January none other than



12 January 2011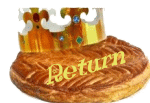 thank you very much for the beautiful banner Frédérique

© 2008 - 2018 Linda Compagnoni Walther