♣ Foreign Editions : Hungary, Spain, Portugal, Slovakia, Russia and Korea.Hongrie.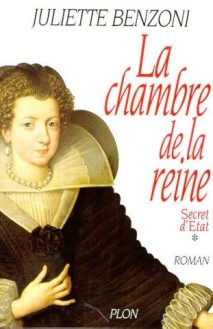 Synopsis : La chambre de la reine 1997
(The chamber of the Queen)
translated from French by Linda,webmaster

Sylvie de Valaine, an adorable four year old little girl that François de Vendôme, ten years old, discovers on a June evening in 1626, wandering in the forest of Anet, barefoot, wearing a bloody shirt, will not be the exception that proves the rule. She has just escaped miraculously Richelieu's hands that murdered her entire family ...
Raised by the Vendôme's, Sylvie is made at fifteen, maid of honor to the Queen who keeps on plotting against Louis XIII and Richelieu and is driven in very dangerous adventures. Fortunately, François, with whom she is madly in love but sees in her only a little girl, is watching over her…
♣ interesting detail

: Dedicated to....
to the memory of Princess Isabelle de Broglie who showed the path. JB
♣ interesting detail
: Dedication to Webmaster Linda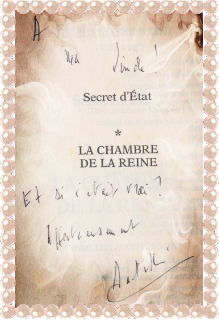 A ma Linda ! Et si s'était vrai? Affectueusement Juliette (2014)
to my Linda ! And if it were true ?Affectionately Juliette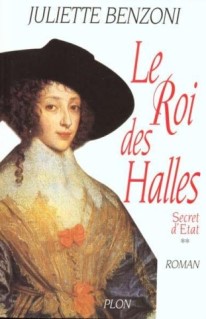 Synopsis : Le Roi des Halles 1998 (The King of the Halls)
translated from French by Linda,webmaster

How much more

is

fate

persisting

on

Sylvie

de

Valaines

?

Not content to

have

already killed her mother,

she is

thrown

into the clutches of

Laffemas

-

the executioner

of Cardinal Richelieu

-

who

forces her to marry the willing La Ferrière, who leaves the right of the "wedding night" to his friend Laffemas (the mysterious murderer of her mother) who rapes her. She is able to escape and just as years back, François de Vendôme finds her on the road, badly injured and decides to act…

To hide her definitely from danger,

François

takes Sylvie under his protection and

decides to

tell the world that Sylvie is dead and brings her to

Belle-Isle,

before re-joining

his battalion.

Isolated, without

news,

Sylvie

feels herself totally

abandoned

and

left

to sink into

a dangerous

apathy.

She steps out of it when her enemies,

having discovered the

subterfuge,

start again in pursuit of her…
♣ interesting detail :
This book was finished - at Saint-Mandé, November 5, 1997 Day of the Saint Sylvie ! It says also: This story find its achievement in the third book : The man with the Mask.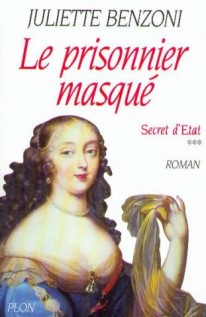 synopsis : Le prisonnier masqué (The masked Prince) 1998
Text translated from French by Linda,webmaster

After the death of her second husband, Sylvie de Fontsomme had sworn never to see François de Beaufort again and to live far from the Court's escapades. It is on family land that now she raises her daughter Marie and little Philippe, whose birth is kept secret.

But her hopes are in vain! The young King Louis XIV has not forgotten her and demands her return to the Court, where it will be impossible not to cross the path of François, whom she had never stopped loving and who seemed to have made peace with the King after the follies of the Fronde. (Series of civil wars in France between 1648 and 1653, during the minority of Louis XIV)

So she is again at the heart of everything she thought she had finally fled, without forgetting to mention the perfidious wheeling and dealing of Colbert stalking tirelessly on behalf of her friendship with the superintendent of the Finances discharged: Nicolas Fouquet.
♣ interesting detail : The Inscription in that book says:
«

In my home

, the secret is

locked in

a house with

solid

padlocks

whose key is

lost and the

door

sealed.

» From Thousand and one nights
♣ interesting detail : The above Book cover is from the orginal PLON Edition.
The beautiful woman on the cover is a painting of the Marquise de Montespan, one of the mistresses of Louis XIV
♣ interesting detail : Creation and Text by my friend Frédérique



Lovely creation with beautiful original text from the second Book: Le Roi des Halles
♣ interesting detail : Creation with text by my friend Frédérique 2013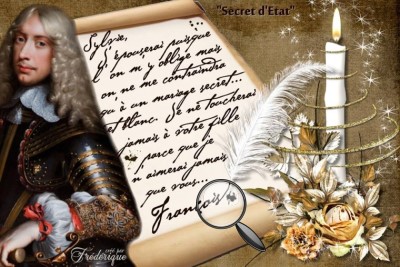 On this Artwork we see the real François de Bourbon-Vendôme, Duc de Beaufort, called : Le Roi des Halles
♣ interesting detail

: creation by my sister Evelyne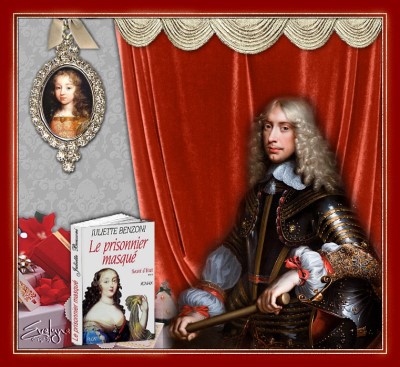 From the Triology: Secret of the State

Le prisonnier masqué - The masked Prince - book 3
by Juliette Benzoni

text translated from French by Linda, webmaster

Queen Anne of Austria (Louis XIII wife)
« Sire, she said with emotion that pronounced her Spanish accent, you see before you your mother and loyal subject...

Then she got up and made François advance who bowed deeply:
This is the Duke of Beaufort, your cousin and our friend to whom I entrust you and also your brother. He will watch over you: this is the most honest man in the kingdom.

The child said nothing, but the smile he had for his mother vanished, giving way to an unexpected gravity. He held out his hand on which François, kneeling, placed his lips. His hands were shaking...»

Note: In the Book Series the Author Juliette Benzoni follows the rumors that the Duke of Beaufort was Louis XIV real father and not Louis XIII !