Un Aussi long Chemin 1983
Another long Path

this beautiful book was not translated into English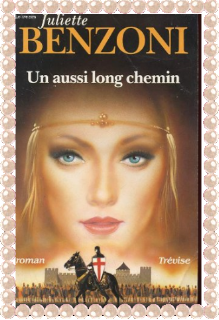 synopsis : Un aussi long chemin (Another long Path)

Paris on Easter morning 1143. In the group of pilgrims who part for Saint Jacques de Compostela, a strange woman slipped in, her face hidden by a veil. They say she undertakes the long and perilous journey to save the life and soul of an innocent. It is also said that her beauty is such that she had to disfigure it for no longer have to suffer from men. She is eighteen years old, and a quarrelsome and debauched Baron falls madly in love with her eyes, he has abandoned for her, wife, castle and fortune, and intermingles the pilgrimage.
A great novel by Juliette Benzoni, ethnic, full of twists, where endearing human characters brings us panting to the heart of Middle Age, noble and popular, in any case, always full of flesh and life, giving us once again, a real pleasurable lecture of emotion

♦ interesting detail : Foreword by Christian de Bartillat (French writer and publisher) : Editions Christian de Bartillat
translated by webmaster

Juliette Benzoni is not only a lifelong friend and publishing partner. For me, she is also an unusual character, a singular, dynamic and cordial personality, to which we are all the more attached as she is likely to confuse you. She also knows how to avoid it when you look for her, and she picks you up again with a lasso when you could walk away.
With her silver white hair, her radiant eyes, her open face, her generous silhouette, she reminds us of the ladies that the painters of the 17th century made of Diane, Goddess of the Hunt seen in the galleries of the castles in the Loire Valley.

This would lead me to believe that Juliette is a character hunter, a true quill rider. She climbs her books, and her quill is an arrow. The galloping begins with the first word, and ends at the finish post where the word "hunger" is written. Then Juliette gets off the horse, and if we're there when it's time, she knows how to cook you in front of the stove - which is no longer that of dreams and witchcraft - of medieval kitchens reviewed and corrected by Brillat-Savarin.

But the word end also means beginning: it has been fifty times in thirty years that she has ridden on her imaginary horse, to lead to castles, cottages, moors and forests, these hordes of passionate lovers, wild witches, knights swordsmen and fornicators, so that the heroine, between monks and demons, crafty men and murderers, always ends up having the upper hand.

In the romantic racing stables, fifty horses are waiting for new adventures and new images. Because Juliette is not only the magician of words, she is also and above all the alchemist of images, which earns her special attention from film epic makers.

While so many others climb up and down according to fashions and polls, she remains in the bosom of success and possesses, without having sought for, a manna of followers who never ceases to implore her by saying:" one more, and quickly, please".

Passion is her lot, and history is her permanent reference point. The truth of time is constantly alongside the truth of the heart... And her novels easily match the words of her metaphysics teacher, who in the boarding school for young girls in bloom where Juliette stayed, finished his classes by reading Agatha Christie's novels to his stunned students!

The Good Father may not have known that one of his students would one day be able to mix good feelings with the breathless terror of his detective novels.
So her imaginary novels are for all women, and her historical novels are of all times. Born in the world of petites filles modèles (note: French book by the Countess of Ségur 1858), Juliette knows how to lead us into the world of passionate women. Raised in the world of young girls in love, she lived in the world of authoritarian and ruthless men. So she draws from her own life, a new novel, always repeated.

With Un aussi long chemin, I followed Juliette through and through. It is one of her most beautiful novels, which we begin, and which we continue by asking the author never to finish.The beautiful Marjolaine, who causes all those who meet her to die of love for her, arouses the passion of one of the high barons of the Middle Ages, always ready to run after women only to abandons them again, and this passion, its ebb and flow, follows the path of Compostela, where behind the protagonists, this medieval epic is drawn, both noble and popular, divine and disbelieving. A real novel of that epoch, which never stops being present, a real animated painting that moves before our dazzled eyes.
First Paperback Edition in 1987 by J'ai Lu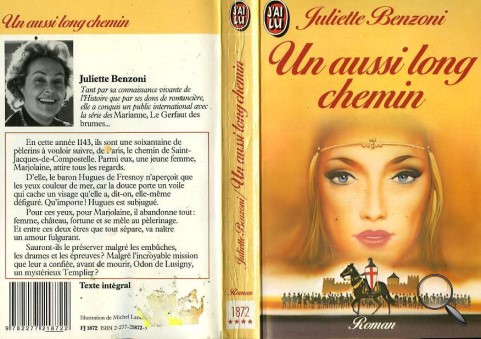 ♦
interesting detail
:
Paperbacks in 1987 & 2014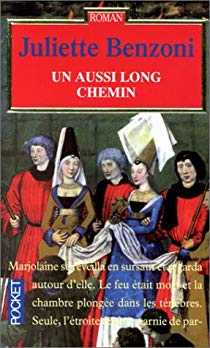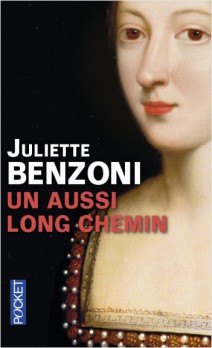 ♦ Hardcovers: Edition Christian de Bartillat 1995 & France Loisirs 1995
Interesting choice of France Loisirs, who chose for their editions also Rogier van der Weyden (Netherlandinsh painter) "Portrait of a Lady" ca. 1466 as Publisher Christian de Bartillat. Yet France Loisirs used another font. By the way, the Painting can be seen in London at National Gallery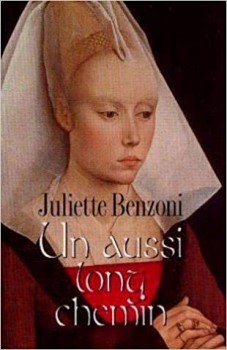 ♦ Personal memento of webmaster Linda
When I bought this book, I did not know that it was going to be one of my all-time favorites. I really love the story of the beautiful Marjolaine des Bruyères. It tells of life in early Medieval France. The seemingly hopeless love between the beautiful Marjolaine and the strong-spirited Chevalier Baron Hughes de Fresnoy.

While Juliette Benzoni signed for me my copy of the above book, she told me that this book should have been the first of a new series. What had happened? In her own words: "The company Editions Trévise had closed the door"! Un aussi long chemin was the last book they published.

An epilogue was written by Juliette, to give it a decent and plausible ending! I really regret it, I am sure the ingenious author would have gone with us to Atlantis with some of the characters we come to love in this book!
♦ Beautiful detail : dedication
This book was dedicated to Juliette Benzoni's beloved Mother,

Marie-Suzanne Arnold.


A ma mère (to my Mother)

The author wrote underneath the dedication to her Mother this quote by Ibn Hazan (XI century)
« Il vint vers moi malgré l'éloignement de nos demeures, la longue route et les affres du voyage...»


« He came to me

despite the distance

of

our homes

,

the long road

and the agony of the voyage... »
(translated from French, linda, webmaster)
♦ interesting detail :
Unfortunately this beautiful book which lets us travel to the early Middle Ages (1143) was not translated into English, yet in Germany and Slovakia. The title the German publishers chose seems to be strange, from "Also a long road" they arrive at: "Marjolaine, the Way of Temptation". But it is an excellent translation by Hans Nicklisch who also translated all the Catherine and Angélique (Anne Golon) books. Great joy, in 1995 Slovakia had also translated the Novel.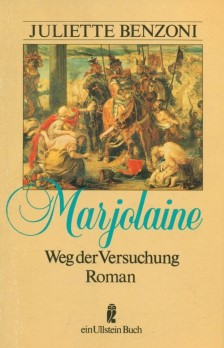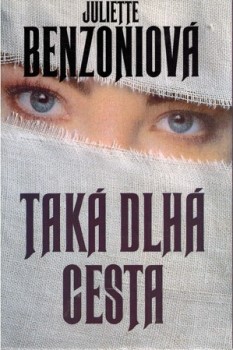 ♦ interesting detail :
as I was told by Juliette Benzoni on one of my visits, the director of Catherine, the phenomenal Marion Sarraut, wanted for the role of the male hero Baron Hughes de Fresnoy none other than Gérard Chambre ! Those of us who were able to see the television series from 1983, Marianne, un étoile pour Napoléon will remember what a fiery Jason Beaufort he played in Marianne. As a site note, in the television version there is a happy-ending between Marianne and Jason.
♦ interesting details : The reason that the filming of Un aussi long chemin was never accomplished was a budget problem. There could not be raised enough money to go all the way to Compostela to film on location! What a pity that is, I am sure under the direction of Marion Sarraut that would have been an outstanding and unforgettable TV-Series !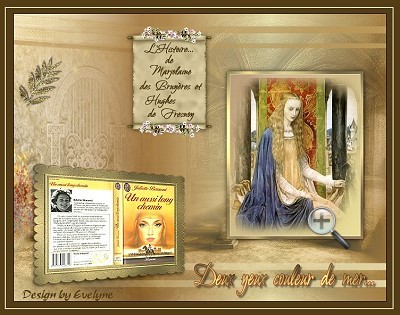 The story of Marjolaine des Bruyères and Hughes de Fresnoy

extract of Un aussi long Chemin
translated by linda, webmaster

« Hughes's heart leaped. Marjolaine had not flinched and the luminous look she cast upon the man was without surprise. It was as if she was waiting for this moment. Perhaps unwittingly, Hughes had entered the heart of her dream, a dream that the young woman, through this love song could no longer separate from reality. A moment later she was in his arms.
Hughes suddenly had the impression of standing in a flower garden in spring. This woman-child was only freshness and softness. Her delicate lips seemed to melt under the heat of that kiss, the passion he could no longer restrain »...