Gérard CHAMBRE

Born: January 21
French actor
Singer/Composer
Poet writer
Stage director
Screenplay writer
speaks: French, English, Spanish, Italian


Gérard Chambre made his debut in theatre alongside Georges Wilson, Roger Hanin and many more..under the direction of Alexandre Arcady, Jean-Claude Brialy, Gerard Verges, Robert Manuel, Philippe Ferran.
On television he played many leading roles like "Les dessous du ciel", "The War of Women" and as Jason Beaufort in Juliette Benzoni's "Marianne" - Jean de Xaintrailles in "Catherine" and as Admiral John Paul Jones in"Le Gerfaut" directed by Marion Sarraut.
His vocal training brought him to the musical: Catch my soul (Marigny Theater), opera rock Gomina (European), music (scene of the Porte St Martin), Jacques Brel (Espace Cardin), Prière de laisser le XXe siècle dans l'état où vous l'avez trouvé (Avignon), Les plus que personnes (Avignon)
In 2009 he wrote "Le petit groom chez Maxim's, music by Offenbach. This more than popular play had its debut at Monsieur Pierre Cardin's château Lacoste on July 2009.
From September 2009 "Feu la mère de Madame, by Georges FEYDEAU directed by Gérard Chambre and "Le petit groom chez Maxim's" were guest in Paris, at Pierre Cardin's Restaurant MAXIM's. Due to it's great success, it was repeatedly prolonged until June 2010.
On March 2011 he created the spectacle Cocteau Guitry chez Maxim's. Cabaret burlesque en 15 tableaux et 17 chansons, musical direction: Fabrice Coccitto, directed by Gérard Chambre

LE BŒUF SUR LA TÔA and N'ÉCOUTEZ PAS MESSIEURS. One act play by Sacha Guitry. The show remained for two season at the famous Restaurant chez Maxim's in Paris.

July 2012 he premiered with his spectacle musical CHARLES TRENET, le fou chantant a cent ans, at the Festival Lacoste. Due to its fantastic success, their voyage sent them to Paris, au petit théâtre de chez Maxim's" where they could be seen each Monday night at chez Maxim's until Spring 2014 !

On July 2014 he created his show Chez Maxim's ça swing - Hommage aux Frères Jacques. It premiered at the 14th Festival Lacoste of Pierre Cardin, the world famous fashion designer. The Show is still running each Monday night at the théatre of Maxim's in Paris.


To us Catherine fans, he is best known as "Chevalier Jean Poton de Xaintrailles" Arnaud and Catherine de Montsalvy's best friend. One of the chief captain's of Jeanne d'Arc and also best friend to La Hire and godfather to Michel de Montsalvy, Catherine and Arnaud's son.
---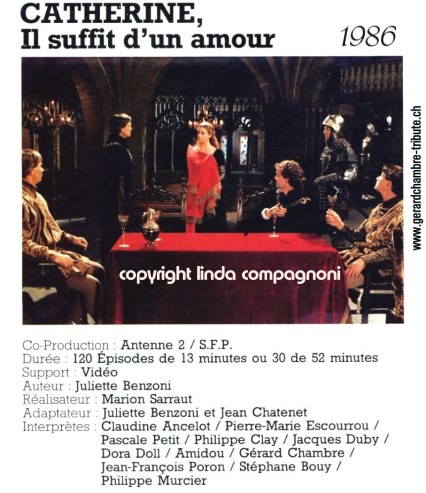 The touching words of Gérard Chambre
concerning the death of Juliette Benzoni
(private message which I put later on Facebook with his consent)

---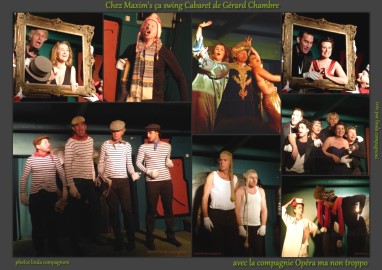 au petit théâtre de chez Maxim's

c h e z M A X I M' S ç a S W I N G
Hommage aux Frères Jacques
à la recherche du tempo perdu

directed by Gérard Chambre
with his company :
Opéra ma non troppo

and pianiste : Antoine Lefort
to know more about the Cabaret see :
www.gerardchambre-tribute.ch


---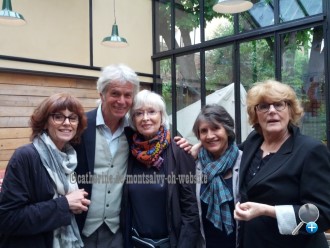 « at l'Entrepôt - Paris
Lecture Petites Musiques de Proust
by Gérard Chambre and Fabrice Coccitto


Dear friends of the Catherine series.

I like to share with you this unique and precious photo today! A photo I have been sent by none other than my dear friend Claudine Ancelot (Catherine de Montsalvy). We see on this photo united after a long time (over 20 years) Claudine Ancelot, Gérard Chambre (Xaintrailles), Anne Lefébure (Jacquette Legoix, Catherine's Mother) Catherine Jurquet (producer of the TV-Series Marianne, Catherine and Le Gerfaut) and Dame Marion Sarraut, the outstanding woman who was able to direct these series to all our liking! I like to say thank you so much to all of them for posing a moment to all our delight. Je vous embrasse all of you and a special kiss to Claudine for the photo...
Linda, webmaster

---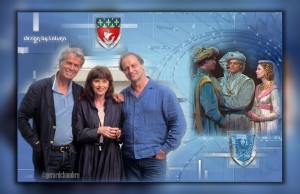 the beautiful meeting of the trio 2013
Gérard Chambre
Claudine Ancelot
Pierre-Marie Escourrou