the extra page concerning

The Adventures of Aldo Morosini 1994 - 2016



this page is currently under construction - for more details click here on the French flag
Linda, webmaster of the Catherine website


Vincent Meylan and La Perle de l'Empereur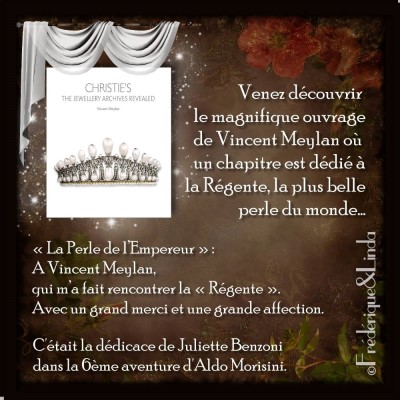 Readers of Juliette Benzoni's great success « The Adventures of Aldo Morosini » know that well-known journalist; author Monsieur Vincent Meylan is a specialist in precious stones and high jewelry. He was also a close friend of our favorite author. The sixth adventure of Aldo Morosini « La Perle de l'Empereur » : Juliette dedicated to him : A Vincent Meylan, qui m'a fait rencontrer la « Regente ». Avec un grand merci et une grande affection. JB
( To Vincent Meylan, who introduced me to the « Regent ». With great thanks and great affection)

Today I like to share with you Vincent Meylan's new book: « Christie's: The Jewellery Archives Revealed» . The purpose of this book is to celebrate CHRISTIE'S 250 years of expertise with the most exquisite jewels. We are greatly fascinated by one of the chapters: « La Regente – The Most beautiful Pearl in the World »! Juliette would have been the first to recommend his new book and been thrilled to read it.
p.s The beautiful edition is available at Amazon.com – a real treat to possess this magnificent book.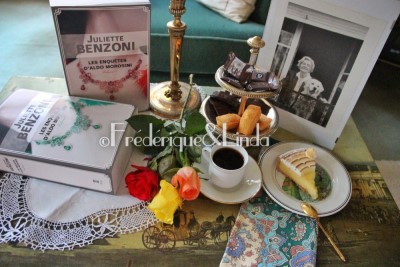 Thursday 3 November 2016

On that day we were able to buy the Anthology of the adventures of Juliette's favorite hero. A great moment for us fans, but also for all those who were for some time very much interested to read his adventures and could not find all the time the books or knew the order of all 15 books.

We already held the books in our hands last Weekend and we can confirm that PLON has done a wonderful job. Thanks again to Grégory Berthier her Editor. The font is well chosen and so is the intersection from one book to the other. Well done !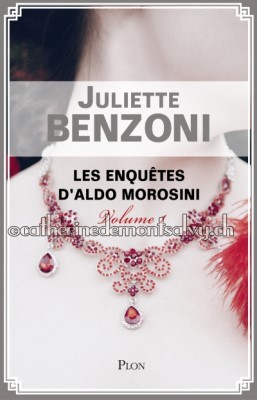 PLON Editions :
For the first time all of the 15 adventures of Prince Aldo Morosini, Juliette Benzoni favorite hero, combined into two books.

Volume 1

1. L'Etoile bleue, 1994

2. La Rose d'York, 1995

3. L'Opale de Sissi, 1996

4. Le Rubis de Jeanne la Folle, 1996

5. Les Émeraudes du Prophète, 1999

6. La Perle de l'Empereur, 2001

7. Les Joyaux de la sorcière, 2004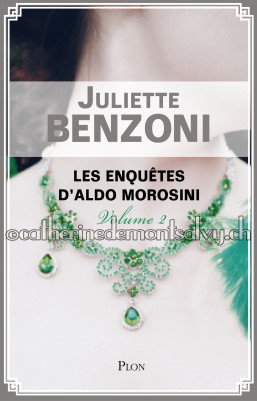 Volume 2
1. Les « Larmes » de Marie-Antoinette, 2006
2. Le Collier sacré de Montezuma, 2007
3. L'Anneau d'Atlantide, 2009
4. La Chimère d'or des Borgia, 2011
5. La Collection Kledermann, 2012
6. « Les Trois Frères », 2013
7. Le Diamant de Bourgogne, 2014
8. Le Vol du Sancy, 2016



An exceptional gift

of

Juliette's publisher Editions PLON

: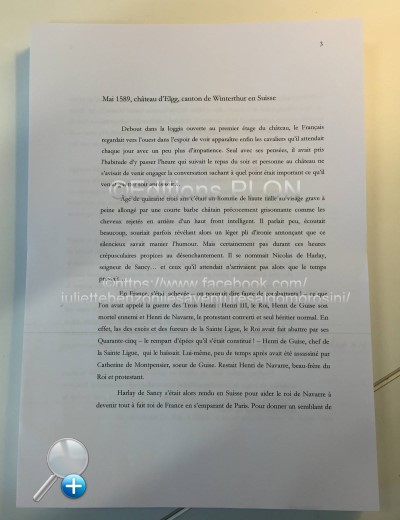 the first page

of the

final

typescript of

Juliette ...

that is - the first lines of

"

Le Vol du Sancy".



thank you

dear

Gregory

to share

this

rare treasure with all the fans of Aldo Morisini.


(tapuscrit : manuscrit dactylographié)


« Le Vol du Sancy » Des Carats pour Ava ?

In your bookstores since January 28, 2016 !



« Le Vol du Sancy » Des Carats pour Ava ?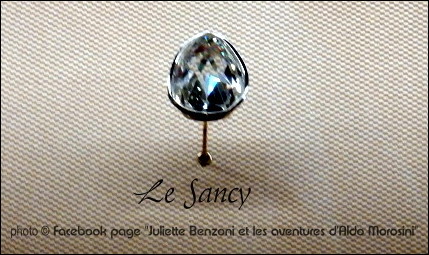 Accusé d'avoir volé le Sancy, célèbre diamant des joyaux de la Couronne de France, Aldo Morosini va vivre la plus dangereuse aventure de sa vie…
Parce qu'elle l'a tiré d'un mauvais pas, sans même s'en rendre compte, Morosini, ravi, a promis à l'insupportable Ava Astor qu'il lui trouverait un diamant « dut-il le voler à la Tour de Londres » ! Il plaisantait naturellement, mais c'était sans compter qu'Ava est aussi sotte que méchante…
Peu de temps après, il voit débarquer Ava à Venise : elle vient lui réclamer le célèbre Sancy qui vient d'être volé chez Lord Astor. Comme, naturellement, il ne l'a pas, elle l'accuse de vouloir le garder pour lui et le dénonce… Plus incroyable encore, Lord Astor prétend avoir reçu cette même nuit Aldo, qu'il n'a jamais vu, et qu'il lui a volé le Sancy…
Incapable d'accepter pareille situation, et le scandale grandissant, Aldo flanqué d'Adalbert part pour Londres pour rétablir la vérité…
Magazine du Mois - l'Actualité Littéraire Le Vol du Sancy - Des Carats pour Ava ?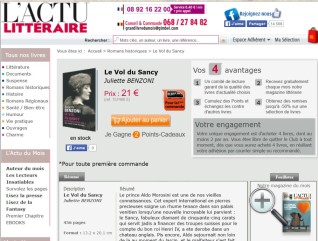 Synopsis of noted Magazine l'Actualité Littéraire
Le prince Aldo Morosini est une de nos vieilles connaissances. Cet expert international en pierres precieuses soigne un rhume tenace dans son palais venitien lorsqu'une nouvelle incroyable lui parvient : le Sancy, fabuleux diamant de cinquante-cinq carats qui servit jadis a financer des troupes suisses pour le compte du bon roi Henri IV, a ete derobe dans un chateau anglais. Pis encore, Aldo sejournait non loin de la au moment du larcin, et le malfaiteur s'est fait passer pour lui ! Sans hesiter, il se lance a la recherche du diamant et de l'imposteur en compagnie de son plus fidele complice, l'egyptologue Adalbert Vidal-Pellicorne.
Mais bientot, les deux amis disparaissent sans laisser la moindre trace. Pour retrouver leur cher Aldo, madame de Sommières et Marie-Angeline du Plan-Crepin entrainent dans leur sarabande endiablee une partie du gotha europeen, quelques lords, un maharadjah, et meme la reine Elizabeth. Un roman d'aventures qui commence dans les brumes de la lagune venitienne pour s'achever dans les brouillards de la Tamise ! Avec une fantaisie toujours aussi petillante, Juliette Benzoni mele histoire de l'art et histoire tout court, intrigue policiere et humour pince-sans-rire.
Le Talisman du Téméraire (The three brothers) 2013 (the 13th adventure)

synopsis : translated by mistral (linda)

March 2, 1476, Charles the Bold, the almighty Duke of Burgundy was forced to leave Grandson/Switzerland, his camp and fabulous wealth behind. A treasure, where perhaps the most important one was his parade hat covered with pearls, where the « clasp » of the summit consisted of exceptional stones on a string of pearls: Three Rubies called: « The three Brothers » and a large bluish triangular diamond « the Great Diamond of Burgundy ».
That clasp which was never seen again, he considered as his talisman. He died in front of Nancy on the fifth of January 1477…five centuries later; the four stones will come to aggravate the life of Aldo Morosini and his « gang ». One visit to his lawyer and a drama in the church of Saint-Augustin in Paris is enough…

interesting detail : Le Talisman duTéméraire - critique by Vincent Meylan 2013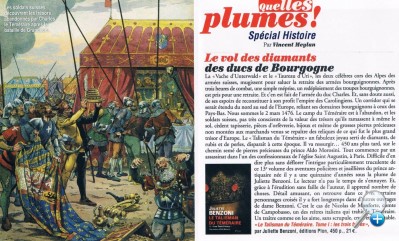 The robbery of the diamonds of the Duke of Burgundy
by Vincent Meylan (Point de Vue)

...and on Facebook :
Vincent Meylan : Je pense que c'est un des meilleurs. Tellement bien ficelé. Du très grand Benzoni.
translation: (I think this is one of the best. In such an excellent way put together. A great Benzoni)
interesting detail : synopsis of Le Talisman du Téméraire in le club l'Actualité Littéraire,

Point de Vue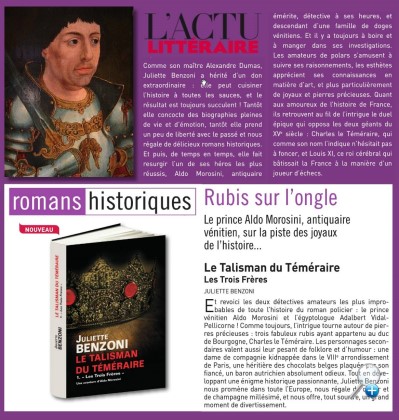 Prince

Aldo

Morosini

,

Venetian

antiquarian,

on the trail

of the jewels of

history



extract :


Like her master

Alexandre

Dumas

, Juliette

Benzoni

has inherited a

gift

extraordinary

she

can cook

the

History of

all the sauces

,

and the result is

always delicious...
Le Talisman du Téméraire tome 2 Le diamant de Bourgogne
(the 14th adventure)

synopsis : translated by mistral (linda)

After the « The three Brothers », the adventures of Aldo Morosini continue with the search of Marie-Angéline, jewels and the « Diamond of Burgundy » of Charles the Bold.

Disappearances discoveries, lies in revelations, from Franche-Comté to Paris, travelling on to Switzerland, the treasure of Charles the Bold continues to lead Aldo Morosini and his "gang" to crazy adventures.
After successfully locating the jewels called « The Three Brothers » it is now the pursuit of a big blue diamond, « The Diamond of Burgundy » that our heroes launch. But Aldo Morosini must first of all find Marie-Angéline who ran away by stealing the ruby he treasured preciously...



I invite you to read an extract of the conclusion to Le Talisman du Téméraire by Juliette BENZONI
it is in French, but maybe some publisher will be tempted to translate these very popular books soon ?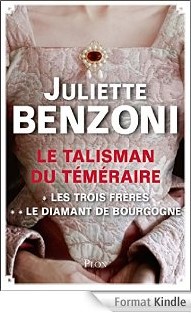 Le Talisman du Téméraire

complete edition : Les Trois Frères, Le Diamant de Bourgogne
Kindle Edition - see www.amazon.fr or www.amazon.com
critique : Le Talisman du Téméraire - par Vincent Meylan 2014 (Point de Vue)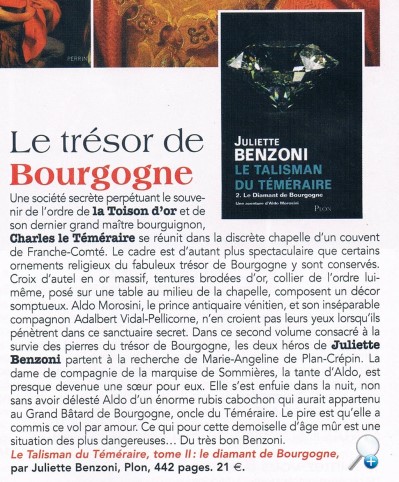 Le trésor de Bourgogne
extrait:
Une socièté secrète perpétuant les souvenir de l'ordre de la Toison d'Or et de son dernier grand maître bourguignon, Charles le Témérarie se réunit dans la disrète chapelle d'un couvent de Franche-Comté.
...Dans ce second velume consacré à la survie des pierres du trésor de Bourgogne, les deux héros de Juliette Benzoni partent à la recherche de Marie-Angeline de Plan-Crépin...

Vincent Meylan : «...du très bon Benzoni » ( a very good Benzoni)
the introduction of The Black Diamond in "Le Club"


A precious stone with a luminous blue
(there is a tiny mistake in the article, it is 20 years ago and not 30 that Juliette Benzoni's
very first Aldo Morosini story was published.)

How the Blue Star was born (l'étoile bleue)
text by Juliette Benzoni 1994
described in some details...
how and why the hero Aldo Morosini was created...
articles of the press : see special page Juliette Benzoni
critiques by Vincent Meylan
interesting details...
Grand livre du mois 2012: La collection Kledermann
Dedications
Aldo Morosini on Facebook
best wishes of Aldo Morosini : creation Frédérique
Juliette Benzoni wrote for her readers a little summary how L'Etoile bleue was born.
Le Boiteux de Varsovie - L'Étoile bleue
synopsis : Éditions PLON 1994 - translated by mistral (linda) webmistress
first adventure of Prince Aldo Morosini

Returning from captivity in 1918, Aldo Morosini, from ancient Venetian nobility, discovers that his mother has been murdered; that in his palace on the Grand Canal, a historic gem, the l'Étoile Bleue owned by his mother's family was stolen, and that there is no longer any hope of finding the woman he loves . However, to avoid the insult to his mother's remains of an autopsy and the morbid curiosity of the newspapers, he does not notify the police and decides to find the thieving murderer himself.
Four years later, now an antiquarian, Morosini is invited to join a rather mysterious character : Simon Aronov, a famous collector in European sale-rooms , although no-one has ever seen him. It is in Warsaw, after a long journey through the cellars of the ghetto, that the lame and blind Aronov receives Morosini. A highly spiritual Jew, the Hunchback shows his guest a strange museum piece: The breastplate of the High Priest of the Temple of Jerusalem, a gold plate with twelve precious stones embedded, of which four are missing, stolen and scattered over the centuries. A tradition says that Israel will regain its ancestral land if the plate is returned intact. One of the four missing stones is the sapphire stolen in Venice...
interesting detail
:
Countess Felicia Morosini (born Orsini) is the great-aunt of Prince Aldo Morosini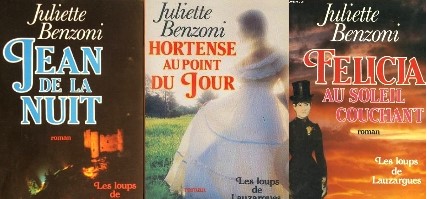 for more interesting information see my special page Jean de la Nuit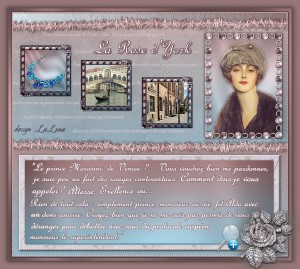 creation by Evelyne/LaLuna

this beautiful creation of « La rose d'York », second adventure of the Aldo Morosini books -
was created by my sister Evelyne - thank you Evelyne for this beautiful creation.




Suite of the Aldo Morosini Adventures...










A real Treasure trove...

synopsis : La chimère d'or des Borgia - Éditions PLON 2011 (the 11th adventure of AM)

During the sinking of the Titanic, a rich passenger, the Marquise d'Anguisola is murdered. Helen Adler, a chamber maid, surprised a woman coming out of the suite with a bag. Yet, after the shipwreck, it was impossible to find her again. She does not find any more traces in New York and she believes that the murderess did not survive.

Twenty years later, in Venice, Aldo Morosini receives an unusual client; Cornelius Wishbone. He is a colossally rich Texan in love with a famous and sublime opera singer, Lucrezia Torelli. She claims to be a descendant of the Borgia's. In this capacity, she will only agree to marry Cornelius if he brings to her the fabulous chimera made of gold and emeralds that Caesar Borgia considered to be his talisman.
interesting detail : La Chimère d'Or des Borgia - critique by Vincent Meylan 2011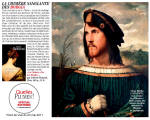 The bloody chimera of the Borgias - by Vincent Meylan (Point de Vue)
text translated by Frédérique and Linda/Mistral

Vincent Meylan, is a well known French journalist and royalty connoiseur who has studied the lives of monarchs for the past fifteen years. A feature writer for POINT de VUE in Paris. He has written more than a hundred articles on jewelry and royal families and is the author of two royal biographies, one on Queen Elizabeth II and one on Empress Farah of Iran.

Monsieur Meylan is a very good friend of Juliette Benzoni and has dedicated his book: Queen's Jewels to her with the words:

To Juliette Benzoni (aunt Juliette) who knows so well how to tell stories of preciouis stones. To Aldo Morosini, from whom we're awaiting new adventure....
synopsis : La collection de Kledermann - Éditions PLON 2012 (the 12th adventure)



extract :
Wounded by a bullet in the head in front of the castle of Croix-Haute, Aldo Morosini owes his life to the skill of a young Touraine surgeon who has been able to extract it...

interesting detail : - la Collection de Kledermann - critique by Vincent Meylan 2012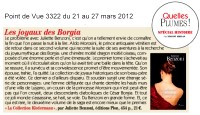 The Jewels of the Borgias - by Vincent Meylan (Point de Vue)
extract :

The problem with Juliette Benzoni is, that we really want to know the end,>
...A Benzoni in great form. And this is rare, the second volume of the saga is even better that the first.
interesting detail :

Article in Point de Vue

( le club l'Actualité Littéraire 2012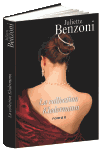 text translated by Linda
, webmaster
With Juliette Benzoni, fantasy is power, and the imagination goes well with the story. Around 1930, in a castle near Chinon (France), Venetian prince Aldo Morosini is shot in the head and owes his rescue to the skill of a young surgeon. In his hospital bed, an image haunts him: just before the shot, he saw his wife running away with a stranger ... So begins an ingenious plot that will lead us to Switzerland and raise many questions. Where is the fabulous jewel collection of Aldo's stepfather, Moritz Kledermann? What is the role played by a fatal descendant of the Borgias? As our friend Aldo, is recovering from his injury, will he succeed in regaining the love of his wife? A very engimatic crime mystery, doubled with polished comedy dialogues!
Dedications...
L'Étoile bleue
Heureux seras-tu toi qui liras l'éngime, Étoiles au-dessus, étoiles au-dessus: Tout ce qui est au-dessus appararîtra au dessous. Heureux sears-tu toi qui liras l'éngime Hermès Triségiste

La Rose d'York
:A la mémoire de Jean-François, mon fils disparu. Je lui dois la documentation de ce livre...et tant d'années heureuses...

Le Rubis de Jeanne la Folle

à Michel de Grèce qui sait si bien élargir les horizons

Les Emeraudes du Prophète
à ma fille Anne ma première et si précieuse lectrice - Tendrement

La Perle de l'empereur
à Vincent Meylan qui m'a fait rencontrer la "Regente" Avec un grand merci et unde grande affection

Les Joyaux de la sorcière
à Yagel et Patrick de Bourgues
Un affectueux clin d'oeil...

Les Larmes de Marie-Antoinette


à Evelyne et Patrick Rebeyrol
mes chers Versaillais..

Le Collier de Montezuma
à Alied-Béatrice du Bois Van der Poele
Ma chère amie belge
Qui a voué sa vie à la culture et à la distraction de ses compatriotes

La Chimère d'or des Borgias

Aux «Filles des Grands Chemins »


Frédérique Aznag
Linda Compagnoni Walther
Claudia Compagnoni Gibb
Héléne Rouille
qui me sont si chères
Under the spell of Aldo Morosini...
text Linda, webmaster 2011
I must once more mention that when I launched the Catherine site on September 10, 2008 I was NOT able to read a book in French! This is no joke - it is plainly the truth!
But then, if one is as passionate about Juliette Benzoni and her books, everything is possible!
When the series « le Bal des Poignards » were given to me by Juliette, for the first time in my life (or since my school days, to be honest) I sat down and started to read a book in French, on my lap a large dictionary either in English or in German!

...and now La Chimère d'Or des Borgia...
I confess it is a divine feeling to have a book in your hands which was a gift by the author herself and also a dedication with ones own name in it ! I know that my three others companions, who share the same honor, feel the same!




I have fallen now also under the spell of Aldo Morosini. The fact, that his wife Lisa is from my country Switzerland ☺ adds also to the fascination! I adore the characters which all of the faithful readers of the Morosini books have had the pleasure to know since many years!

It is the very first time that I have read an eleventh book first of a series. Aldo Morosini - it makes me smile to think that for once I must not wait years and years until a book of Juliette Benzoni is translated! Vive la France - long live their beautiful language and long long live our déesse Juliette Benzoni.

********************************************************************************************************
When back in October 2009 we were invited to meet Juliette Benzoni the first time, we decided to buy her latest book : L'Anneau d'Atlantide 2009 at the bookstore where they had kindly given JouJou the address of Juliette Benzoni.!
Proudly we showed Madame Juliette (as we first called her) what we had just bought. But Juliette Benzoni called out: "Anne (her daughter) look what the girls did! And I had wanted to present them with my latest book"! We were really touched by this, and it already gave us an idea what a warm and generous person the famous Juliette Benzoni is!
interesting detail
:
Prince ALDO MOROSINI and his passion for « Sprüngli » !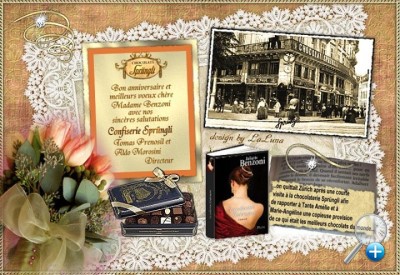 text Linda Compagnoni Walther, 2013
We know from Juliette Benzoni's books about the dashing Venetian prince, expert on historic precious stones, that whenever Aldo Morosini visits Zürich, Switzerland, (where his father-in-law resides on the Goldenküste he will go to Paradeplatz enter the prominent Confiserie Sprüngli to stock up with a large quantity of that proudly cherished delicious specialty, for his beautiful wife Lisa, delightful aunt Amélie, Marquise de Sommières and her companion Marie-Angéline du Plan-Crépin and himself.

As all the passionate readers of the adventures of his Excellency prince Aldo Morosini, (accepted worldwide antiquary) know: our hero loves chocolates! Not just any chocolates - ah non - he loves Swiss chocolates from Sprüngli - whom he calls repetitive the best chocolate in the world!
On my very first invitation to Saint-Mandé in 2009 with Frédérique and my daughter Claudia, we discussed with what we could surprise our favorite author and her daughter Anne. I decided that as being from Switzerland we would bring with us a lovely box from Sprüngli and Frédérique being from Reims, a sparkling bottle of Champagne and the delicious Rose biscuits from Fossier! Without knowing it, we had chosen the perfect souvenir! The adorable Juliette loves these Rose Biscuits and she is addicted to Sprünglis chocolates!
My article would now be finished, if I had not started to read last year the adventures of Juliette's favorite hero Aldo Morosini from Venice! Apart that I fell in love with her smart adventurous hero, I was more and more amused to learn that our dearest friend Juliette, had her passion for that sublime chocolate, embedded in the Morosini adventures! Each time I reached a page where my hero Aldo, enters Sprüngli, I had a smile on my face and I was also very amused - and thus a daring idea entered my head...! What if I called the Confiserie Sprüngli and told them about the famous author Juliette Benzoni? The beloved author of million of readers and her heroes passion for their exquisite chocolates? What if I suggested to them, how immense the joy would be of Juliette Benzoni, if she received from Sprüngli a sweet little surprise? (after all I said to myself - did not Juliette since 1994 - 2012 do some kind of free publicity for that famous brand?)

Guet (bon..) as we say in Swiss-German, let's pretend I am Mina Van Zelden or Angélina - would they be afraid to enter the famous Confiserie and ask to talk to the manager to explain about my unusual request ? But of course not (and by the way, I love impossible missions :-) ! I will not bore you of my first visit to the beautiful boutique Sprüngli, holding in my hand a copy of one of the Aldo Morosini books - trying in vain to sell my idea! I was treated very courteously - and out I was of the Confiserie with a business card, advising me to send my request by mail..!
I went home and started to write my email, almost a short novel to explain my request - sending a scan of an entry of one of the chocolate texts - my personal dedication in La chimère d'or des Borgias and using all my charm to seduce whoever was responsible, to send our Juliette a box of chocolates of their choice !
No sooner said than done - off my mail went - to wait for the impossible!
And...the miracle happened - or let us say...after a few detours ☺ ! I received a phone call from the director's secretary of the CEO of Sprüngli, a charming lady, who confirmed to me that why certainly would they send Madame Benzoni a « Birthday surprise »from the célèbre Confiserie!
On 30 October last year, while we were guests at Saint-Mandé, to celebrate Juliette's 92nd birthday, a smiling Juliette looked at me and said: "Linda, do you know anything about this", pointing to the small table and showing us the beautiful exclusive chocolate box of the Confiserie Sprüngli ! But not enough, reading to us the card with the birthday wishes of the director of Sprüngli!
That alone was already sensational in my eyes, but that Frau Howald. had seen to it that our Aldo Morosini's name was also on the birthday card, left me speechless and very moved! I love happy-endings☺

p.s I end my report with one last anecdote, that Frau Howald outed herself as a reader of Juliette Benzoni's books!
Confiserie Sprüngli is a Swiss luxury confectionary manufacturer founded in 1836. Not to be confused with Lindt & Sprüngli !
April 2013 : © creation Evelyne/LaLuna
interesting details
:
surprise in the annual Advent Calendar 2014

Le Talisman du Téméraire
The Talisman of Charles the Bold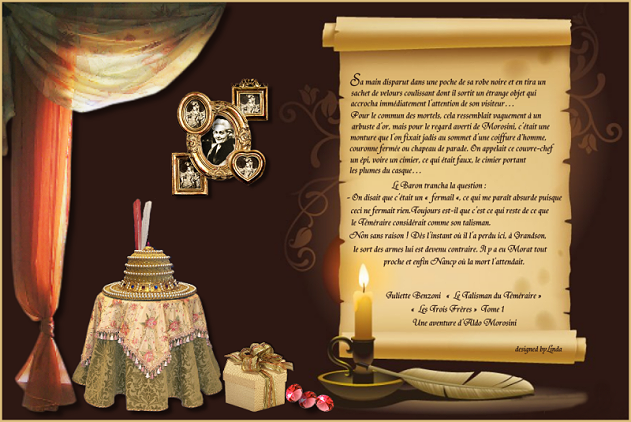 for the Advent calendar 2014 - created by Linda, webmaster

extract of « Les Trois Frères » (the three Brothers) published by PLON 2013
translated by linda, webmaster

« His hand disappeared into a pocket of his black robe and pulled out a sliding velvet bag where a strange object caught immediately the attention of his visitor ...

For the average person, it looked vaguely like a golden shrub, but for the discerning eyes of Morosini it was a setting that one fixed on top of a man's hairstyle, closed crown or hat parade. It was called headgear, a spike or a crest, which was false, the crest bearing the feathers of the helmet.

The Baron settled the question:

They said it was a « clasp », which seems to me absurd since it did not close anything. Still, it's what remained of that which Charles the Bold (Le Téméraire) considered his talisman.
Not without reason! From the moment he lost it here at Grandson, the fortunes of war turned against him. There was Morat (Murten) close by and finally Nancy where death awaited him »...

interesting details
:
surprise in the annual Advent Calendar 2013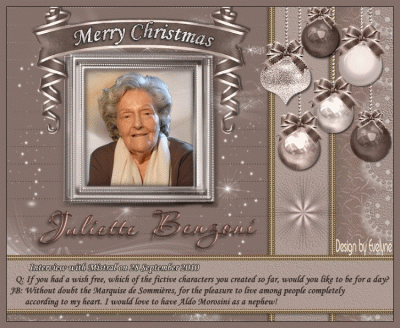 December 22, 2013 created by Evelyne



The 20th Anniversary (1994 - 2014) of the first Aldo Morosini book
« La Rose d'York » by Juliette Benzoni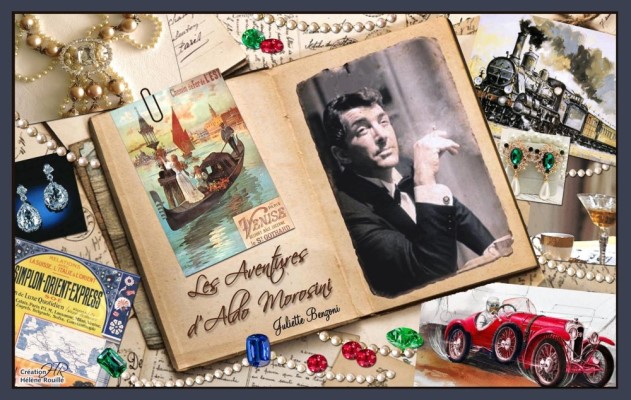 to celebrate the anniversary of 20 years (1994 - 2014) Aldo Morosini books, Juliette Benzoni's adored hero - our Benzonette Hélène has created for us this beautiful Poster. Thank you very much for the sublime creation which I personally adore.The good looking gentleman on the Poster is none other than Dean Martin...