The Integral of the Adventures of Aldo Morosini by PLON

In November 2016 it was time for the complete adventures of Juliette Benzoni's favourite hero His Highness Aldo Morosini. A great moment for fans, but also for those who were tempted to read finally all of his adventures, but couldn't find anymore all the books or didn't know the order of the 15 books!

Juliette was aware of this project to reissue the 15 stories in 2 volumes and loved the idea. I believe that PLON has done an excellent job. The typography is well chosen, as is the junction between Volume 1 and Volume 2. Thanks again to Greg Berthier-Saudrais, Deputy Editorial Director at Editions Plon, who had been a personal friend o the late Author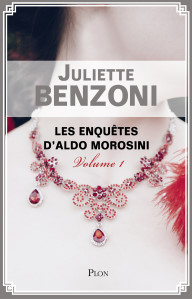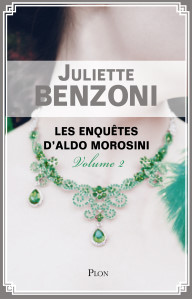 Summary :

Venetian prince and antique dealer, Aldo Morosini leads us all over the World in the search for the most beautiful precious stones. Whether diamonds, rubies, emeralds, opals or pearls, each of his investigations opens with the theft of a historical gemstone, that the jewel expert will tirelessly try to find, sometimes at the risk of his own life...

Suspense, murder, betrayal, twists and turns and love punctuate the Adventures of Aldo and his "gang" composed of the archaeologist Adalbert Vidal-Pellicorne, « his more than brother » Marie-Angéline du Plan-Crépin, his cousin, and the Marquise de Sommières, his great-aunt.